Would this feature make a profit or not...that is the question. Our healthcare application development helps your medication management business to succeed and save from pointless wastings. Here we put together eight must-have functionalities to attract your potential customers and make them love your pill tracker app.
The Centers for Disease Control and Prevention (CDC) estimates that 50% of 2 billion prescriptions filled each year are misused. Likewise, the majority of chronic patients take less medications than prescribed or stop the drug regimen.
However, what's driving the high nonadherence rates?
The most common reason among patients is forgetting. People, therefore, should create a routine, resort to something that reminds them to take the right dosage, at the right time, in the right frequency.
Here come medication reminder and pill tracker apps.
It's no secret that mobile apps help patients to enhance medication adherence, even among those who lack experience with portable devices. These systems are able to track treatment regimen and send reminders whenever it is time to take a pill.
Features to include in a med tracker app
The highest priority of a medication reminder app is to tell users when to take which pill - plainly and accurately. This mobile assistant improves the chances patients stick to their regimen without forgetting the dose.
However, today app repositories, whether App Store or Google Play, offer thousands of pill trackers. How to stand out in the crowd and draw users attention? What features to add? Let's find out!
Intuitive visual interface
A wide range of med reminder apps complicates the uncomplicated. However, users clearly prefer the following characteristics:
Easy to enter the medicine name, autocomplete and/or scanning are included
Each pill is visualized, has a proper icon
Easy to configure the times
Simple rescheduling in event of a missed dose, etc.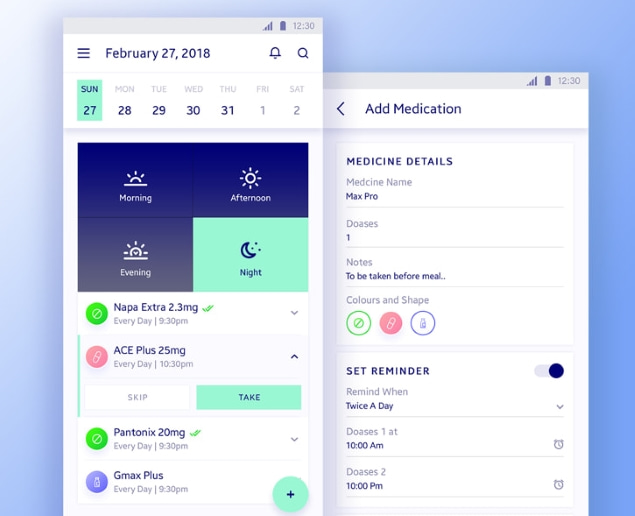 Home and Add Medication Screens from CareTime Project
Source: dribbble.com/shots/4316701-Home-and-Add-Medication-Screen
Pill reminder and medication tracker by Medisafe (both for iOS and Android) is considered the best app on the market today. Thus, it has over 5 million registered users worldwide. Google named Medisafe an "Editor's Choice" in 2016, having analyzed and reviewed more than 2.2M apps in the Google Play Store.
By the way, only 134 Android apps are listed as Editors' Choice - just 0.00006% of mobile programs. That means people download it, keep it and use it successfully. So what made Medisafe user-attractive?
Medisafe, for example, not only autocompletes a medication name. This mobile app can upload a meds list directly from the US drugstore's account if the user provides prescriptions from CVS, Rite-Aid or Walgreens. Thus, users don't have to enter anything at all.
Another distinguishing feature is the possibility to delay a medicine with a single tap. Therefore, if a reminder pops up while the user is not home, they press "snooze till home", and then Medisafe alerts them again by tracking the location using GPS.
Drug-to-drug interaction checker
Most pill trackers notify users of dangerous drug interactions, food and alcohol's damaging effects. So if your customer receives prescriptions from different doctors, the app acts as an additional safety measure to avoid unforeseen side effects.
Plus, Medisafe app also lets users know which side effects they should expect within the first 24-48 hours.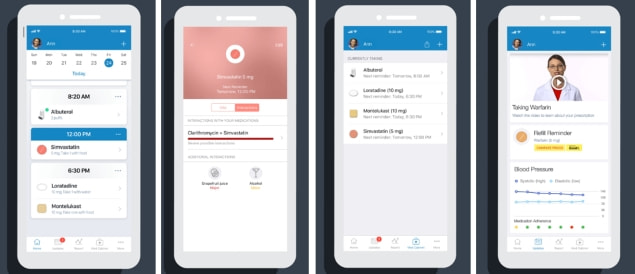 Source:medisafeapp.com
Rx refill reminders
Just as important as reminding to take the right medication at the right time, a pill tracking app should notify users when to refill their prescriptions.
MyMeds, for example, allows patients to monitor the amount of drug supplies and be informed of restocking. Plus, the pill tracker app finds the best price for prescriptions near the user.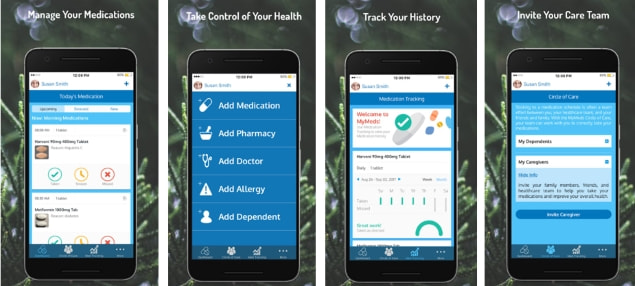 Source:play.google.com/store/apps/details?id=com.mymeds&hl=en_US
Track vital signs, like blood pressure and weight
MyTherapy combines the advantages of a medication reminder and apps for weight tracking and hypertension management. Therefore, the mobile app additionally demands users to do their daily light physical activity to lower blood pressure.
All user's measurement and lab values are stored by MyTherapy app in one place. Users can print their health report and share recordings with their doctors or pharmacists, for example, to review their treatment plan and choose other drug options.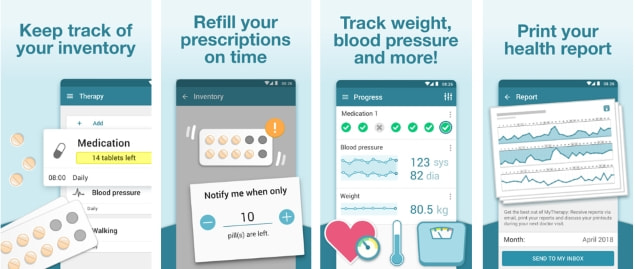 Source:play.google.com/store/apps/details?id=eu.smartpatient.mytherapy
Medication progress reports which can be shared with caregivers
If someone else is taking an active part in helping to manage user's medications, then they prefer an app with a number of collaboration features. MyTherapy measures and stores vitals, keeps medication usage history with the ability to print personal health report and share results with a doctor or family members.
CareZone uses the camera to take pictures of important documents and save them. The app helps to organize key contacts including doctors, pharmacies, insurance, and family members to safely share access to coordinate care.
Users can additionally create a backup in case of emergency. It is extremely important to offer backup and restore features on the GDPR and HIPAA-compliant servers.
A comprehensive set of features and user-friendly design of CareZone app allow for getting over 5 million installs and 33.000 reviews.
Sync reminders with wearables
Going back to MediSafe, this app can be integrated with Healthkit and Android Wear. The smartwatch owners can simply shake their wrist to mark as taken, or tap to skip a dose. Plus, wearable devices keep track of blood pressure, glucose level, and weight.
Gamified point system
Mango Health is a shining example of a company fighting drug non-adherence with gamification. Their gamified point system encourages users to take their medications and earn scores.
Once patients reach some progress their points can be redeemed for gift cards or a donation. However, the rewards are also a source of income for Mango. The companies pay to provide those gift cards and so be advertised in a popular app.
Another way to motivate people to take their medication is to start a competition. Users can compare how many doses they have taken and how many have been missed compared to the general Mango Health community.
Personalized medication reminder sound
Medisafe is doing its best to inject a little beauty into the medication adherence process. They continuously update a library of reminder sounds, called Medtones, which is available on their YouTube channel.
Medtones are fun, short but they allow users to adhere to their daily regimen and do not always feel like a chore. Medisafe pill tracker app offers classics like Morgan Freeman or Darth Vader, and more personal like a Nagging Mom or Donald Trump.
Conclusion
The first obvious feature of any pill reminder app is the ability to create a personal meds list, with doses and schedule.
However, to make your product stand out from the rest, extra features are needed. Thus, a medication reminder may notify about food and drug interactions, request a prescription refill, and track vital signs.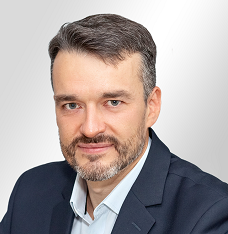 Written by
Partner / Department Head