Patient portals handle administrative and clinical functions and allow patients to be more engaged with their care team. Since they are in the spotlight, what functionality do patients expect? Read on to find out the most attractive features to use while building your patient portal.
Accessing personal health information
According to the officials, a key priority of such a software system is to provide patients with convenient round-the-clock access to personal health information (PHI) via the Internet.
Indeed, 80% of the information is easily forgotten as soon as a patient leaves the clinic, and nearly 50% of what patients remember is actually wrong. Full and direct access to notes and significant details on patient visits are crucial for effective care.
What data should be accessible?
Having entered a unique username and a password, patients can browse (and print if necessary) health information including:
Recent doctor visits
Case reports
Medication list
Immunizations
Allergies
Lab & tests results
According to Dr. Steve Ommen, associate dean of Mayo Clinic's Center for Connected Care, some patients want to see more than after-visit summaries and lab results. That's why more and more health systems seek to support OpenNotes international movement for allowing patients to receive all of their clinical notes.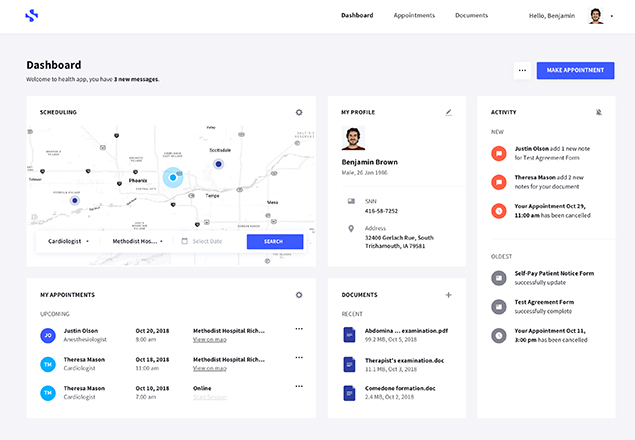 Source: dribbble.com/shots/5603624-health-dashboard/attachments
Updating contact and demographic information
Get patients to complete their registration and update their information online. Health professionals, for their part, have to check the accuracy and quality of registering data before it is accepted into their EHR.
"We want to make sure that the data is valid before accepting it. If something is not entered or updated correctly in registration, it could hold up our claims or cause other problems that can affect the patient and the practice." - Joy Woodke, Practice Administrator at Oregon Eye Consultants
Scheduling appointments online
Patients can get the appointment booked via the portal without going through the hospital telephone system and auto attendants. They receive an alert as the doctor confirms or reschedules the appointment.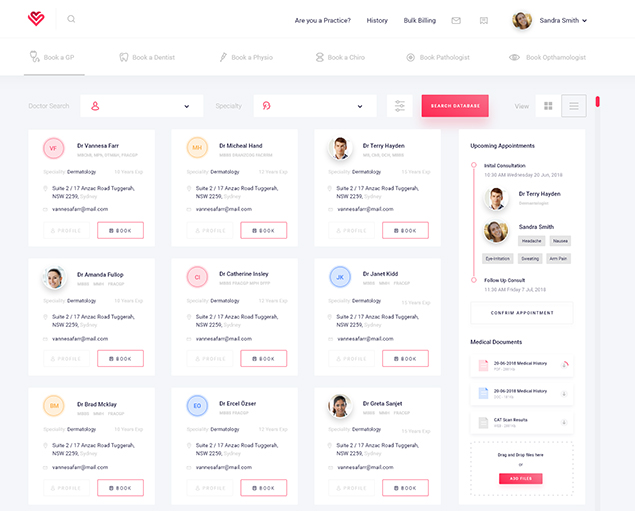 Source:dribbble.com/shots/4728453-Doctor-Booking-Appointments-Dashboard/attachments/1065838
Janna Mullaney, COO at Katzen Eye Group & Aesthetic by Katzen in Baltimore, shares their experience. When they first implemented an online appointment system, their patients were able to send a request, then doctors either booked the requested appointment time or offered an alternate option if they were unavailable.
They later modified the feature, making patients able to request a viable appointment. Thus, they can browse the hours for each location, every doctor who works there and their timetable, as well as check-up types they accept.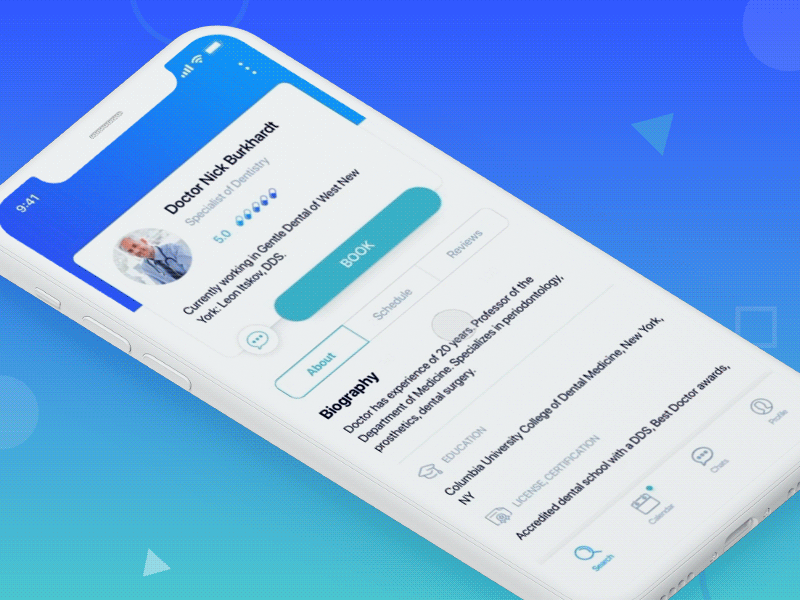 Source: dribbble.com/shots/5978081-Healthcare-App-Booking-Appointments
Patient portals can help practitioners with cutting down on phone calls and decreasing non-appearance. SSM Health CIO Philip Loftus recorded a drop in no-show rates due to online scheduling. According to PhD Loftus, patients who book online are more likely to come.
Messaging with a healthcare team
When a patient portal is integrated with an EHR system, secure encrypted messaging is the simplest and most efficient way to exchange information and test results both for patients and medical professionals.
"One available component of the portal that practices might not always appreciate is the secure messaging feature, which enables a practice to communicate with patients in a HIPAA-compliant manner [...] Activating this module of your patient portal can reduce the time that your patients are placed on hold and helps your practice to overcome the frequent challenges of reaching a patient."
- Dr. Joy Woodke
Receiving notifications
If a patient books an appointment with a health professional, the system can reply with an e-mail, a text message (SMS) or a push notification to a mobile device. Plus, users can be reminded to take prescription medication or check a glucose level if the patient has diabetes.
Integrating with third-party apps and systems
More and more people use monitoring devices. Whether it be a fitness tracker, a medication reminder or a glucose monitor, these systems store patient vitals and can be useful for diagnosis and treatment.
To reduce the amount of data entry required, patients can upload information directly from medical devices, fitness trackers or smartphones.
Our development teams are able to integrate any third-party solution as a next microservice. We can easily connect a custom patient portal solution with an open API of Apple's apps, for example. Thus, patients would be able to share their details and download their records onto their iPhones via the Health app.
Making payments
Patient portals enhance customer experience in many ways, especially when providing the ability to make payments. This option makes it easier for patients to understand and handle their financial responsibility.
So, what payment features should be supported?
Insurance information: Login to the portal and view/update insurance data.
Billing query: Submit billing-related questions via the patient portal.
e-Payment: Make online payments via multiple modes.
History storage: View records of medical payment amounts and dates in one place.
Saved payment method: Securely hold a credit card or bank information for repeat payments.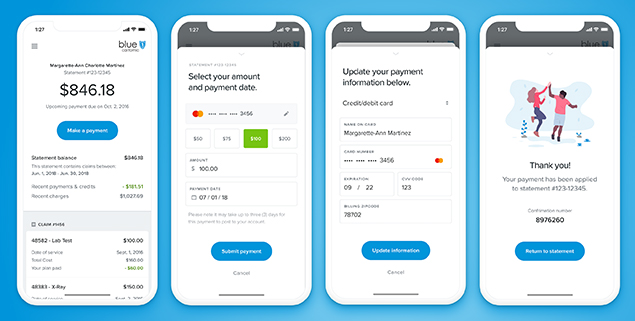 Source:dribbble.com/shots/4868474-Healthcare-Payments
Downloading and completing registration forms
Whether patients complete registration forms online or when they are in the office, it usually takes 10 to 15 minutes to do all the paperwork. For those who complete pre-visit forms online, the system has to notify them how long it takes to register.
Accessing educational materials and communities
Just as patients want to see their health history, they also want to figure out these records. However, diagnoses and treatment plans are usually difficult for users to understand. With a portal, they are able to access supplemental information online.
For users with lower health literacy, some health IT providers integrate natural language processing to translate certain clinical terms, thus making patient portal records more accessible.
The most effective way to improve customer health literacy lies in offering patient education where applicable. More and more health IT vendors have signed a licensing agreement with educational platforms, allowing them to integrate patient education materials into their systems.
"We integrated this content with our EHR system so when a patient receives their clinical summary, they also receive educational information based on their diagnosis. We can also add information such as supplemental brochures, customize information, or include links that redirect patients to the AAO website or our contact lens distributor for more information," - Dr. Mullaney
Patients often seek out people with similar health states for advice and support. Thus, for example, our client asked us to create a website for a community of people challenged with different diseases. Having logged in, they can access blog posts, chat with other community members and express their emotions with special icons.
For more information about our health IT projects, see our portfolio.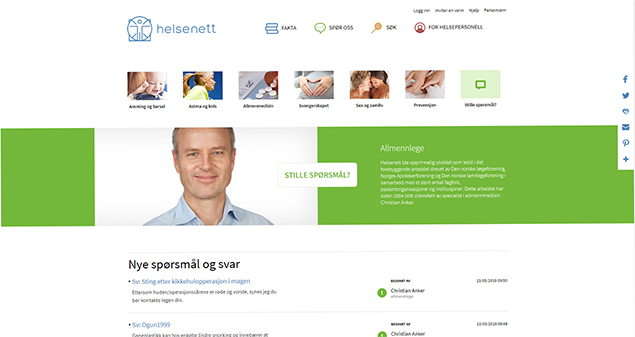 Source:belitsoft.com/php-development-services/health-social-communities-and-networks-development
How Long Does It Take to Develop an MVP of a Patient Portal?
The following estimation is based on our experience with healthcare software development. The numbers are very rough. To accurately estimate how long your MVP development will take, contact our team.
We've asked our team of experts: business analysts, developers, software tech leads and architects, to assess selected common features and how long would it take to build them for an MVP of a patient portal. The numbers include more than just coding; it's a complete software development process that implies requirements gathering, software architecture design, development, and testing/stabilization staff time.
User Login - 600h:

Multi-Factor Authorization
Roles and Permissions

Account management - 400h
Dashboard - 160h
Library - 400h
Treatment and сlinical paths - 900h
Cases - 900h
Surveys - 800h
Patient records - 300h
Reports - 440h
Search Engine - 600h
Import/Export Data - 800h
Share & Send Messages - 200h
Notification System (Push & Emails) - 300h
Express Emotions with Special Icons - 500h
Security - 1000 hours:

Security Audits
HIPAA/GDPR compliance
Summing up, the whole process of developing an MVP of a patient portal takes 8 300h (including the feature list we provide above).
During development cycles and after releasing your MVP, it is crucial to communicate with your targeted customers and ask them for feedback. "How can we improve your interaction with the portal? Are there any features that we could add?"
The answers you receive should guide you in updating your patient portal solution and giving users a reason to come back again and again.
Conclusion
Every case is unique. This article allows you to learn about the most sought-after features to develop a minimum viable version of your patient portal and estimate efforts for implementing selected functionality.
Written by
Partner / Department Head
I've been leading projects in Healthcare, Financial and other domains for 14 years.
Let's Talk Business
Do you have a software development project to implement? We have people to work on it.
We will be glad to answer all your questions as well as estimate any project of yours.
Use the form below to describe the project and we will get in touch with you within 1 business day.