Looking for good startup business ideas and inspiration? Take a look at the list of NY online learning companies we have compiled for you.
Getting an idea for your startup can be hard. If you need inspiration or just a bit of help researching competition, take a look at the list of New York-based SaaS companies specializing in online education.
KNEWTON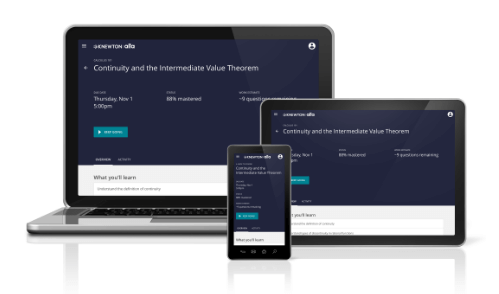 Knewton is an online learning company that offers preparation courses for standardized tests, such as the GMAT, LSAT, and SAT. They provide an adaptive training engine that offers customizing educational content complied with WCAG 2.0 AA-level ADA.
Knewton "Alta" was launched in 2018 as a fully integrated adaptive learning courseware for higher education. The learning platform composes a curriculum based on their personal academic progress. Having successfully completed an assignment in Alta, students achieve mastery of the learning programs. However, Knewton's technology is able to recognize the user's knowledge gaps and provide instructional content to help them succeed.
The company was launched in 2008 and has offices in New York City, London, and Tokyo. Knewton has raised $157.3M in total funding and been recognized globally as a "Technology Pioneer" by World Economic Forum in Davos. Knewton-powered courses have been used by more than 15 million students around the world to date.
CODEACADEMY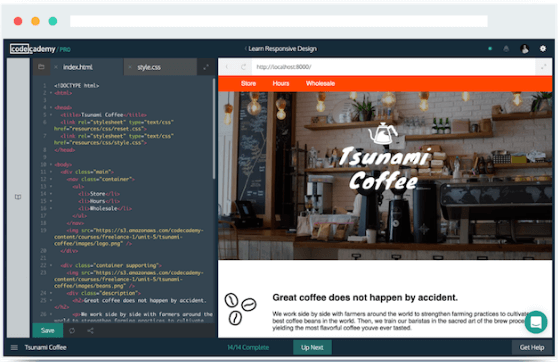 Codeacademy is an eLearning platform that offers free coding courses in 12 different programming languages. The company was founded in 2011 and has received $47.5M in total funding.
As of January 2014, the site had over 24 million users who had completed over 100 million exercises. To date, the coding courses have been explored by over 45 million people around the world. According to CEO and co-founder Zachary Sims, more than 70% of Codecademy users are outside of the US.
'The key to attracting and retaining users is making the commitment as easy as possible. Lessons are truncated into very small chunks that can be done in a few minutes. That means he sees people doing quick lessons in CSS while on the run, waiting in line at the grocery story or while on the bus.'
Zachary Sims
Students can upgrade to Codeacademy Pro version that allows accessing personalized learning plan, receiving live technical support from advisors, and testing progress with quizzes at the end of each unit.
Codeacademy Pro Intensives include Codeacademy Pro options as well as additional features. Pro Intensive teaches how to build websites, front-end web apps and web APIs from scratch. The courseware also includes basics of test-driven development and data analysis. Thus, students are able to build real-world projects reviewed by professional developers and graduate with certification and portfolio.
SPEAKABOOS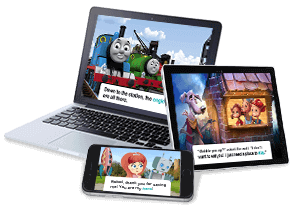 Speakaboos developed a multi-platform reading app (compatible with iPhone, iPad and Android devices) for children aged 2-6. The software delivers interactive educational storybooks to parents, teachers, schools, and districts. Speakaboos was founded in 2008 and has raised $32.8M in funding.
'Speakaboos is turning kids' screen time into reading time with engaging and educational content they love and parents feel good about.'
Neal Shenoy, CEO and Co-founder of Speakaboos
Clients are able to sign up for a Speakaboos account and receive a free trial before paying for a monthly or annual plan. The company provides unlimited offline access to a catalog of over 200+ stories and songs with rich illustrations, animated characters, and story-driven touch-screen interactions.
On average, children spend over 22 minutes per session and dedicate nearly one-third of their monthly digital screen time reading on Speakaboos. The result is that Speakaboos turns screen time into reading time. To date, the company has sold over 10.000 subscriptions. According to the results presented on Techcrunch, 75 percent of parents and schools using Speakaboos services renew their subscription.
SKILLSHARE

Skillshare is an online video tutorial hub that offers classes in various areas including design, business, technology and more. In other words, the website is envisioned as a kind of educational YouTube that hosted "bite-sized, self-paced courses for creators," according to founder and CEO Michael Karnjanaprakorn.
The platform enables users to take online classes, watch video lessons, create projects and share work with the community of over 3M members. The courses can be viewed offline with no ads via the Skillshare mobile app for iOS and Android.
Since the Skillshare platform was launched in 2010, the number of courses offered has increased to over 19.000. The company has raised $22.8M in total funding.
'As a low-cost subscription business in a largely high-cost and a-la-carte driven industry, we see ourselves as the Spotify to the industry's iTunes.'
Karnjanaprakorn
THINKFUL
Thinkful provides one-on-one learning to improve technology skills. The company offers flexible training programs in full stack development, data science, and frontend programming. The online coding school has about 300 mentors, who work at companies including Bank of America, American Express, and Turner, and have an average of 10 years experience in their chosen field. To date, the coding bootcamp has raised $16M in total funding.
According to the official data, 9.000 students have graduated from Thinkful's programs since its founding in 2012.The company claims 92 percent of its graduates land jobs in product or programming largely within 6 months of completing the course.
Thinkful has expanded its physical presence since 2017. To date, the company representatives operate in Atlanta, Los Angeles, Portland (Oregon), San Diego and Phoenix. In these cities, Thinkful organizes a couple of free events each week, ranging from panel discussions about how to break into the local tech scene to career workshops.
'Thinkful has gotten a positive reception in the cities where it's launched communities, which spurred the decision to raise more capital.'
Co-Founder and CEO Darrel Silver
TEACHABLE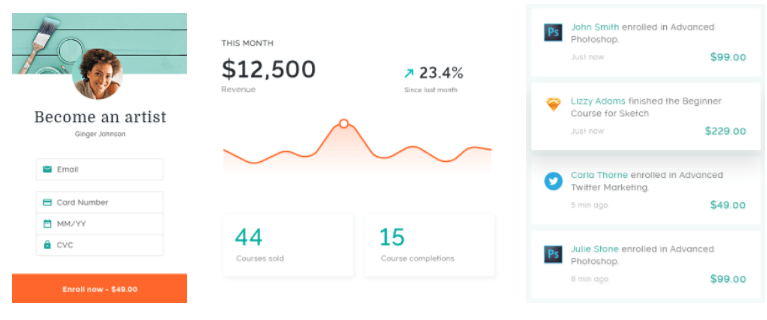 Teachable develops an eLearning platform which enables users to build a course website without any technical knowledge.
'We think of ourselves almost as an anti-marketplace since teachers use us to build their own sites. They control pricing, payments and their entire customer list — there is no centralized repository of classes for students to browse.'
Founder and CEO Ankur Nagpal
The company was founded in 2013 as Fedora, but changed its name to Teachable in October 2015. Today, over 22K instructors use Teachable services to share their knowledge with 7M+ students. The startup has received $8.5M in total funding and boasts $500K+ in MRR (as of August 2017).
People who want to sell courses on Teachable can use the service for free or sign up for one of the 3 plans. A free version implies a $1 fee and 10 percent of every sale for classes instructors add to the platform. However, the startup doesn't charge users at all if they make courses freely available to students. Paid services provide additional pedagogical and e-commerce tools, including integrated payment processing, student management, integrated email marketing and more.
COGNIFIT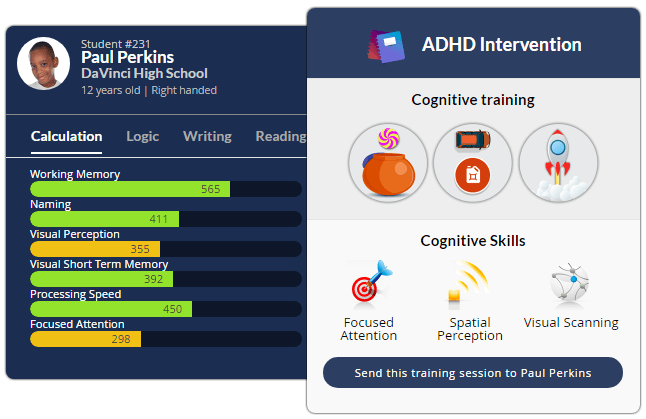 CogniFit is a healthcare company founded in 1999. It develops specific brain training programs guided by an international team of scientists, neurologists, and psychologists. The team investigates and combines the contemporary discoveries about the brain with advanced algorithms by simplifying tasks in the form of mind games.
CogniFit programs enable users to assess their cognitive skills and track their progress as well as monitor concrete cognitive abilities and predispositions towards neurological diseases. The software is scientifically validated and available in more than 15 languages. To date, CogniFit has raised $5M in total funding.
Researchers and healthcare professionals use this software to compile comprehensive screenings of patients and receive diagnostic support. CogniFit's assessment provides information to identify certain brain disorders and track the patient's progress and rehabilitation.
The company also focuses on individuals, families and schools. By compiling the database of test results and utilizing advanced algorithms, CogniFit discovers the particular cognitive state for each user and automatically creates a personalized brain training program.
CogniFit app is compatible with iOS and Android devices and offers memory games, puzzles and educational games that can be used by people of all ages.
Have a similar project in mind? Contact us and get a free quote on it!
ONE MONTH

One Month offers online technology-based video trainings and tutorials for Ruby on Rails, HTML, CSS, Growth Hacking, iOS and Programming for Non-Programmers. The company has assembled a community of over 40.000 students from 70 countries since its establishment in 2013.
On the road to success the company had to overcome many obstacles. Among the struggles One Month faced were lack of investment and drawn-out recruiting process. They didn't start hiring specialists to the team as quickly as they should have. But when the recruiting campaign was launched, they didn't do background checks leading to one applicant going to jail a week after they hired him. However, that did not stop the company to raise $2.7M in total funding.
'When you're a startup, you're doing most things wrong. You're only doing a handful of things well, and even those things you're doing wrong.'
Co-Founder of One Month Mattan Griffel
BRAINSCAPE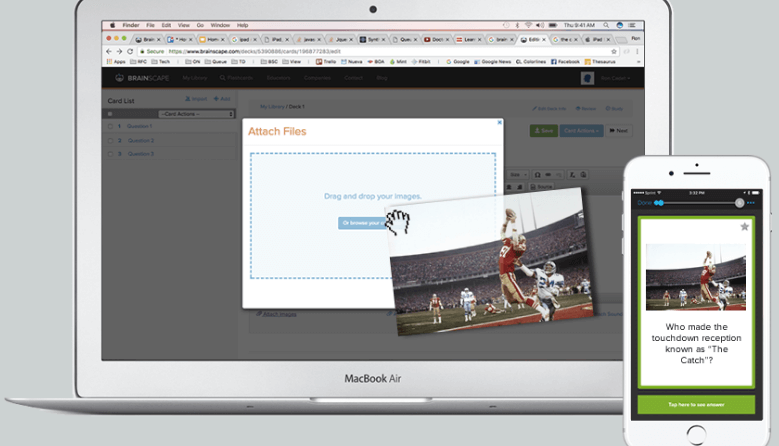 Brainscape is a cloud storage that also provides software to create, upload and share electronic flashcards, as well as search for cards created by other users around the world. The company was founded in 2011 and has since raised $2M in total funding and expanded its community to several million registered users.
Starting as an Excel spreadsheet in a cognitive science lab at Columbia University, Brainscape is now a robust web and mobile educational ecosystem. The software is based on a scientifically proven adaptive algorithm to optimize learning process for every user.
Brainscape is compatible with iOS and Android devices are targeted at the K-12, higher education, corporate training, and lifelong learner market. The flashcard app allows users to rate how well they know each concept and determines when to take a look at the card once more. Brainscape's Pro subscription option provides ad-free access to the advanced content of hundreds of test prep materials and special features.
SHOWME

ShowMe offers an app for iOS, Android and Chromebook to create interactive lessons and instantly share them with private classroom or with the ShowMe community. The company has educators from over 65,000 schools who have already created more than 4 million lessons. It was founded in 2009 and has since raised $840K in total funding.
ShowMe's basic features are free. A premium membership provides more opportunities by offering cloud storage, unlimited uploads, and drafts, Google classroom integration etc. Educators also receive extra income by selling their premium lessons to the ShowMe community.
BUILD ACADEMY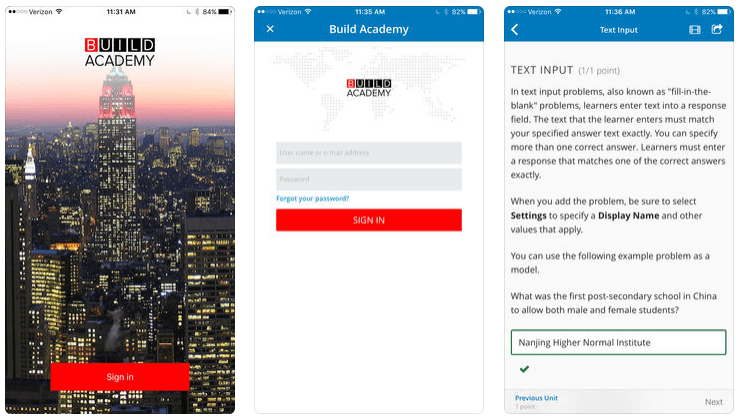 Build Academy developed an e-learning platform that offers online courses and professional training in the building industry, including architecture, civil engineering, real estate development, and construction. As a provider of continuing education approved by the American Institute of Architects, Build Academy has a right to offer course certificates in compliance with AIA-CES/CEU credits.
The company was founded in 2013 and has raised $220K in total funding. Build Academy community consists of 60+ thousand professionals that are able to access 87 projects and 27 courses taught by 16 professors.
Build Academy's learning approach includes video lectures with VR immersion, integrated assessments, collaborative mini-projects, and discussion forums. Yearly membership grants an access to the full courses library, professor support, analytics reporting and more.
The company also offers an iOS app to download course videos and play them offline, take basic quizzes and exams as well as view announcements and handouts.
ARTICULATE

Articulate company has developed e-learning software and content since its establishment in 2002. Nowadays, the community consists of more than 83 million learners from 151 countries and 605.000+ course creators that use 2+ million course assets.
Articulate 360 provides e-learning course development tools that are available with a subscription for individuals and businesses. Articulate 360 apps are the following:
Storyline 360 - for creating interactive courses;
Studio 360 - for transforming PowerPoint to e-learning;
Rise - for building courses and adapting the content for every device;
Peek and Replay 360 - for creating videos.
The individual plan offers project review app, unlimited access to the content library (that includes stock photos and templates to create courses) and live online training. The team plan provides an entire training group with an access to Articulate 360, unlimited data storage, and regular check-ins with success coaches. Users can share and view team slides and work together on the same class.
DIGITAL CURRENCY COUNCIL

Digital Currency Council has provided training and certification courses since 2013. The lessons are designed to enhance knowledge in digital currency economy. The whole curriculum is based on advice from certified digital currency professionals, enabling people to broaden their expertise, raise their profile, leverage the blockchain technology and connect with peers and prospective clients.
The DCC offers three distinct Explorer Curricula to introduce students to the specific profession-oriented issues. Over 2000 legal, accounting and financial specialists have undertaken these programs. To date, the DCC community has comprised of over 1.500 specialists in the digital currency economy across 90 countries. The network membership enables users to access exploratory training courses, publish and promote personal articles, as well as receive key data and special offers from ecosystem partners or event providers.
The company offers trainings that are designed for teams from 5 to 100 professionals and based on the curriculum created by Bitcoin experts. The DCC Professional training course includes over 7 hours of self-guided videos on bitcoin and blockchain technologies. The DCC Enterprise training also provides interactive learning modules and course books.
EVENT LEADERSHIP INSTITUTE
Event Leadership Institute was founded in 2011 as a subscription-based video class library for event, meeting, and wedding planning professionals. The company provides on demand education and intensive professional classes as well as useful event management and planning tools.
ELI stores classes 3-10 minutes long to simplify the education process: users can watch an entire class end-to-end or go to the necessary section. The average course takes 45 minutes and consists of over 10 chapters. In addition to lessons, ELI website collects interviews with event professionals like Mary Wittenberg who leads the NYС Marathon.
ELI offers individual subscription access, group plans for teams of 3 or more people, and university plans for classes of 10 students and more.
GOLDBEAN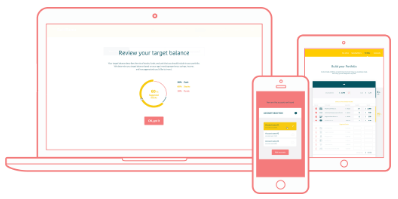 GoldBean is a Registered Investment Advisor, whose clients are provided with educational content and platform that can be implemented as a SAAS solution, or installed on-premise. GoldBean was founded in 2013 to get customers started with investing by building a personalized portfolio, analyzing spending history and financial profile.
The company offers subscription-based access to the community, educational information and portfolio recommendations. The library includes 150.000 of articles and social posts that help people understand critical concepts.
GoldBean products are available via RESTful APIs and white-labeled widgets. Customers are also provided with an access to CMS for data management.
Got inspired by this post and want to create another groundbreaking startup? Hire us!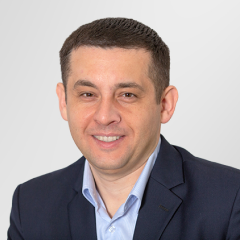 Written by
CTO / Department Head / Partner
Recommended posts
Belitsoft Blog for Entrepreneurs
Portfolio
Portfolio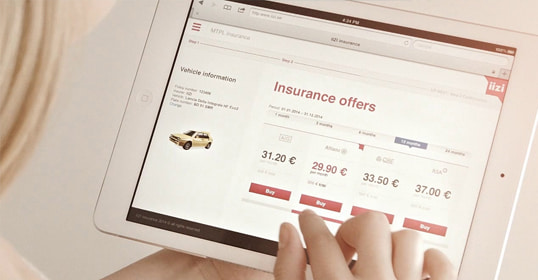 Our client is a global insurance custom software development company (1.6M+ EUR in revenues in 2016) with the teams in the USA, the UK, Estonia, Latvia, Lithuania, and Poland. The Client asked us to enlarge his team with dedicated software developers to speed up the process of maintaining his system and adding new complex custom features to it.