Choosing the right LMS for your business is hard enough, but what if none of them are the right fit? In this case you can just develop your own. In this article we will cover the main reasons for making a custom LMS, give advice on the top features, and give you a good starting point for development.
When Should You Develop a New LMS
There are two leading cases where making a system from scratch is justified.
The first one is launching a new product. Despite there being dozens of existing LMS' on the market, it is still possible for another startup to carve out its slice of the market (not that it would be easy).
In this case, your system should differ from your competitors' offerings. There are many ways to achieve this: unique features, innovative training, a new distribution model, or even a better price. The important thing is to make it look valuable enough for your target audience to make a purchase.
The second case for making a new LMS happens where a corporation isn't satisfied with any of the existing systems on the market. This can happen for any number of reasons from lack of specific features, to desire for total control.
Boxed LMS vs Custom LMS
As with everything, making a new learning management system has its benefits and flaws.
Advantages:
Better long-term value. In the long run, a custom LMS is cheaper than its ready-made counterparts. You don't have to pay the license fees no matter how many users you have.
Total control. As an owner, you can decide everything, from the feature set to the deployment model and, of course, content. No outside force will have an influence on your product, no company going bankrupt will cause support for it to cease, and no sudden update will make your working course crash on its users.
Better security. Everyone who uses the same system shares the same vulnerabilities. All it takes is for a malicious actor to hack one of the users to find a way to access all the others. Having a unique system negates that risk.
Improved valuation. A custom LMS is a unique piece of intellectual property. Should your company go public, it would dramatically increase its market worth.
Disadvantages
Higher upfront costs. It takes a certain initial investment to develop a new software product. This goes for both money and time: while you can buy a ready-made LMS and start using it pretty much right away, it takes a while to build something new.
No community support. Boxed systems tend to accumulate an audience that becomes a good resource for new members to look for advice. In a custom system, you can rely only on yourself and the developer who built the LMS for you.
LMS Customization
This approach is somewhere in the middle between using a boxed LMS and building a new one from scratch. If the system doesn't exactly fit your needs as it is, but would do so with a bit of extra work, you can ask the vendor to customize it for you. This can include something small like changing colors and branding, or more in-depth work (e.g. making entirely new features).
In the case of open-source LMS', customization can be done by a third-party developer. This becomes a more viable option if the rates of the original developer are higher.
Must-Have Custom LMS Features
These functions are absolutely necessary for any modern LMS worthy of the name.
Course management
A pretty self-explanatory one - a learning management system that can't manage learning wouldn't be very useful. The LMS should allow users to upload files and share them, plan learning paths (the order in which a learner completes lessons and assignments), and possibly edit the course within the system, without turning to 3rd party authoring tools.
Skill Assessment
This feature can include any kind of tests and quizzes, from the common "multiple choice" to game-based ones. A gradebook where the learners can see their results and potential areas of improvement also goes here.
Analytics
This feature is very important both for monitoring the learners' success and the course's efficiency. A properly tuned analytics can track more than just the time the users spend studying and the questions they have the most problems with - it can also see what motivates them and even what they study outside of the LMS (thanks to the technologies like xAPI).
Gamification
Gamification is using game-design elements in a non-game environment. These elements can include points, badges, levels, leaderboards, and more.
Gamification is used to improve learner motivation and engagement and has proven to be effective at this job.
Mobile Learning
Given that the modern learner spends a lot of time on his/her smartphone or tablet, it makes sense to make your system mobile-friendly. This includes more than just responsive design - the whole system needs to be convenient to use on a smaller screen and with the touch instead of keyboard+mouse.
Choosing the Contractor
If you are reading this article, your company probably needs someone else to build the LMS for you, as software development is not its core area of expertise. Here's what you should pay attention to.
Communication
The company that you hire needs to demonstrate that communicating with them would be easy. This covers the ability to understand your needs and requirements, knowledge of the domain your company works in, and even cross-cultural communication (if you hire an overseas development company).
Otherwise, you risk getting a different product than the one you envisioned and learning about it when the work is already done and the costs are sunk.
Experience
The company that has already delivered LMS' is already aware of the potential pitfalls they can face and know how to avoid or mitigate associated risks. They have already built features similar to the ones you need, which will shorten the development time and thus save you money.
Note that experience in software development for the domain isn't quite the experience in the domain itself. For example, as an insurance company executive, you will be much more knowledgeable about the industry than your development company. However, their strength would be to understand the knowledge you impart upon them and use it to create a better product for you.
Pricing
This refers to both the cost and the pricing model. The right company would give you a good amount of "bang for your buck" and be flexible enough to agree on the most fitting way the payment is arranged. The three most common pricing models are Fixed Price (a specific scope of work for a specific sum), Time and Material (you pay for the time actually spent building your product), and Dedicated Team (you rent a team, pay for them monthly, and manage them as you see fit).
There are also hybrid pricing models that combine two of the above when it is the most cost-efficient.
Post-launch Support
Unless you have a strong internal IT-department, you'll need to hire a contractor that can maintain the LMS after it has gone live. This can be 24/7 dedicated support or just fixing the problems as per written request, depending on your needs.
Why Hire Belitsoft?
15+ years of experience in making eLearning applications - LMS', custom courses, and more.
Successfully delivered projects for startups and established enterprises from the USA, Western Europe, Israel, and other locations.
Fixed Price, Time and Material, Dedicated Team, and hybrid pricing models available.
Lower rates thanks to lower taxes
Where to Start
Once you know what you need and have found a solid development company to bring your idea to life, what should you do?
Start With an MVP
A Minimum Viable Product (MVP) is a technique that helps risk less money and start getting results faster. It boils down to developing the core features (including the ones that make your product different from the competitors') first and launching them as soon as possible. Yes, it carries the risk of technical debt and the need for refactoring later, but the benefits far outweigh them.
Choosing the necessary features, though, can be harder than it seems. See our article on MVP for advice on how to approach it best.
Plan the Implementation
This part concerns both the enterprises that are getting a custom LMS and the startups that might need to help their future customers.
Building an LMS is one thing, using it in practice is another. So it is vital that all the concerned parties know what is going on, how to work with the system, and what benefits will it bring. You should also keep in mind the need for training, data transfer, trial run, and many other things. See our detailed article on implementation for more.
Prepare For a Trial Run
Before the system goes live, it is advisable to conduct user acceptance testing - try it out on a group of people who would use it in the future. This will be as close to the "real-life" conditions as possible and will help assess the readiness of both the systems and the staff.
The test group should consist of people from every position that would utilize it. This way you'll be able to learn whether it fits the need of everyone involved. For more information on user acceptance testing see our article on implementation.
Examples
JoomlaLMS
As the name suggests, this LMS was created based on the popular Joomla! content management system. It has been on the market for over 14 years, and has gained more than 1000 customers in 30+ countries.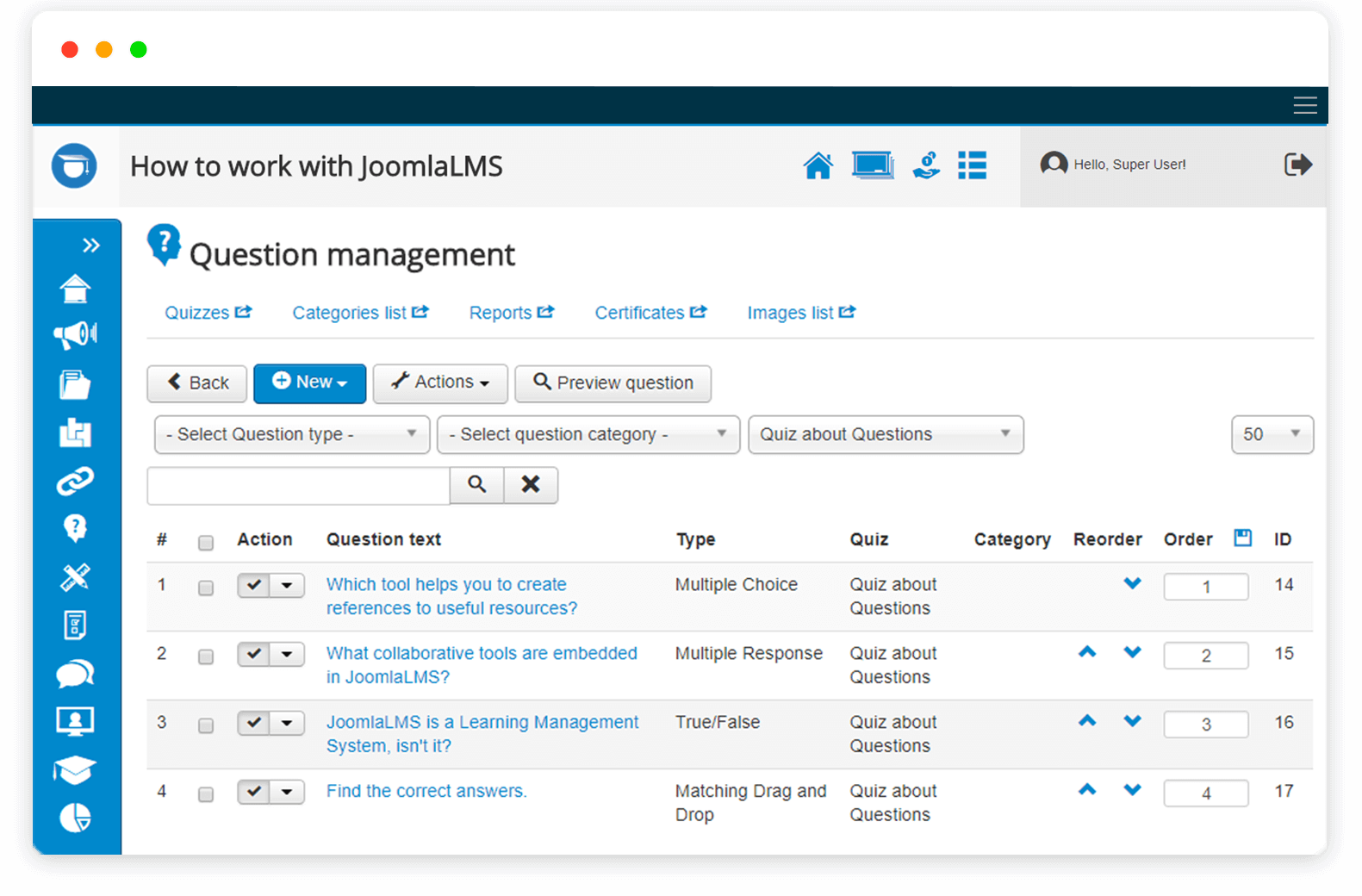 Features:
Course builder. The system allows creation of media-rich learning content, including lessons with audio, video, PDF and other materials. This LMS is also compatible with SCORM, AICC, and LTI learning standards.
Advanced quiz manager. JoomlaLMS can create quizzes with 14 different types of questions and gathers extensive statistics to help admins improve the learning process.
Communication tools. This includes a lot of functions that help learners communicate with the teachers and each other - chats, forums, announcements, and more.
Mobile app. The JoomlaLMS mobile app makes it convenient to use on every platform.
Analytics. The system is able to track many aspects of learning and the reports can be adjusted and exported in many different ways.
LMS 365
This system used to be known as SharePoint LMS, as it is based on the popular Microsoft corporate software suite. Now it is compatible with Office 365 and can be deployed in the cloud, as well as on premises.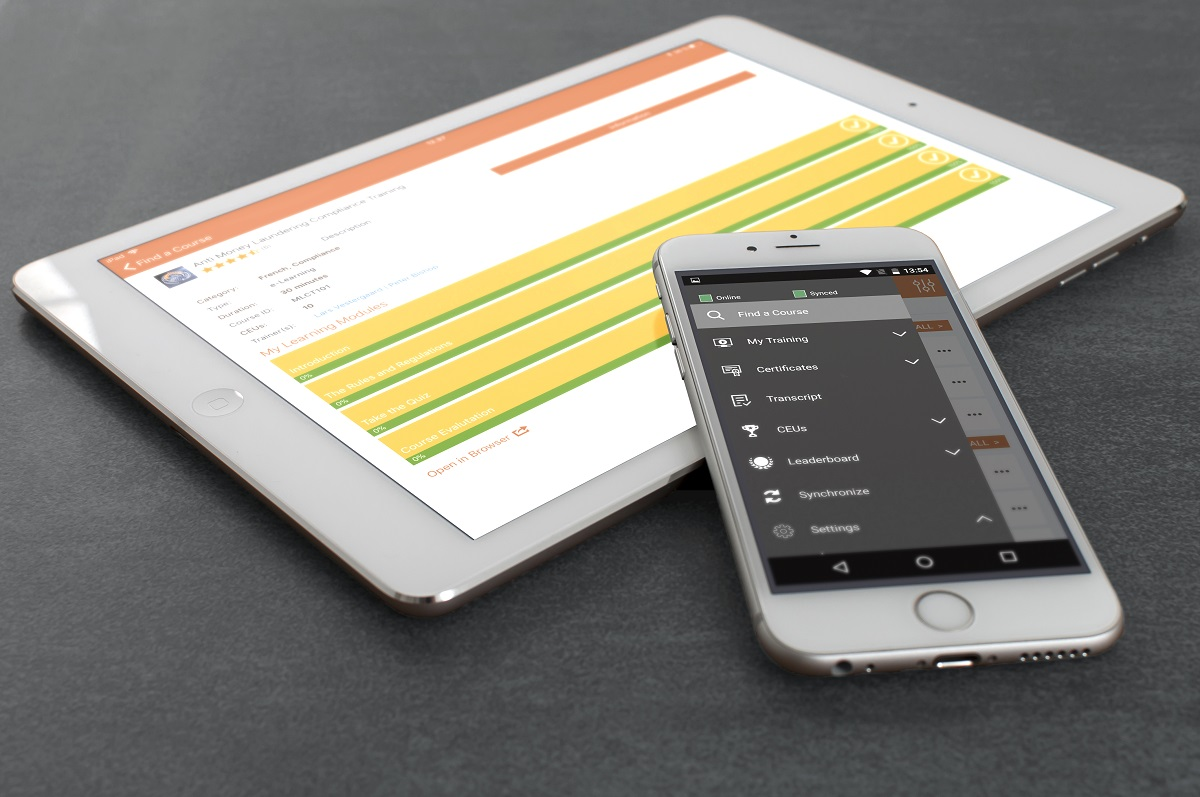 Features:
Course management. LMS 365 can play premade SCORM-compliant courses, or let the users create their own using a robust in-built tool.
Blended learning/Webinar support. The LMS can be used both for digital-only teaching and mixed formats.
Certification. LMS 365 allows standard operating procedures to be published automatically, tracks continuing education units, and can issue certificates to the learners.
Mobile learning. The LMS has mobile apps for both iOS and Android that include offline mode, allowing learners to study even when they have no internet connection.
Starbucks
The world-famous coffee shop chain has chosen to develop a custom LMS to train its baristas. The system contains information on the drink recipes and the equipment used to make them.
Features:
Courses. The training system is pretty straightforward, with video lessons followed by a quiz. The learner needs to answer at least 80% of questions correctly to pass and be allowed to move on to the next lesson.
Mobile learning. The design of the LMS makes it convenient to use on any device, from a tabletop PC to a smartphone.
Gamification. To increase the learner motivation, the LMS has a robust gamification system with badges and leaderboards. The results can also be shared on social networks.
Social learning. A learner can create a personal profile, connect to others, and see their coworkers' achievements and results through the activity feed and a number of leaderboards.
Local groups. The baristas and their managers can find coworkers in their neighborhood. And the administrators can segment the data from the LMS by location.
Analytics. The LMS gathers the data on employee training efficiency and visualizes it with Google Charts.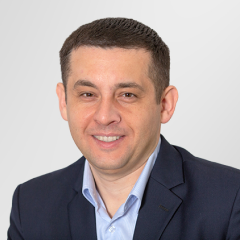 Written by
CTO / Department Head / Partner
I've been leading a department specializing in eLearning applications and Business Intelligence for 14 years.
Belitsoft Blog for Entrepreneurs
Let's Talk Business
Do you have a software development project to implement? We have people to work on it. We will be glad to answer all your questions as well as estimate any project of yours. Use the form below to describe the project and we will get in touch with you within 1 business day.