In this article, we will describe what authoring tools are, give pointers on how to select the best one for your organization and give a rundown on a few most popular ones.
How Belitsoft Can Help
Consulting. Talk to us if you need advice on selecting the right authoring tool for your organization. Or whether you need one at all.
Custom Course Development. If you need a brand-new eLearning course or an updated version of an existing one, let us know.
Standards Compliance. We can help you convert your eLearning content into SCORM/xAPI format for interoperability with all the major LMS'.
What is an Authoring Tool
Authoring tools are software for creating educational content and structuring courses. Their output can be anything from presentation-like lessons to interactive videos and learning games. The developed content can then be packaged in a SCORM/xAPI/AICC format for better compatibility with learning management systems.
Authoring tools dramatically decrease the time and effort needed to create learning courses. This is done in two ways. Firstly, they are much easier to use compared to programming languages. Secondly, they automate many repetitive tasks.
Types of Authoring Tools
This kind of software can be loosely arranged in 5 categories:
SaaS. Subscription-based tools that are accessible via the internet. They are quite convenient, available anywhere as long as there is a network connection and get regular updates. However, if your courses include sensitive information, using such tools can be against your company's data security policy.
Locally Hosted. These tools are installed on your computer. As a rule, they are very feature-rich, include libraries of templates and other useful materials, and are very flexible in the results they allow you to achieve. The downsides include a higher upfront cost and a steeper learning curve, as it takes time and effort to master all the advanced features.
Specialized. Authoring tools in this category aim to be the best at making a specific kind of eLearning content. They include the most features dedicated to their specialty and have extremely rich libraries of helpful assets but are limited in the variety of courses they can produce - for obvious reasons.
PowerPoint Add-ons. PowerPoint itself could be used to create courses, but there are tools that integrate with it and beef it up with extra features. If you have an understanding of how the base software works, you won't have any trouble learning how to use the add-on. On the other hand, the feature set of such tools is limited compared to full-fledged applications.
Screen Recording. There isn't a better option to make "show-and-tell" videos, as these tools not only include the basic screencap features but allow users to edit the result and even add interactive elements. Unfortunately, they rarely have the option to package the video as a SCORM/xAPI-compatible file.
Authoring Tool Features
These features are typical for many, if not most authoring tools out there.
Course creation. The primary aim of any authoring tool is making learning materials. This can be as simple as pasting images on slides and adding text, or as complicated as making branching interactive lessons.
PowerPoint conversion. Since the presentations made in this software are used as a basis for many of the courses, the authoring tools include functionality that enriches these files and possibly repackages them in compliance with industry standards.
Audio/Video Editing. The use of multimedia in learning has been common for quite a while, so the functionality that assists in editing audiovisual content is also a part of most authoring tools out there. Some have just the basics like cutting and embedding, others boast full-fledged editing suites.
Templates. One of the core benefits of authoring tools is saving time. This is achieved in part by using templates that determine the layouts of the slides, structure of the courses, and more. The templates themselves can also be edited sometimes.
Collaboration. A learning course is often the fruit of labor of several people. Collaborative features allow them to work together even if they are many thousands of miles apart. Such functions include suggestions, versioning, review history, sharing options, and more.
How to Choose an Authoring Tool
Making the right choice of an authoring tool (or tools) is crucial for achieving good results. Selecting one that doesn't fit your organization's needs can cause inefficient use of training budget, low-quality teaching, and wasted time.
If your organization is sufficiently large, it makes sense to choose a set of authoring tools as a standard and enforce it. This will save you money on purchasing licences in bulk, help employees learn the toolkit faster, and simplify the content standards through the use of templates.
As there is a great variety of authoring tools on the market, choosing the right one can be problematic. Here's what you should consider to not regret your decision later.
Objective
Start with your desired learning outcome and the best learning content format to get it. Otherwise, you might find yourself in a situation where you are trying to metaphorically hit a nail with a screwdriver. For example, audio-based lessons can be fine for improving general knowledge of your learners, but you need specific step-by-step instructions that are better delivered as an interactive video.
This goes hand in hand with determining the learning approach you are going to use. Some tools are not tied to any of them, but there are programs (especially template-based ones) that are designed to deliver a specific kind of learning. Choosing one that fits your chosen style (or at least doesn't interfere with it) is important for getting the desired results.
Budget
Authoring tools come in all shapes, sizes, and pricing models: freemium, SaaS, one-time purchase etc. This means that you have many options in terms of balancing the feature set and cost. For example, Articulate 360 costs about USD 1300 per user annually, while the basic version of iSpring is free.
Standards Support
Having an eLearning tool that supports popular content packaging standards ensures that you won't be vendor-locked with your software as well as increases the longevity and versatility of learning content that you use.
The most popular standard is SCORM in all its versions, although it is slowly being replaced with xAPI.
Note that these standards don't force you to use a certain learning strategy. They are technical specifications that improve interoperability between different eLearning systems.
Accessibility Regulations Compliance
There are laws (e.g. Section 508 in the USA or Accessible Canada Act) that require certain organizations to provide the disabled people with unimpeded access to the information. If you are subject to these regulations, choose authoring tools that help you achieve compliance and include the relevant features (e.g. closed caption support for the deaf people or text-to-speech for the blind). Otherwise, you might need to buy additional software and spend extra time on bringing your content in line with the requirements of the law, not to mention risking fines for non-compliance.
Ease of Use
A well-designed interface along with quick access to all the necessary features is a major factor that affects how effective your authoring tool will be. If the employees can do their work faster, it is an obvious benefit.
This also includes responsive design, which is more than just the image that adapts to the screen size. Truly responsive design takes into account the orientation of the device and even the typical use conditions (e.g. tablets are mostly worked with while sitting down, whereas smartphone users are often standing or even moving around).
Most Popular Authoring Tools
Captivate
A robust authoring tool that has been updated and upgraded since 2002, Captivate is solidly placed within the Top-10 in the world. It is a cloud-based solution.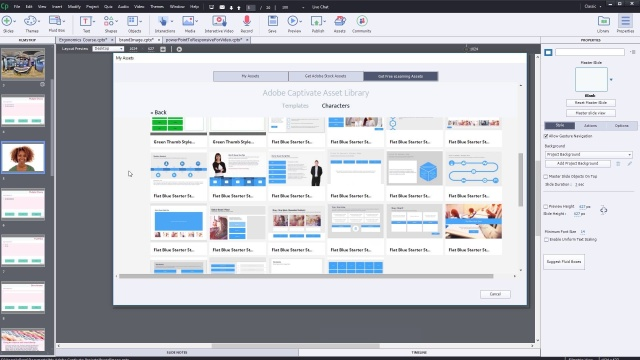 Adobe Captivate. Source
Over all the years it's been in development, Captivate has gained an extremely wide feature set. Some notable functions include:
Text-to-speech
Publishing a course as an app
iOS screen capture
Integration with leading LMS'
PowerPoint presentations conversion
360 degrees videos
Virtual reality support
Live device preview
The users name the following advantages of Captivate:
Many useful features
Reliability and stability
Large asset bank
Supportive community
Regular updates.
However, they also mentioned flaws:
Steep learning curve
Clunky interface
High cost
Outdated templates
Articulate 360
Articulate 360 is another major player in the cloud-based authoring tools market. It includes Storyline 360 and Rise 360, as well as a suite of other helpful applications.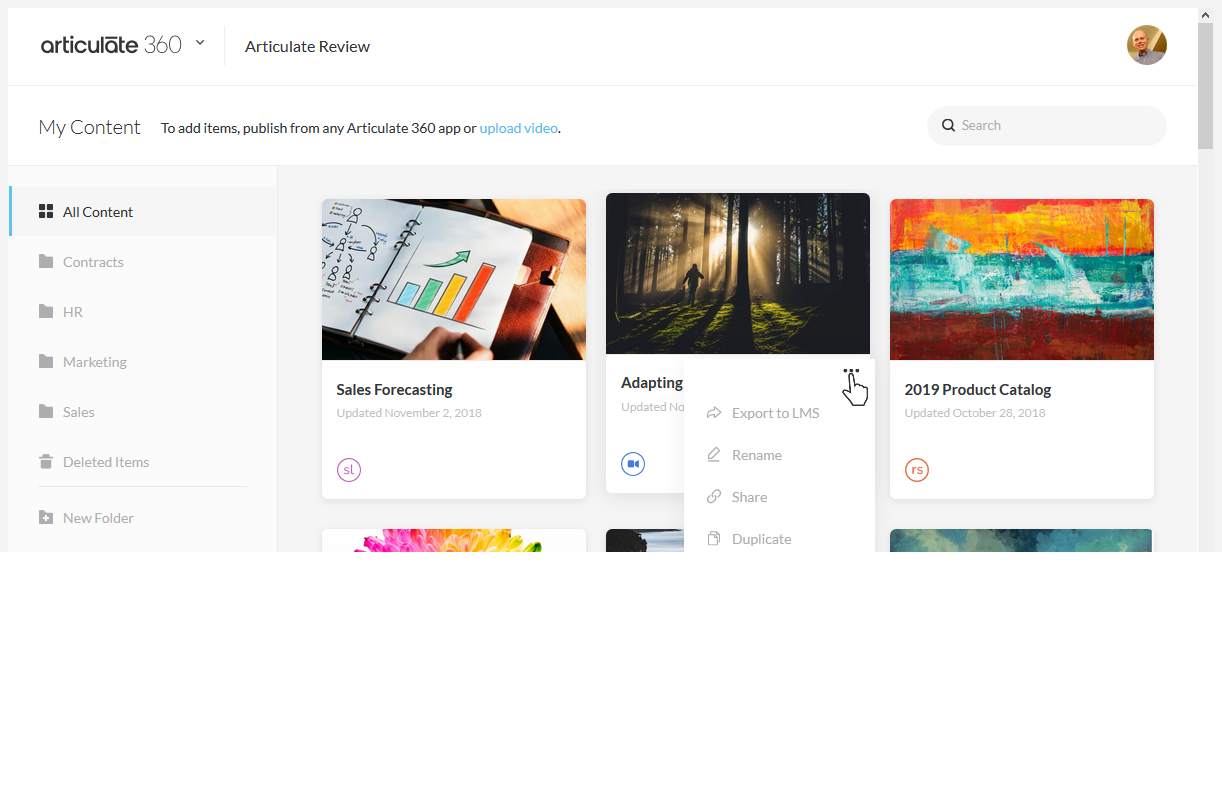 Articulate 360. Source
Its feature set is substantial and contains:
Large content library
Photographic and illustrated characters
Support for 5 languages (English, Chinese, French, German, and Spanish)
Advanced animations
Rich triggers and objects
Software simulation
Text-to-speech
And more
The users value Articulate 360 for:
Ease of use
Beautiful design
Convenient project management
Being easy to learn
Helpful community
Many useful features.
However, there are drawbacks:
High cost
Inflexible templates
SCORM compatibility issues
The necessity to subscribe to the whole suite, even if you only need one or two of its components.
iSpring
iSpring is a PowerPoint-based authoring tool that comes in two versions: the iSpring Free which you can get gratis, and the iSpring Suite - the paid version.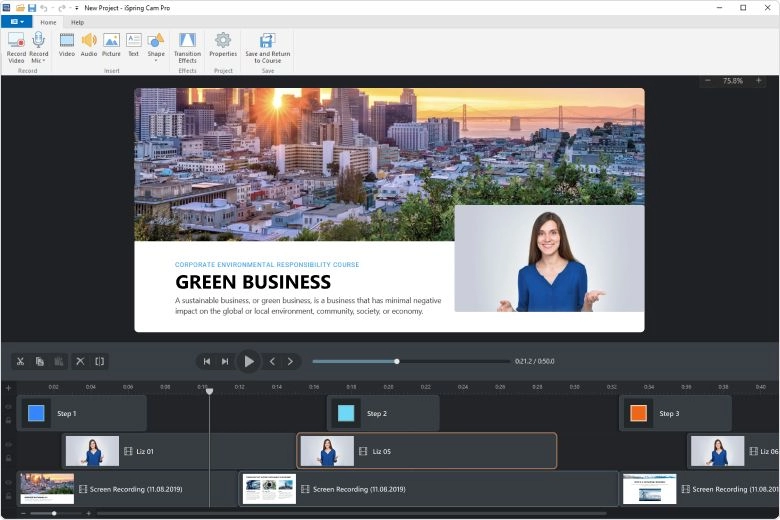 iSpring Suite. Source
The free version contains only the most basic features. But iSpring Suite is far more powerful and has:
Large character library
Many templates and assets
Powerful quiz-builder
Video editing module
Interactive roleplay simulations
Customizable course player
Among the advantages of this software, the users mention:
Ease of use
Excellent customer service
SCORM compliance
Regular workshops by the developers
Cost-efficiency
Good reporting
It is still not perfect, as the following disadvantages were named:
Occasional crashes and bugs
No auto-save feature
No video titling options
Restricted to the device on which it is installed
Elucidat
Elucidat is a powerful cloud-based authoring tool with a solid userbase and an impressive set of features.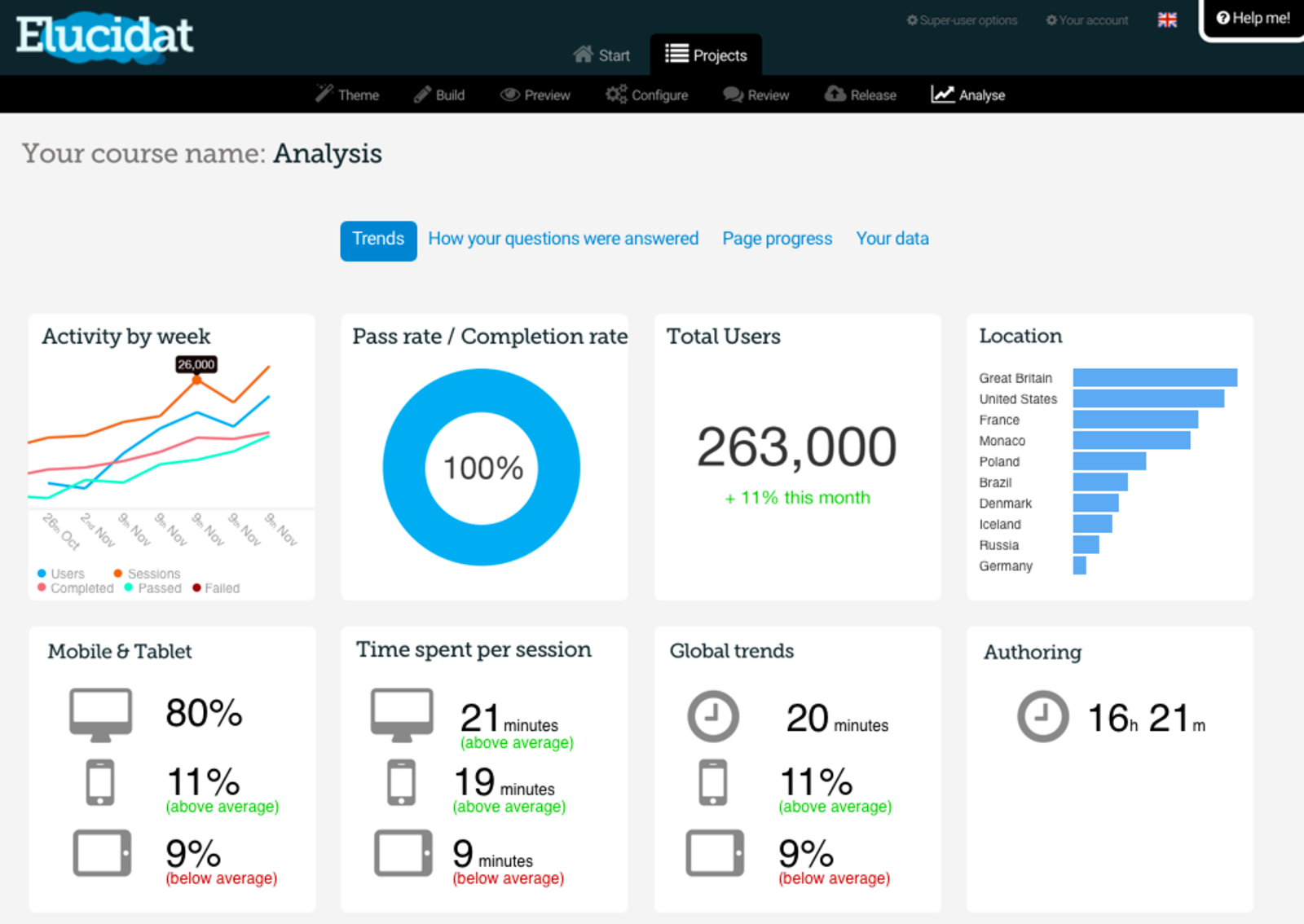 Elucidat. Source
Elucidat has the following functions:
Thorough access management system
Detailed reporting and analytics
Audit trail
Centralized media library to manage all the assets in one place
Quickstart project builder
Quiz editing
And more
Among the benefits of Elucidat the users named:
Ability to create courses very quickly
Customizable templates
Ease of use
Good customer support
Cost-efficiency
The drawbacks of this system were:
High cost
Inflexible pricing
Elucidat branding on lower-end plans
Updates require lots of clicking
Easygenerator
Easygenerator is a cloud-based authoring tool that has a successful history of 7+ years.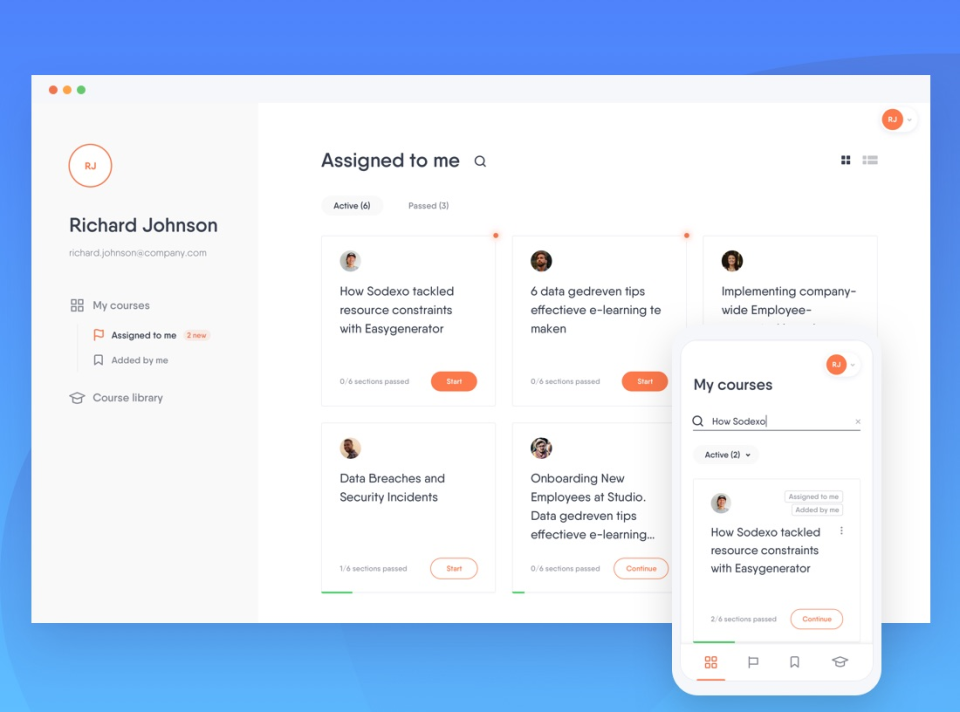 Easygenerator. Source
Easygenerator has the following core features:
Template management
Video management
PowerPoint conversion
Quiz creation
Storyboarding
Here's what the users like about it:
Ease of use.
Helpful customer support
Useful updates
And this is what they don't:
No SCORM 2004 support
Limited functionality
Limited image management
Gomo
Gomo is a cloud-based authoring tool that focuses on mobile-first learning and boasts fully-integrated xAPI analytics.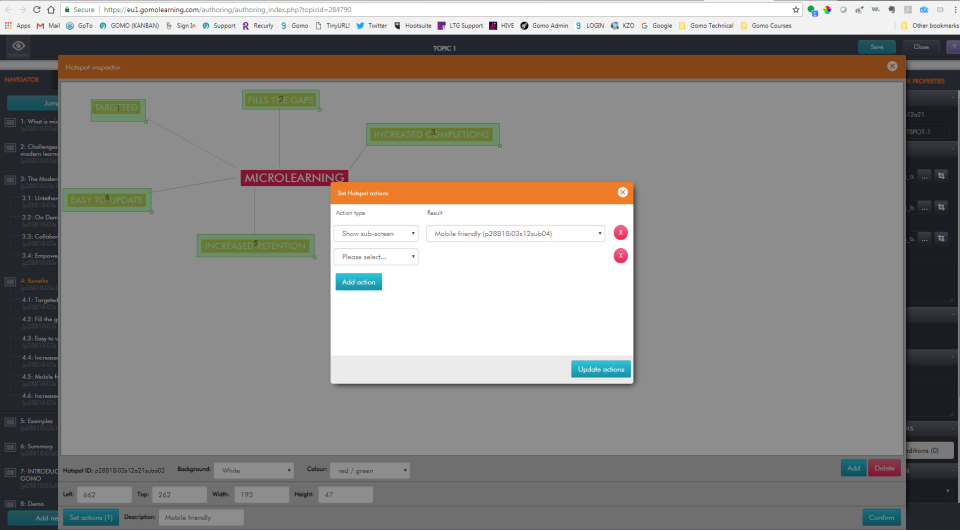 Gomo. Source
The core features of Gomo are:
In-person/Blended learning support
PowerPoint conversion
Video management
Storyboarding
Quiz creation
Here's what the users like about it:
Intuitive interface
xAPI support
Fast to develop courses with
And this is what they consider Gomo's disadvantages:
Limited feature set
Slow in some cases
Costly (especially for freelancers)
Lectora
Lectora is a brand that has two main authoring tools under it: Lectora Inspire and Lectora Online. The first one is desktop-based, the second is hosted in the cloud.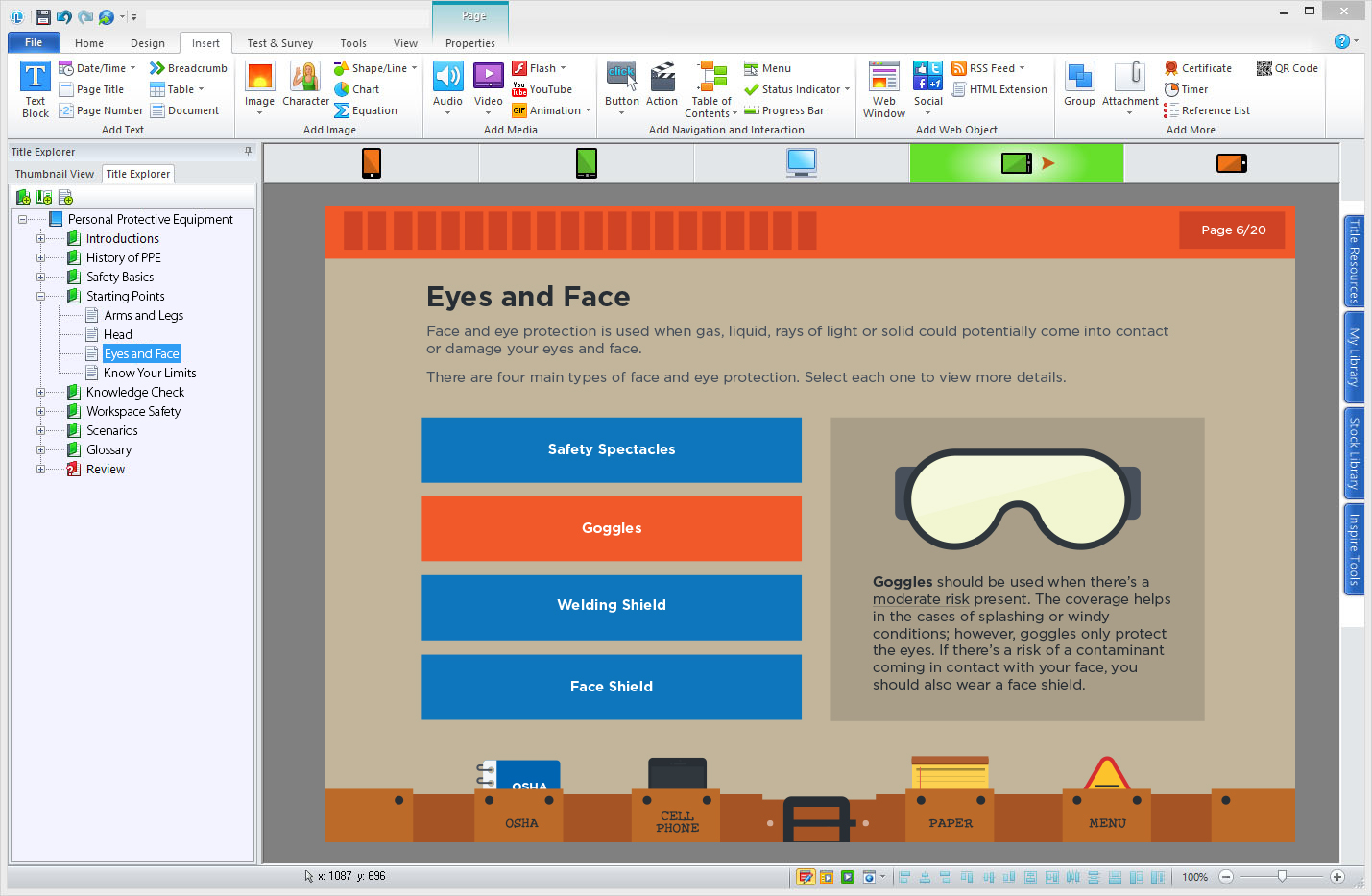 Lectora. Source
The most prominent functions of Lectora Online are:
Standards support (SCORM, xAPI, cmi5, AICC)
Advanced collaborative features
Advanced scripting
Automated versioning
Advanced quiz management
This is what its users consider its advantages:
Lots of features
Effective collaboration
Ability to hardcode something the tool can't do on its own.
And this is what they don't like so much:
Outdated UI
Time-consuming to make responsive pages
Prone to freezing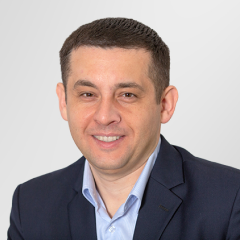 Written by
CTO / Department Head / Partner
Recommended posts
Belitsoft Blog for Entrepreneurs