Your company has an excellent product on the market. But you see some areas where your customers are struggling. The progressive way to reduce the number of support queries is customer training packed in a user-friendly LMS. Keep on reading to get practical advice for creating a perfect customer training LMS for your business that educates, onboards and supports your clients. And learn how this eLearning program can increase your customer retention and satisfaction, reduce customer churn and support costs.
Have a question about building a customer training strategy and the corresponding platform? Connect with us to gain insight from eLearning experts.
What is a customer training platform?
Customer training is educating your customers on how to use your product or service to get the maximum value out of it.
To close common customers' inquiries, most businesses email manuals, guides, and other documents. But these are all out-of-date methods that will neither drive significant business growth nor reduce costs.
Just as your company uses training programs for employees and partners, you can use training programs for your customers.
It's especially helpful if your company sells complex products (e.g., software, technology, and subscription-based businesses). To get the maximum value out of the product or service as quickly as possible, your customers need guidance on how to use your product.
Using a customer education platform, your customers can get knowledge about your product or service without the intervention of your support or sales teams.
On the LMS, a wide range of learning materials for customers is stored as guided or self-paced interactive courses and informative videos. And customers can access them whenever they need.
A customer training LMS can store:
Product manuals;
Service guides;
Safety measures;
Care and maintenance;
Terms of usage, etc.
Our company knows how to make it work for business because we apply the customer training approach. And here's how.
We have developed a JoomLMS and sell it as a product.
Together with an LMS as a product our customers get the course for resellers and the course explaining how to start and how to easily manage the system.
What is the outcome? A quick-start training resolves the problem of product complexity. The consumption gap doesn't appear, and customers return to us being confident in a proper service.
Business challenges that a customer training LMS resolves
The increasing interest in customer training is driven by the impact of 2 major disruptors of the modern sales process:
customers have more choice and power;
companies have more competition.
To attract and retain customers, such forward-thinking companies as HubSpot and Google were among the first ones to develop their own customer training programs - HubSpot Academy and Skillshop respectively.
This approach to customer education has proved to have a positive impact and has been adopted by other companies worldwide.
When you properly train your customers you mitigate the risk of incorrect use of your products and brand underestimation as a result.
Give your customers the education tool they need to make your business successful! Let's discuss the details!
Business benefits of using a customer training LMS
Using an LMS for customer education increases customer satisfaction and retention.
Why is this important?
According to the research made by Fred Reichheld, a New York Times best-selling author, business strategist, and the creator of the Net Promoter System, "The 5% increase in customer retention leads to a profit increase by 25% to 95%".
See the list of 6 major benefits of this approach for your business to get a clear understanding of what you can get with the best LMS for customer training.
Reaching out to your prospects
Show your prospects how your product or service meets their needs. Start with online training tutorials, video demos or trials.
It's a risk-free option for potential buyers to evaluate your product before investing in it.
You can also upload testimonials and case studies to show how your product has helped other customers.
Outcome: Driving potential customers with minimal effort.
Smooth customer onboarding
Show your customers what benefits this product can give them. Start with mapping out the best features of your product.
A clear well-built customer training program guides customers step-by-step through the first steps of the product usage to avoid confusion and frustration.
The faster your customers get value out of your product, the more likely they will stick with your product.
Outcome: Increased customer engagement and successful product adoption.
Strong customer retention
After leading your customers to the initial "quick win", keep on assisting them in making continual progress toward their long-term goals.
For that, provide proactive training and guidance every step of the customer journey, resolving customers' problems at each stage.
Guide your customers from the core features and functions to the advanced ones. Show them new ways of using your product. Thus you will keep them engaged and satisfied, increasing loyalty to your brand and turning them to repeat buyers.
Also, an LMS has the necessary tools for measuring customer training results. Track performance to get timely feedback. It will help you foresee potential problems with the product or identify gaps in your customer service that make customers leave.
Outcome: Lowered customer churn and increased loyalty to your brand.
Reduced support time and costs
Using a customer education platform, you reduce the strain on customer support, resolving all the ongoing issues faster and with fewer resources.
The program provides answers to frequent questions. It leads to fewer support tickets. And you can redirect the saved time of your support team to resolving more serious customer queries.
Outcome: Long-term savings of money and time of your support team.
Improved upsell opportunities
When you educate customers, you show them the value of your product. So educated customers are more likely to invest further.
Using a training platform, you can show your customers what other products, adds-on, plans you have on offer.
As a result, free-trial users upgrade to a paid plan, while current customers upgrade to higher plans.
Outcome: Increased revenue, ROI, and higher profit margins.
Nurturing brand advocates
You guide customers through all stages of the customer journey resolving all key problem areas along the way. The result you get is satisfied customers that are loyal to your brand.
The collateral benefit of strong customer satisfaction is an increase in referrals and word-of-mouth.
To increase trust between your brand and your customers, encourage your customers to share their feedback. Show them that their opinion really matters.
Moreover, if your customers realize that their opinion will influence the product or course update, you'll get true brand advocates.
Outcome: Increased number of referrals turning into new customers.
How to create the best LMS for customer training in 6 steps
1. Conduct customer surveys and identify training goals.
Start with identifying what the training needs of your customers actually are.
For that, conduct surveys with your potential customers to determine areas where they feel confused about how to use your product. Ask them what outcomes they hope to achieve using your product.
It's also important for you to understand what you expect that your customers will learn from training. Don't be broad in defining your goals, stick to S.M.A.R.T. approach (Specific, Measurable, Achievable, Relevant, and Time).
An example of a S.M.A.R.T. goal: "My aim is that 80% of new customers could learn to create and send an automated newsletter from our platform within 10 days of onboarding."
2. Create training content.
Start from gathering the existing training materials.
Reach out to sales, marketing, and support teams that are likely to have their own training content. At this stage, you'll be able to identify gaps in your existing content.
And now you can prioritize what training content to create first.
Use an agile methodology to develop training content gradually rather than create it all at once. Ideally, create training materials alongside the development process to describe each stage separately.
When your product gets an update, the training program must be created simultaneously to deliver the update together with the ready-to-use training. Thus, your customers get instant access to everything they need to adopt the product right away.
Here is an example of engaging content for a training program:
Introduction video with graphics and examples to explain what the product can give to a customer.
A series of micro-learning lessons to explain every feature or function of the product.
Virtual sessions and chats between admins and customers to answer questions, resolve possible issues, give and get feedback and other follow-up actions.
Blog posts to address different angles of the product usage across marketing, technical, business, and other aspects.
Social learning to enable interaction among customers and with the company admins about best practices, insights and queries.
3. Choose the right technology.
The key question is to build or buy a customer training LMS?
As you start to consider different options, it's important to weigh the budget, timing, business goals and resources you are ready to allocate to the project. Each option has its own pros.
The advantages of building over buying
Meeting specific company needs;
A custom set of features and functions;
Corporate design;
Advanced reporting and analytics;
Branded certification;
Scalability and agility;
Full control and security.
The advantages of buying over building
A faster time to market;
Strong community;
Low initial cost.
The technology stack you choose will also play a key role in the success or failure of your training program.
Creating or choosing a platform, the key moments to consider are:
compatibility with other platforms in your company (e.g., CRM or HRIS);
the level of control and security;
customization possibilities;
analytics and reporting capabilities;
must-have features.
4. Launch a trial run to gather feedback.
Before deploying the training program to your customers, allow a group of selected users to pass the training course and share their feedback. It will not only help you detect possible gaps and issues, but also give you new perspectives and ideas on how to improve the training.
5. Deploy and gather analytics to improve.
After deploying the training course, track the results, including how often customers complete training, hit milestones, or what content they close too fast.
These data help refine the training program to stop creating unpopular content and focus time and resources on developing training on topics that customers do need more information on.
Think about allowing your customers to rate how useful each piece of content is for extra information for your team.
6. Promote your training course.
Treat your training program like your company's product that requires a marketing approach to drive customers' engagement.
Here are some ideas on how you can promote your customer training program:
training webinar
in-product messaging
landing page
email marketing
social media
training packages, credits, or vouchers
Success-driven features for a customer training LMS
A compelling course packed with a strong asset of features is a key to delivering a unique online training experience to your customers.
Individual Learning Paths
In order to maximize the adoption of information, send your customers learning materials according to their individual needs.
For that, organize your content based on products, customer type, roles, etc. For example, courses groupings by category for sales, marketing, web design, etc.
The customer training LMS should provide intuitive navigation showing content related to courses your customers are currently taking, recommending courses based on their previous activity, and personalized content by their specific needs.
These personalized suggestions provide clear "next steps" for users, reducing confusion, and maximizing loyalty.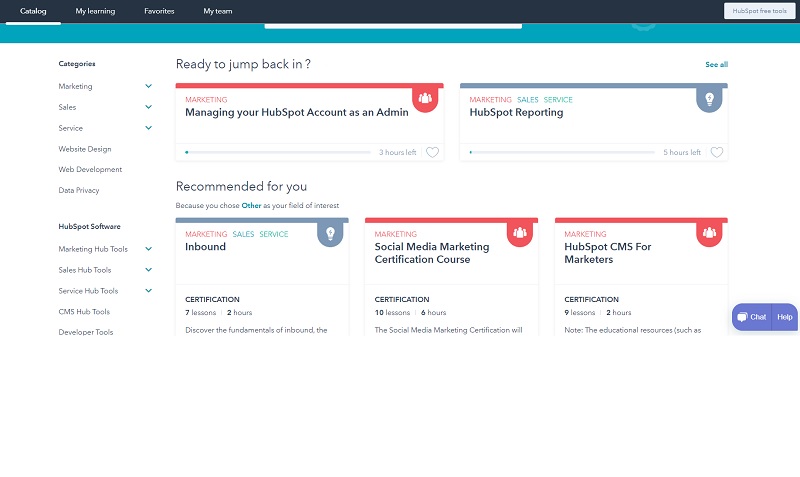 hubspot.com
Analytics And Reporting
The reports will help you get the right results to assess and understand the ROI of your LMS.
Basic reporting includes test scores, the number of users who completed a course. The advanced reporting involves:
data about customer retention, conversions from free to paid accounts, churn reduction, etc;
time spent on a course;
what content was accessed by a user;
Such advanced analytics and reporting show you the direct impact of training and allow you to make necessary improvements.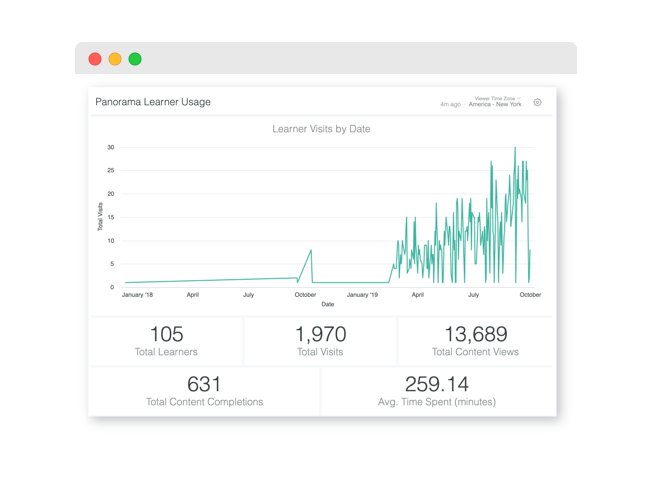 thoughtindustries.com
Online payments
The in-built online payment gives you the possibility to up-sell and cross-sell directly through the customer training LMS. When the payment is completed, a learner enrolls automatically.
Custom LMSs support credit cards by Visa and MasterCard and the most popular sales platforms (PayPal, Magento, Drupal, and others by your request).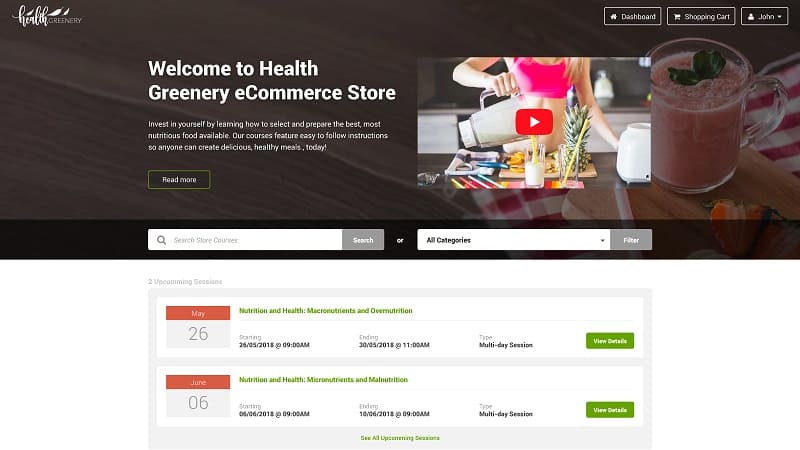 learnupon.com
One of the best ways to motivate learners is to offer rewards (points, badges, or trophies).
Also, provide dashboards to customers so they can see their progress and how close they are to completing a course and receiving the next award or certification.
It increases learner engagement and allows customers to share their achievements on social media. Such activities attract new prospects and promote your brand.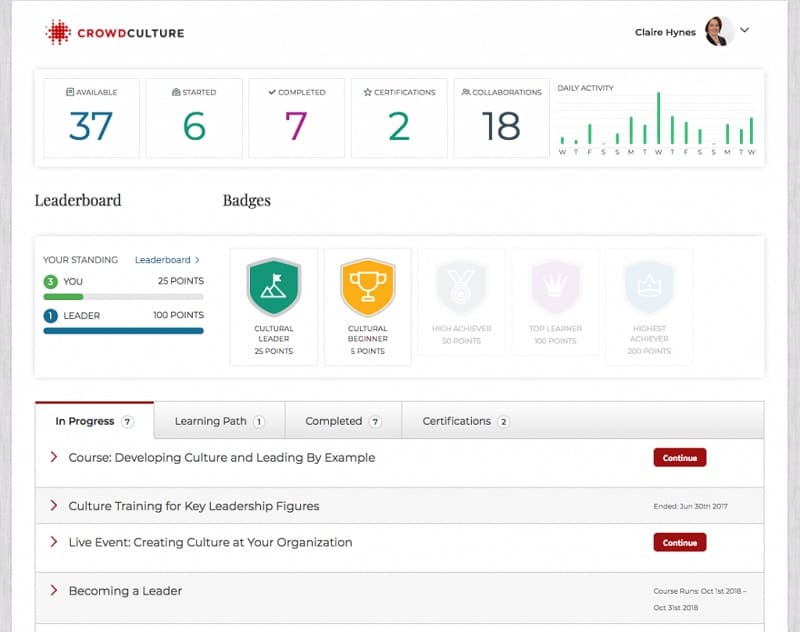 learninglight.com
Mobile version
Compatibility and multiple-device support should be a top priority.
Build an LMS that works on as many devices as possible, including iOS, Android, Windows, Mac, and Linux.
academy.hubspot.com
Simple content creation and navigation
Your LMS should support multiple content types (video files, blog posts, PDF, Google docs, YouTube videos, SCORM packages, HTML packages, etc.).
Content libraries can be organized based on learning paths, topics, or both.
Creating a content library, add the possibility to search within the catalog by using categories, keywords, dates, location, lecturers, etc.
Well-noticeable navigation buttons, course navigational maps, progress bars, availability of help, etc. will facilitate navigation within the course.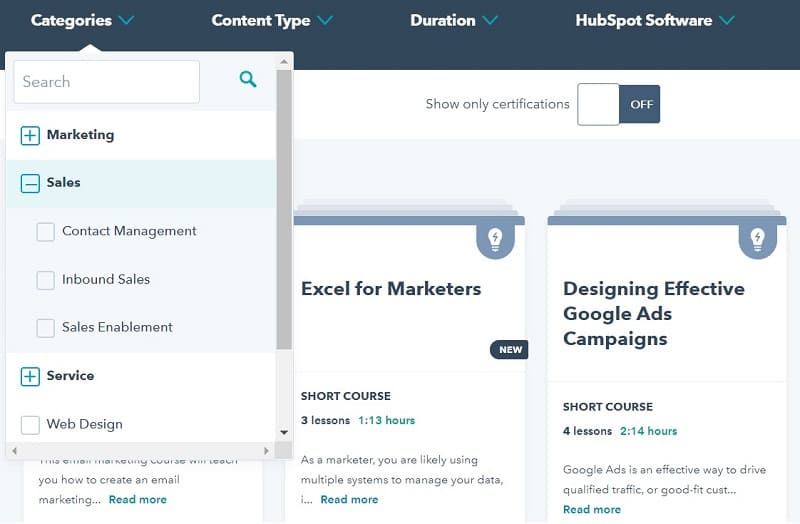 academy.hubspot.com
Single-Sign-On
Single Sign-On gives your users the ability to securely access multiple systems, applications, platforms, and products from your company with one login and password. The clients' credentials are managed independently, allowing you to mitigate common security threats.
If your LMS is SCORM or xAPI-compliant, you can create your online courses in any eLearning system and then run it in your LMS.
Also, xAPI and SCORM standards give the ability to track data within the courses. You can track learners' scores, progress, results, and status. Also, you see what pages are viewed and how much time is spent on the course.
Security
If you build a custom LMS, you will get complete security with strong passwords, secure communication channels, GDPR compliance, etc.
Consider the possibility to assign individual and group-level access to your content. So only designated people to receive access to confidential information. It will let you prevent confidential information from leaking.
Microlearning
The online training content should be provided in the form of bite-sized online training activities targeted to a busy audience that searches for to-the-point information.
Thereby, search options that easily locate such material maximize both course effectiveness and learner engagement.
Social learning
Social learning is about learning with others and sharing your insights in forums and communities. Having interaction with other learners helps to stay up-to-date and quickly find solutions.
Integrations support
Ensure your LMS works with other tools. The integration of LMS with CRM or email marketing software are a must.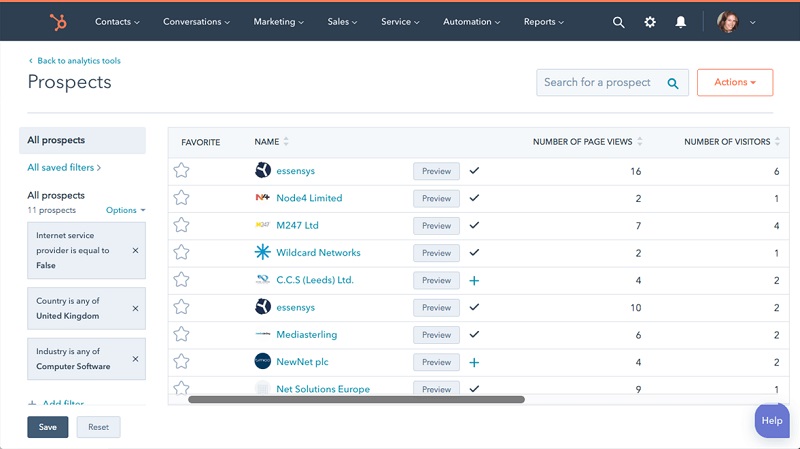 hubspot.com
3 amazing examples of using a customer training LMS
The globally famous companies Google, HubSpot, Salesforce, and others were among the first ones to make a bet on customer training. It helped them to stand out and develop a strong brand repute.
Let's see their examples of interacting and educating their customers.
Skillshop by Google
What is this?
Google offers multiple professional tools and solutions that can be hard to master from the start. Skillshop, or Academy for Ads, is a one-stop-shop training center created by Google.
What is it for?
Its purpose is to grow customers' knowledge and professional value with flexible, on-demand training on Google Ads services.
How does it work?
When you sign up, you get access to the library of free online courses by Google. You can complete these courses at your own pace.
The courses are offered in two formats:
Online "Follow" guides

The step-by-step instructions based on text, animations, and videos guide learners through tasks. There are also links that take you to your AdWords account, prompting you to apply what you've seen to complete some tasks.

YouTube-hosted videos

High-quality and short videos that are generally 2-6 minutes long making them easy to watch. The videos run smoothly both on the PC and mobile phones.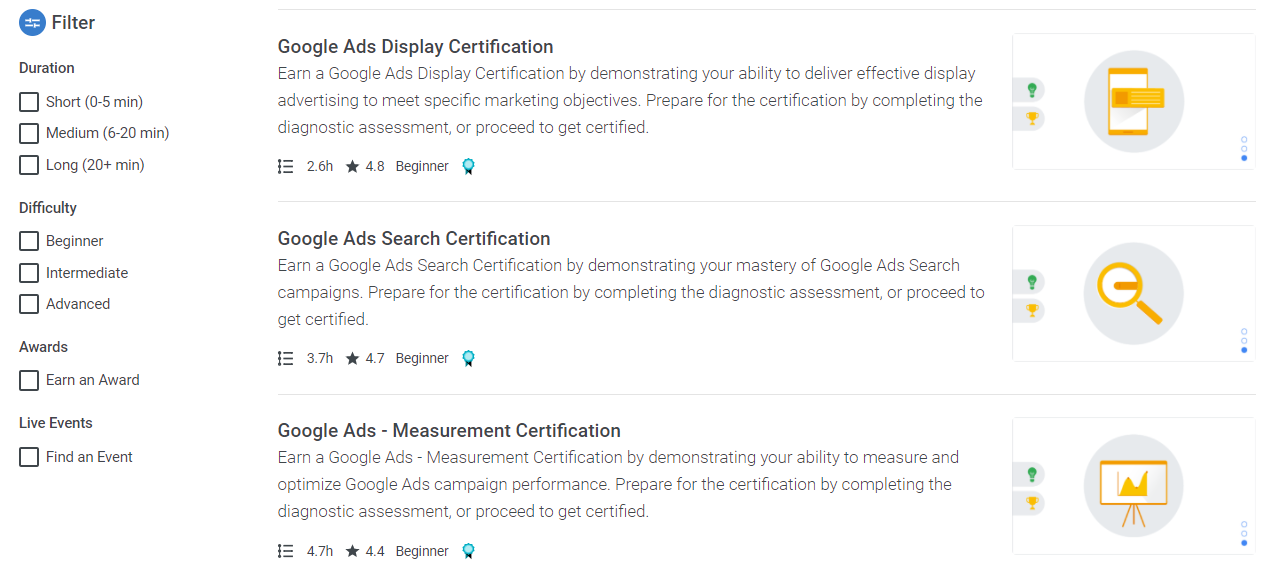 skillshop.withgoogle.com
HubSpot Academy
What is this?
HubSpot Academy is a training platform created by HubSpot. The company specializes in inbound marketing and provides web-based marketing tools.
What is it for?
To educate users on the HubSpot software, the company created HubSpot Academy. Using free learning resources, the users can learn to market, sell, and grow an inbound business.
How does it work?
HubSpot Academy customers can use three learning avenues:
Videos.

High-quality videos are logically grouped by topics. When you choose one, you can see links to other relevant resources. The video player had a convenient slower/faster feature.

2. Projects.

Projects are sequences with 10-12 steps. They help learners set up their HubSpot platform. The learning content also includes text, animations, pro-tips, and videos.

Certification.

To get certified, you pass an online test. When you pass, you get a personalized e-badge. Then you can use these badges to display on your social media, websites, email signatures, etc.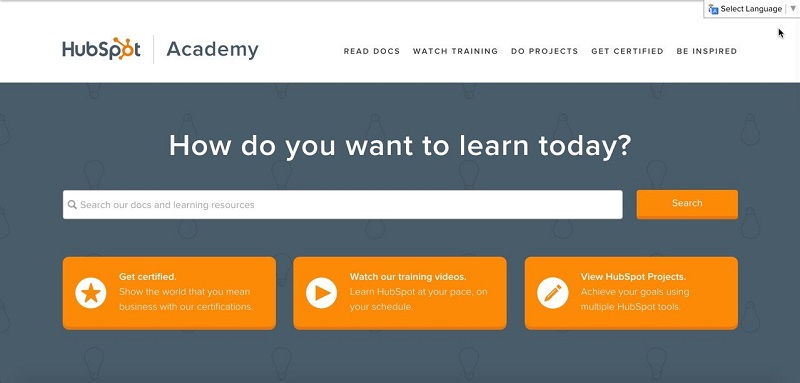 academy.hubspot.com
Trailhead by Salesforce
What is this?
Trailhead is a series of online tutorials by Salesforce. The company makes cloud-based software focused on customer service, marketing automation, analytics, and more.
What is it for?
To show the maximum value of their products, Salesforce created Trailhead. The purpose is to help customers to sell, service, and market smarter.
How does it work?
Trailhead offers certifications, virtual and live events, and free training.
To start learning, you can choose one of the three learning modes:
Modules.

Modules introduce you to specific topics in bite-sized units. Learn what a feature is, when it's helpful, and how to use it. Then test yourself with interactive challenges.

Projects.

Projects give you hands-on practice with Salesforce technologies via step-by-step instructions. You'll gain new skills — and confidence — faster than you thought possible.

Videos.

Watch live and on-demand videos from experts on today's most in-demand skills.



trailhead.salesforce.com
Let's create the best LMS for customer training that is simple to use, fun to learn, and easy to like! We will help you build or customize an LMS, add all the necessary features that meet your business needs keeping the cost low. Start building smarter business!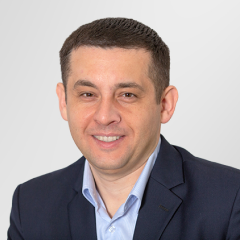 Written by
CTO / Department Head / Partner
Recommended posts
Belitsoft Blog for Entrepreneurs