Upskilling and reskilling is critical to business success. Modern custom-built corporate eLearning platform could integrate everything your employees need to acquire in-demand skills — learning resources, feedback, skills-matching, guidance, and even projects, gigs, and jobs. From the technical perspective, such platform can be named as a talent marketplace solution, an LXP add-on, which use recommended and adaptive learning, recommended assignments and recommended projects for every employee. Sometimes, it's also called skills management software.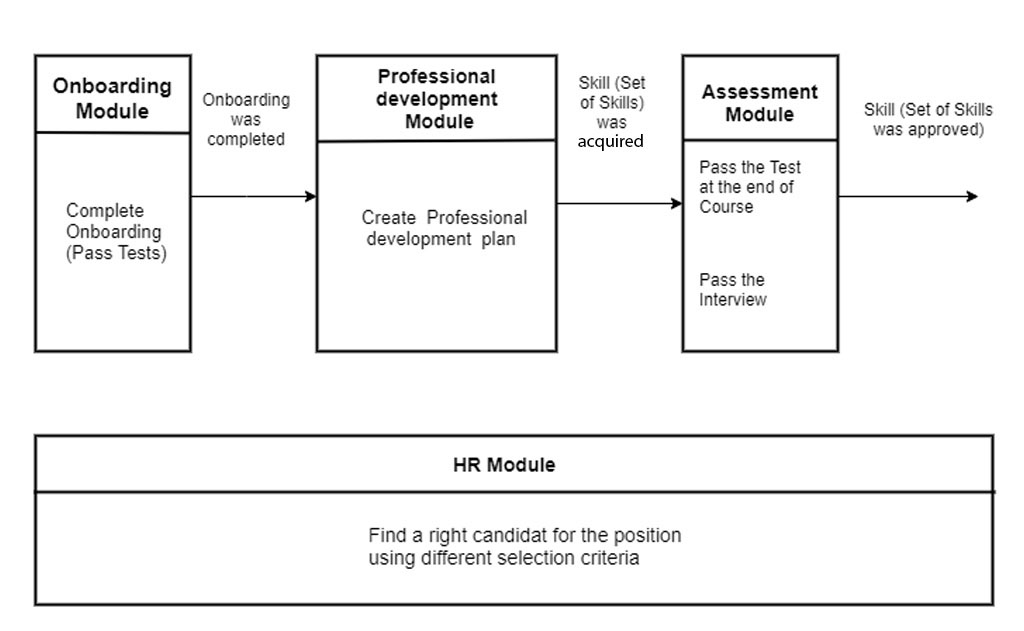 Example of a Custom Corporate Elearning Platform's Architecture
Looking for the best elearning companies to meet all of your corporate training needs? Send us your request for information, contact us to know how our elearning consultants could help you with custom corporate elearning development, e-learning application development or choosing pre-built corporate eLearning software, corporate e learning implementation project plan, training or support!
Custom Corporate Employee Onboarding Training
The major challenge for enterprises today as ever before is an effective onboarding and new employee orientation. Employee onboarding training automation is the current top-1 hot trend to solve this challenge.
Need a Custom Employee Onboarding Training Automation? We have a solution for you.
New employees who went through a structured on-boarding program were 58% more likely to be with the organization after three years. (The Wynhurst Group).
Stakeholders of the top-performing companies believe that successful onboarding of new employees is not just a function of product education but also a practice that ensures that they will be well trained on the company's brand, mission, messaging, policies and procedures.
Online learning experience portal with a guided centralized access and blended delivery model (custom e-learning courses, live virtual instructor-led training sessions and on-demand reference resources) is the "build once, use many times" solution for onboarding and new employee orientation needs.
Online learning experience portal is the solution for:
companies that pay for unused training content because their current onboarding system can not assign courses, so employees are not held accountable for their required online training and they just are not taking the training.
modern companies with a high percentage of the workforce that works from remote or virtual office locations.
startups or early-stage companies that need effective systems to support expanded resources once funding is secured or cash flow is achieved.
Key features of the Onboarding Module of the Corporate Talent Management system:
Integration with an existing HR system. When a new hire is added to your HR system, their account is automatically created in the LXP.
Course enrollment automation. When your new hires are added to your HR system, they are automatically added, for example, to a "Welcome to the Company" onboarding course in the LXP.
Controlled timeframes. Select a time period for the selected course by which it needed to be completed. For example, you can set up a course to be completed during the first week of the employee joining. With this option, you will know that new hires are meeting their onboarding goals and keeping up with their training schedule. With the ability to set deadlines you can track who has completed their training and who needs a reminder.
New employee onboarding roadmap or learning path. The learner path is the logical order of courses that must be completed one by one. For example: Orientation -> Policies and Procedures -> Health and Safety, and so on. It isn't possible to start a new course until the previous is not completed.
Onboarding course completion assessment. A learning assessment is the best practice to be sure that an employee has really studied required materials, for example, onboarding compliance training. So-called summative assessment method is generally acknowledged in the corporate community. It focuses on measuring learning outcomes at the end of the learning process.
Group-based automation. This feature enables training managers to easily assign the onboarding curriculum for each department to ensure they have easy access to specialized training. You can create "customer support group", "sales group", etc. and once a new hire logs into your LXP they have access to all the same courses as their fellow team members.
Customized reports with analytics. You can access details of new hires' performance and ensure they're keeping up to speed, gaining the knowledge they need. Additionally, you can measure their overall performance to see where to make corrections to a course content to improve the learner experience.
LinkedIn-like enterprise internal network. Use the internal social network feature to help new starters explore profiles of existing employees, establish connections and chat with more experienced colleagues to ask for advice.
Advice
It can be counterproductive to force workers into long lesson plans when they are already busy with their regular tasks. Instead, consider repurposing your training and onboarding materials into shorter, bite-sized pieces.
Belitsoft is committed to helping HR professionals and training leaders to make a difference in their organizations.
Advantages of Corporate eLearning
Cost reduction and cost-efficiency are the most significant benefits of online corporate training. No need to hire instructors, purchase textbooks, or print learning materials. There is also no need to create or equip special classrooms - employees can take online training directly at workplaces.
Investment will be required to create and maintain an online learning platform. But it is minimal in comparison with the traditional individual development of employees. Choosing the right training system allows the company to optimize the financial costs of staff education.
Real examples and numbers. Dow Chemical saved $34 million dollars and decreased learning expenses from $95 per learner/per course to $11 per learner/per course due to converting from classrooms to online education. IBM also managed to save big bucks in transition to online corporate training. The amount saved is reportedly $200 million, and that is roughly 30% of the previous training budget of the company.
Access to education anywhere 24/7
Now you do not need to wait for the materials to be prepared or for the trainer to have the opportunity to conduct training. No need to attend special classes for continuing education. You can get all the necessary information almost immediately and from anywhere. Employees have the opportunity to learn on the job, as well as at home, in a cafe or any other place using a telephone or laptop and the Internet.
Today's employees demand workplace solutions that match their lifestyle. Someone perceives information better early in the morning or at the beginning of the working day, for others it is easier to get training in the evening. An employee can plan his time himself.
With a growing global workforce, one of the benefits of e-learning is that it can be created and broadcast around the world. Modern solutions for e-learning allow employees from different departments and countries to participate in discussions directly in the training module.
Switching to e-learning can also result in tremendous time savings for you and your employees. Tests have shown that e-learning reduces your employee's training time by 60% compared to traditional training.
Instant feedback and results tracking
As LMS tracks user activities, it is way easier for the business owner to get information about the courses completed. After getting full information about skills that were in for improvement, employers get a better understanding of how to apply talents of people they are in command of.
Employees can also receive real-time feedback. No manual ratings. After completing the course, the employee passes the test and the system automatically tells you what needs to be improved and where to find the necessary information.
In e-learning, it is possible to set clear criteria by which the knowledge acquired by an employee in the learning process is evaluated.
Increases Learning Involvement
Thanks to gamification, the use of video, and other interactive content, e-learning can significantly increase your employee's engagement and increase the retention of information received. This is especially true for specific, concise topics, such as training in new software, compliance procedures, or reference guides that they can access on the go.
Learning is no longer a chore. When an employee can learn in an interactive and engaging environment, this leads to improved retention of knowledge and skills. As a rule, such information is perceived much easier and simpler.
Permanent access to important information
Your LMS can become a bank of useful information for your organization. The company's knowledge base, documentation or any other useful information can be stored here. Thanks to the access settings, you can choose to whom and what information to make available.
If your training covers a lot of materials that will need to be referenced later, for example product specifications, eLearning gives your employees the ability to access these resources exactly when they need them.
No more searching for information on a computer or in mail. All the necessary materials will be available to you anywhere, even from a mobile device.
For example, if an employee needs to freshen up the memory of how to properly draw up a contract, he can simply log into the LMS system and click on the module and find the required document template.
Online learning platforms also allow employees to review key information exactly when they need it.
The flexibility of e-learning allows you to adapt training for any number of employees and in any number of languages.
Instead of trying to find instructors and training facilities for training, all your employees need is access to a computer or mobile phone.
Corporate LMS can be quickly rebuilt and updated with new modules, which makes it a universal training tool.
People are always looking for growth opportunities. Online training allows employees to quickly gain new knowledge and master new processes. One of the main complaints about traditional teaching methods is that the time-consuming nature of programs takes away their valuable time that could be spent on other work. With the help of training management systems, employees can participate in their online courses at any time, including at home or during downtime, so training should not conflict with other important or time-sensitive work tasks.
Employees who are better trained and knowledgeable about the company's products and services will be more effective and will help improve the image of your business.
Reduced employee turnover rates
Happy and well-informed employees are employees who are more likely to remain loyal to your organization. By giving them access to 24-hour online learning and self-study modules, they can advance their professional goals and feel motivated to increase productivity in the workplace. They can also identify areas in which they may need a job and find out their main strengths so that they can become better employees and more informed advocates for your brand.
How to understand that your company needs an effective corporate elearning system? Basically, modern companies at some stage of their activities face the following problems:
Development of non-standard production processes requiring timely and compulsory study by staff
Territorial randomness of company branches
Limited time to learn new material
The overwhelming majority of employees trained in the traditional form of training
Minimum budget allocated to a staff training program
A large number of employees in need of training were recorded.
The presence of one or more factors indicates the need for e-learning in the company.
Successful Companies Using Corporate Elearning
As of today, nearly half of the most profitable world-known companies use eLearning tools for online training. Are you still teaching your employees the old-fashioned way? Here's how successful businesses use eLearning to keep their workflow more effective.

Shell is a global multi-billion dollar corporation working in oil and gas industry. It is one of the six Big Oil supermajors with an annual revenue of $305.18 billion. Shell operates in over 70 countries, managing 92.000 employees.
In 2006 Shell decided to ensure quality of their services and modify training for its contracting and procurement staff. They wanted to increase the company's profit by improving staff performance. Besides, they have to support employees speaking in multiple languages and adapt learning to the standards of the Shell management system.
The training program involves an online portal, known as Shell Open University. It offers a wide range of practical, commercial and technical learning tools. Employees have unlimited access to online courses, webcasts, e-books, and guides. They evaluate their own knowledge, capabilities, and competency both before and after completing the program. Moreover, Shell will reimburse the money and time spent on further employee learning if the corporate curriculum is insufficient.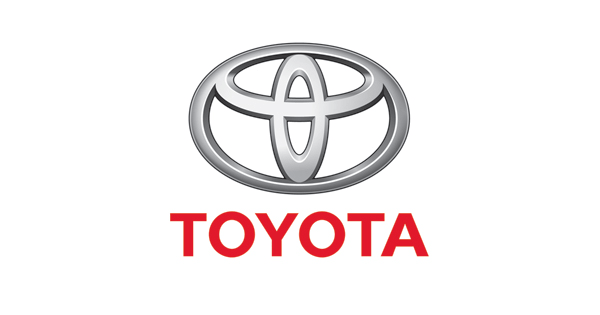 Toyota Motor Corporation is a multinational car producer founded in 1937. Their corporate structure consists of over 340.000 employees working in 51 manufacturing branches in 28 countries. Toyota is the world's third-largest seller delivering its vehicles in more than 170 states. As of 2017, the company has raised $249.9 billion in revenue.
Toyota Motor Europe has been using eLearning to train over 18.000 motor technicians and engineers since 2005. The company upgraded to the latest version of its LMS in 2013 to provide continuous training without having to be re-certified. The platform offers learning materials for dozens of distributors and hundreds of retail outlets in over 50 countries.
'I've found [...] that getting people to embrace e-learning is much more about change management. It's bigger than making people to use the system; it's about changing the way they think about getting information.'
Sann René Glaza, Toyota Motor Europe's senior manager for the Learning Technologies Group
Toyota learning program includes 150 classes for its certified technical staff, as well as training courses for non-technical employees working for distributors in Europe and Asia.

PayPal is an American company managing a global online payments system. The platform supports more than 100 currencies for daily banking operations. As of 2016, it has replaced traditional paper procedures with electronic money transfers for over 188 million people. The statistics show that PayPal's annual revenue amounted to $13.0B, up from $10.84B the year before.
The company has made a huge contribution to reorganize its employee-training programs. They adopted more nontraditional but at the same time more effective learning techniques. For example, PayPal uses social media like Facebook or Twitter's Periscope. They created private group and invited experts to help employees or teach short classes.
'It's worth making the investment if you want top people to stay longer and do their job better.'
Derek Hann, Chief learning officer at PayPal
For more in-depth learning, PayPal uses Udemy for Business. The employees browse its extensive library of over 2.500 courses and study the content at their own pace.
Since accepting eLearning at PayPal, the number of active learners has doubled. That is to say, there are employees who complete at least two training courses every six months. The company was able to cut corporate training expenses by 25 percent through implementing eLearning technology.
Need developers for your product? Hire our dedicated team!

Pitney Bowes is a global company best known as a mailing services and equipment supplier. It has more than 1.5 million clients in over 100 countries, including 90% of the 500 largest US corporations. The company was number 634 on the Fortune 500 in 2017, having received $3.4B in annual revenue.
Since its foundation in 1920, Pitney Bowes has spread to 33 cities around the USA. Besides, there are offices located in Hatfield (UK), New Delhi (India) and Tokyo (Japan). As of December 2016, they employed approximately 14.000 people worldwide. Their Presort Services team has over 4.000 employees who speak 17 languages.
'Through team building, leadership exercises and professional development programs, we're learning that our common values are so much greater than our differences, and it has greatly benefited our work environment and value we deliver for clients.'
Erika Hohlweck, Executive Customer Service Manager at Pitney Bowes
The company chose Udemy for Business to train their distributed engineering team. Each employee has a lifetime curriculum access and can test their knowledge by taking quizzes. They are able to choose the program most relevant to their specific technical role and training requirements. Besides, the platform provides extra courses about personal development or data analytics.
As a result, 84 percent of Pitney Bowes team used eLearning. The top learners notice a positive effect after working with the content for 16 hours.

Founded in 1996, Booking.com is an online accommodations reservation platform based in Amsterdam, The Netherlands. In 2005 the company was acquired by US-based Booking Holdings for $133M.
As the global online travel market continues to grow, Booking.com decided to implement eLearning solutions to help rookies develop their technical skills. Using online tutoring, the company immediately saw an increase in engagement of workers who on average spend 5+ hours learning on the platform.
'We were looking to create a culture of learning in general, but wanted to specifically encourage internal Booking.com employees to develop new skills and find new opportunities within our company, rather than leave us after a few years.'
Kirk Davies, Digital Learning Manager at Booking.com

Verint develops software and hardware tools for customer engagement management and information security. Their products enable over 10.000 multinational organizations and government agencies to monitor and analyze voice, video and data on computer networks. The company was founded in 1994 with a headquarter in Melville, NY. Today, they have multiple offices around the globe with 2500 dedicated specialists.
'The main issue was that our sales team wasn't consistently making the best use of our CRM system. This sometimes made pipeline forecasting more difficult than it should have been. [...] Gamification presented an innovative—and engaging—approach to help us achieve the results we wanted.'
Graeme Gabriel, Strategic WFO Consultant at Verint
Verint chose eLearning solution to encourage EMEA-based sellers to better understand company's products and boost their KPIs. One way to drive engagement was to create different content items like quizzes and blended learning sessions. They prepared 2-3 tasks a week making them educational and fascinating at the same time. As a result, their KPIs grew by 300 percent on average within a few months.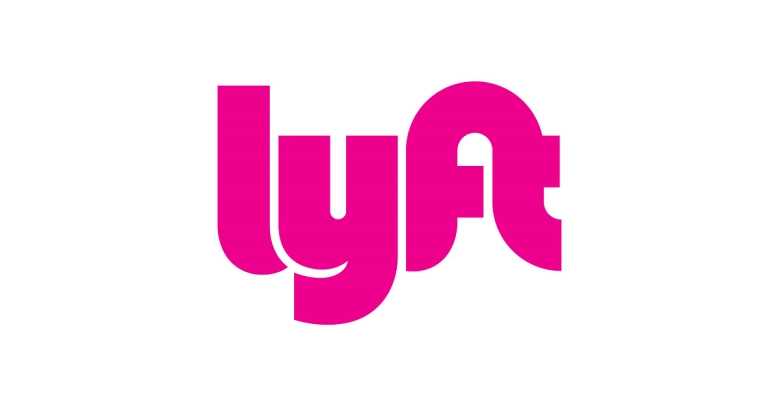 Headquartered in San Francisco, Lyft is a fast-growing transportations company doing business through a ride-hailing app. Launched in 2012, Lyft has raised $4.3B in total funding.
The issue with getting budget was one of the problems associated with corporate training and education. New staff came in with different skill sets and it was hard to know how much to spend and what skills to train. Originally, Lyft introduced a half-day in-person training that did not meet the expectations.
The company walked a different path by choosing online self-selected curricula. Managers use eLearning to train their teams. They assign subordinates certain classes to help employees learn new skills. New hires initially access an onboarding platform, so managers can monitor what everyone is learning and help them get caught up as quickly as possible. In the nearest future Lyft plans to record all-hands meetings and corporate events to make them available for 24/7 access.
Since 1893, Crouse Hospital has taken care for generations of Central New Yorkers. It is a private non-profit health institution that serves more than 250,000 patients each year. With over 2.700 workers, the hospital is one of Central New York's largest employers.
Crouse Hospital modified its training program in 2015 by implementing eLearning technology. Before switching to online education, administrators had a lot of paperwork related to employee professional development. The process was time-intensive when it came to filing handwritten class rosters and paper transcripts.
Using the edtech method, students can access all needed information tailored to the healthcare industry. The software allows the hospital's educators to create or access existing classes, track students' results, and generate reports. Besides, managers can easily add or remove employees from the program avoiding red tape. All this resulted in significant time savings, allowing employees to focus on other responsibilities.

Founded in 2007, Global Campus serves as an online campus of the Colorado State University. In 2016 they launched one of the first gamified strategies for higher education employees. Derrick Pope, Director of Enrollment at CSU-Global Campus, directly led the development process and shared the details on his blog.
'For several years I've explored the possibility of using gamification in higher education administration. While most businesses implement gamification with the goal of motivating customers or users to complete a series of tasks, I wanted to apply this concept to further develop employee skills internally.'
Derrick Pope
Gamification is the process of adding game elements to existing systems to motivate users' engagement. Derrick saw this as an opportunity to create something unique for the organization and employees. His primary goal was to create an engaging system that encouraged and rewarded participation while employees improve their job effectiveness.
'If your gamification environment doesn't evolve with your team and business needs, the experience will get stale and users will become less engaged. If you're not getting better, you're getting worse.'
Derrick Pope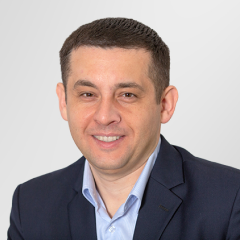 Written by
Chief Innovation Officer / Partner
Recommended posts
Belitsoft Blog for Entrepreneurs