LXP (Learning Experience Platform) is a hot topic in the eLearning circles. The market for these systems is already at USD 350 million and growing. In this article, we will define what an LXP is, compare it to an LMS, and help you determine whether it is something that would benefit your business.
LMS ⟶ LXP
Today, in-house employee training is a trend and the right investment in the company's future.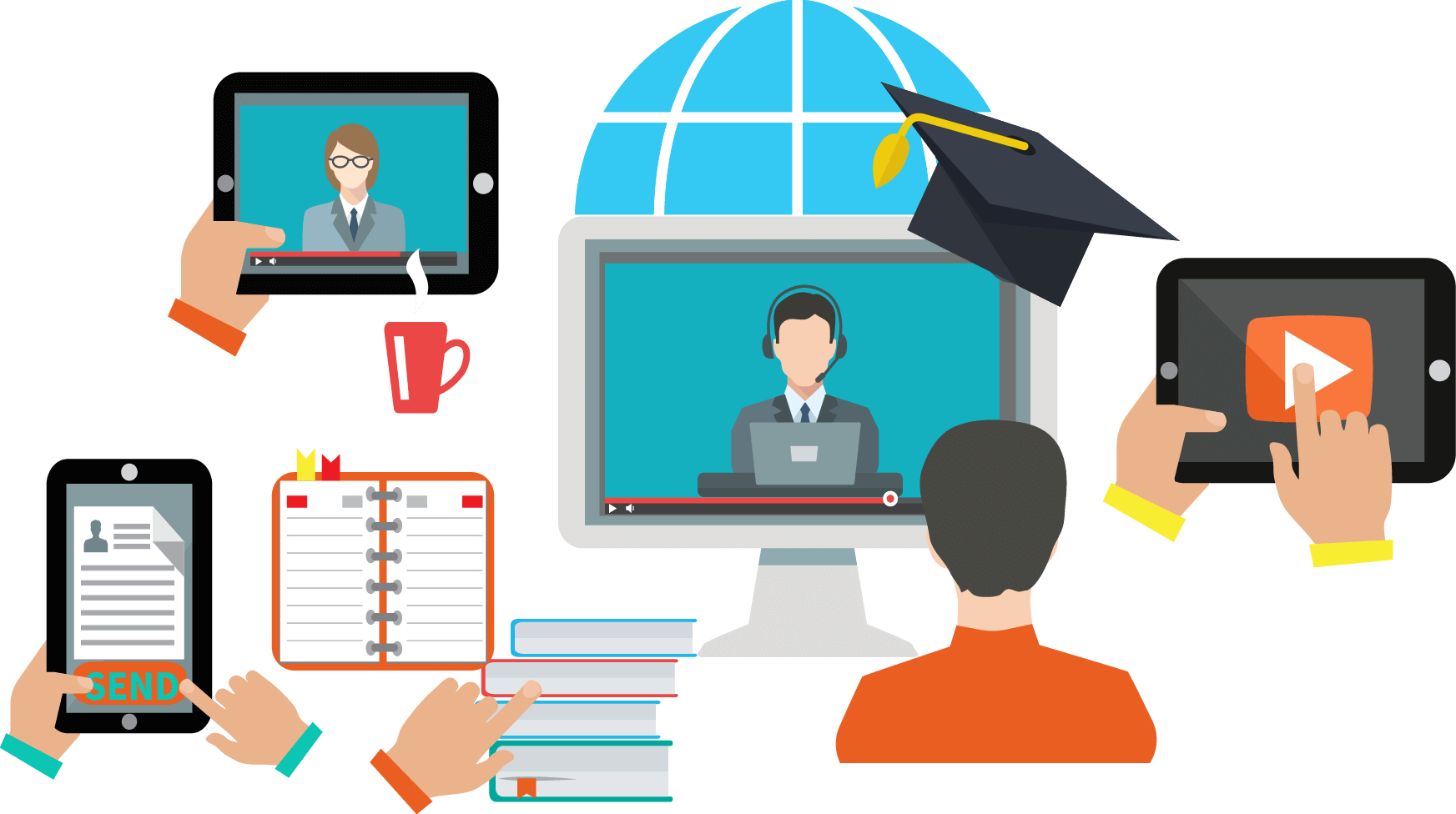 Some statistics:
Professional skills development is an important part of any employee's workload. This helps them to feel more confident, move up the career ladder and increase their income and standard of living. Also, training and engagement in company processes help reduce the likelihood of burnout. Employee training can also affect and improve your company's productivity.
Organizations have long been using Learning Management Systems (LMS). But as the requirements for training approaches on the part of both company executives and employees change, more functions and flexibility are needed from the learning system. A recent study found that one in three workers said their employer's training methods were outdated.
Feel free to contact us if you need any advice on LMS or want to update or enhance your current learning system.
Corporate training domain has seen an increase in innovation: the use of personalized courses, more advanced approaches (such as lifelong learning, adaptive learning and engagement learning), custom systems and solutions.
A few years ago, start-up companies such as Pathgather, Degreed, and EdCast were the first to put forth the idea of a platform that would facilitate the search for corporate learning content - something they later called Learning Experience Platforms (LEP or LXP).
With the development of mobile technology and the increasing number of smartphones/ tablets, there has been an increase in the consumption of e-learning on smaller screens. This, in turn, has led to the growth of apps for mobile learning. As organizations strive to optimize their L&D projects, offer their customers and employees 24/7 training options and track results, the transition from LMS to LXP is inevitable.
What is LXP?
The term LXP was coined by the Influential L&D sector analyst Josh Bersin.
To sum up his idea, LXP is an educational software system that automatically adapts to the learner's needs.
LXP is designed to be used on the job. It includes microlearning content that can help the user solve a specific problem (e.g. "How do I create tables in Word"). Unlike traditional Learning Management Systems (LMS), LXP focuses not only on managing corporate training programs from a business perspective, but also on improving student experience.
Janet Clarey, Lead Advisor, Technology, Analytics, and Learning at Bersin by Deloitte suggests the following definition for LXPs:
"LXPs are single-point-of-access, consumer-grade systems composed of integrated technologies for enabling learning. They can do many tasks, such as curating and aggregating content, creating learning and career pathways, enabling networking, enhancing skill development, and tracking learning activities delivered via multiple channels and content partners. By delivering on a central platform, LXPs enable businesses to provide an engaging and learning-rich experience and may lessen their reliance on an LMS or talent suite as the learning hub."
Do you need a custom LXP, let us know, and we will give you a free consultation.
For corporations, LXP is an excellent tool for in-house employee training. The platform combines disparate courses and information into a single system, accessible from any device anywhere. Thanks to the support for artificial intelligence, the necessary training materials are combined from various sources for each individual user. Personalized training and data analytics help to identify learning deficiencies and eliminate them as soon as possible.
The "openness" of the LXP architecture makes it possible to connect and integrate with other (existing) systems and tools that are now used by companies and corporations.
The defining features of an LXP software are:
Flexible interface.LXP has AI-driven recommendations, panel-based structure, and seamless mobile experience;
Multiple content forms. Whether it is a scanned textbook, a webinar, a MOOC, or an educational game, a Learning experience platform can use it for a learner's benefit;
Social learning. This includes inbuilt functionality that facilitates communication and knowledge exchange (e.g. community-recommended content);
Learning paths. Sets of classes and exercises that a learner can work through in succession and achieve a certain goal (preparedness for a test or knowledge of certain safety rules, for example);
Results assessment. An LXP needs to have a system that evaluates the users' progress. This can also include certification to reward the learners and give the HRs and executives a better understanding of a certain employee's skills.
What's the difference between LMS and LXP?
The line between those two classes of software is blurry and will depend on the functionality of a given system. For example, many LMS', including Docebo and D2L, have addons that let the system perform as an LXP. Any educational software that supports the LTI standard can stream third-party learning content. On the other hand, features like learning paths and social integration are pretty much industry standard for an LMS.
So the typical differences can be defined as follows:
| | |
| --- | --- |
| LXP | LMS |
| Content from internal storage and external platforms (MOOCs, webinars, YouTube, etc,) | Focus on internal content, but can access third-party materials |
| Flexible learning paths | Predefined learning paths |
| Curated by the system itself or by the learners | Curated by the administrators |
| A user is learning while working | A user is learning and working separately |
Is LXP better than LMS?
That would depend on the needs of your company. LXP has several significant advantages:
On-the-job on-demand learning. 68% of employees prefer to learn at work. That's just what an LXP intends to give them with microlearning content. As a result, a user solves a problem for the benefit of the company and learns something as well.
Efficient use of employee time. Even when the user is learning on their own, LXP will help them by automatically suggesting the materials that would help them achieve their goals faster.
More actionable content. Content curation by AI and learners helps weed out the inefficient materials and leave only the best pieces.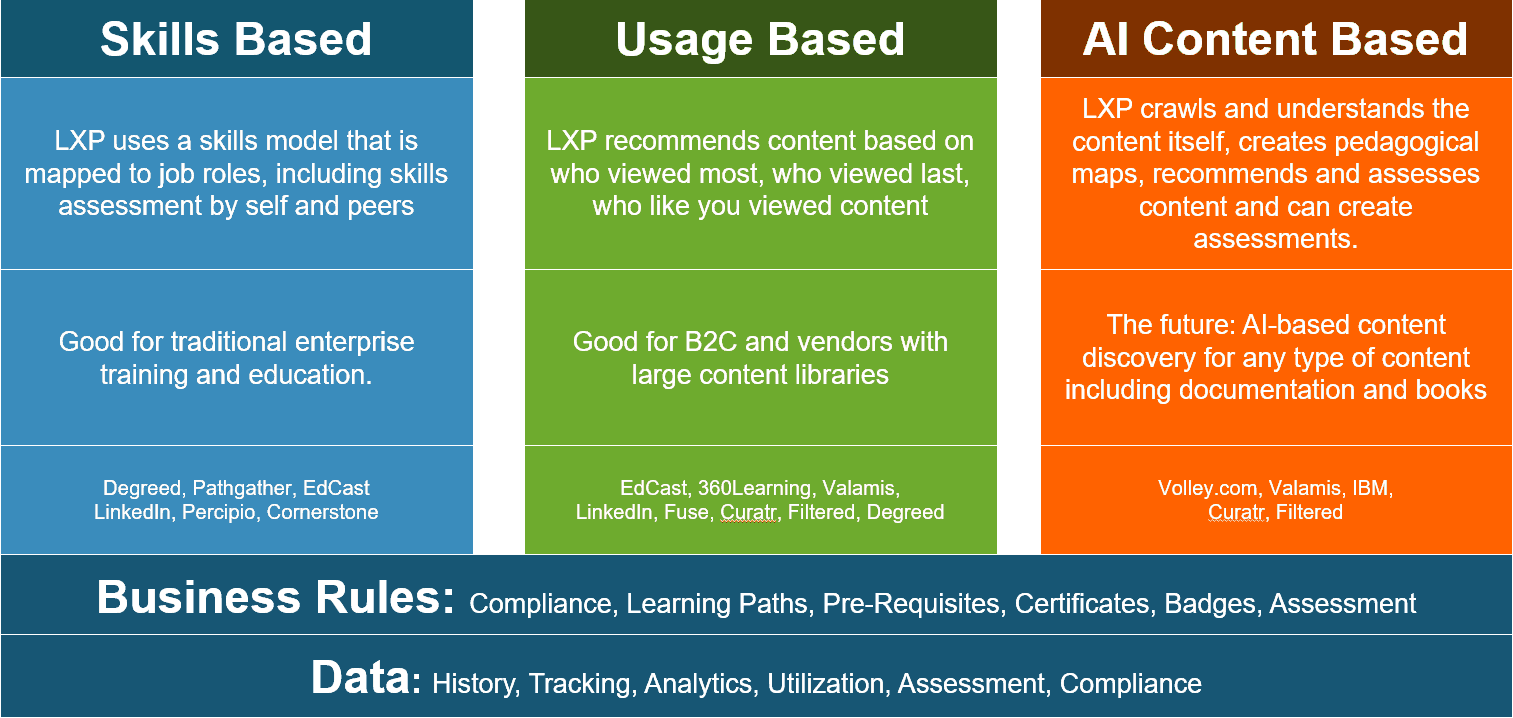 Source: https://joshbersin.com
However, the extra features of an LXP make it more costly, especially if it is a custom-built product for a company's internal use. This is why this kind of software is a better fit for large corporations that can afford higher costs for better long-term value and more efficient training.
Custom LXP vs Out-of-the-box LXP
In this regard, the LXPs are not too different from any other software. The advantages of a turnkey system are as follows:
Total control. As the owner of the system, you decide which features to include, which information to store or access and how to do it. This allows you to precisely tailor the LXP to your company and your employees.
Better long-term value. With a custom system, you don't have to pay license fees, which can add up, especially in case of a "per user" pricing. After the initial investment pays off, a custom LXP becomes an asset.
Added valuation. A turnkey software system is a valuable piece of intellectual property that will increase your company's valuation on the market.
A boxed system, on the other hand, has the following benefits:
Low initial cost. The software is already complete, so you don't have to pay for its development or wait till it's finished.
The vendor provides support. You don't have to have your own IT-team (whether in-house or outsourced) to handle the maintenance of your LXP, as it is the responsibility of the company you bought the system access from.
Community. Products have a community around them. Participating in one allows learning from others' mistakes and using your LXP to its maximum potential.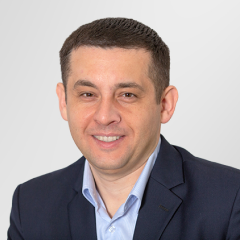 Written by
CTO / Department Head / Partner
I've been leading a department specializing in eLearning applications for 14 years.
Let's Talk Business
Do you have a software development project to implement? We have people to work on it. We will be glad to answer all your questions as well as estimate any project of yours. Use the form below to describe the project and we will get in touch with you within 1 business day.