Belitsoft has a huge experience in MVP software development for startups and prototypes for existing brands. MVP is a minimal version of the product with the minimum set of features that is enough to deploy and test the key hypothesis to solve problems of this product' potential customers. Experts suggest that, in B2B, it's not an MVP until you sell it. Viable means you can sell it.
SaaS development has never being a problem. The problem is creating a successful SaaS business that can scale. Before custom application development for their startups, which later became multimillion-dollar SaaS companies, these founders and top software developers used MVP approach for SaaS.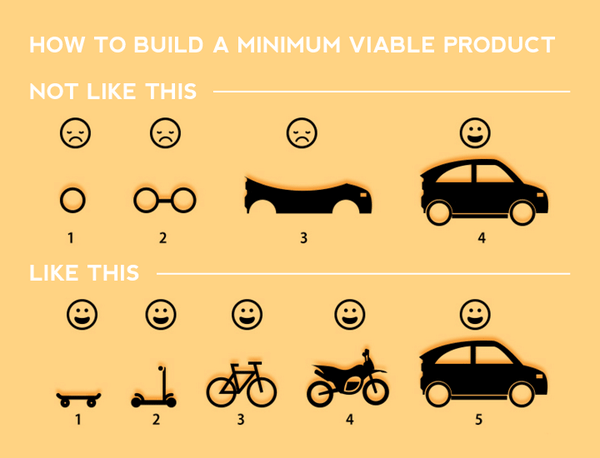 MVP for SaaS: Validate your idea first and focus on the main features before launching a complex SaaS app
Y Combinator-Backed startup Sendwithus is now a SaaS company with offices in San Francisco and Victoria (Canada). This Email Marketing Automation platform, founded in 2013, raised $2.6 million in 2014. When he first started Sendwithus, Brad Van Vugt, a Co-founder at Sendwithus, was working full-time as a contract developer building mobile apps. He shared his experience of pre-launch activities.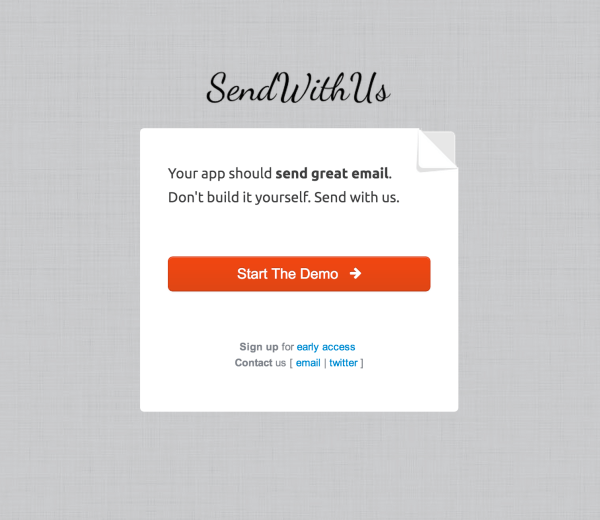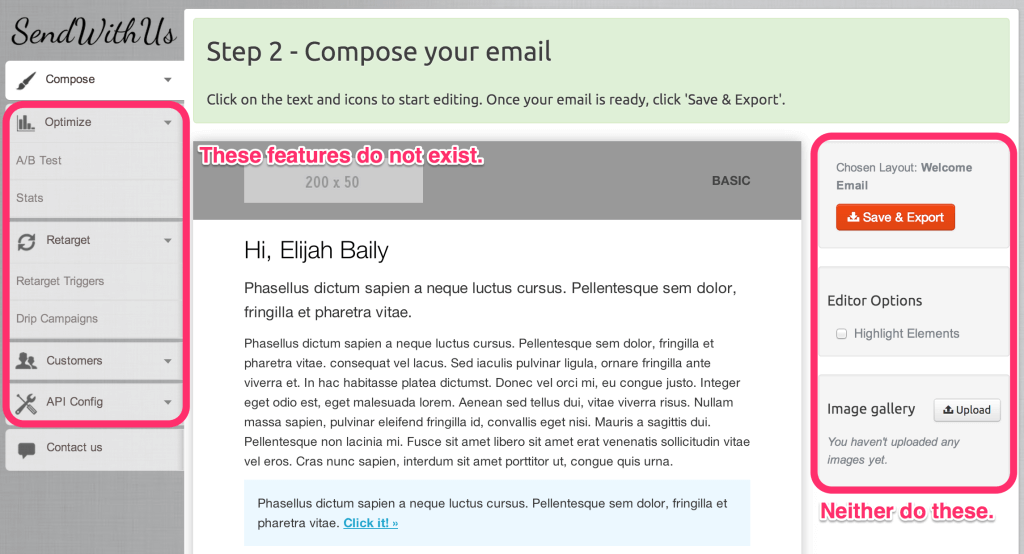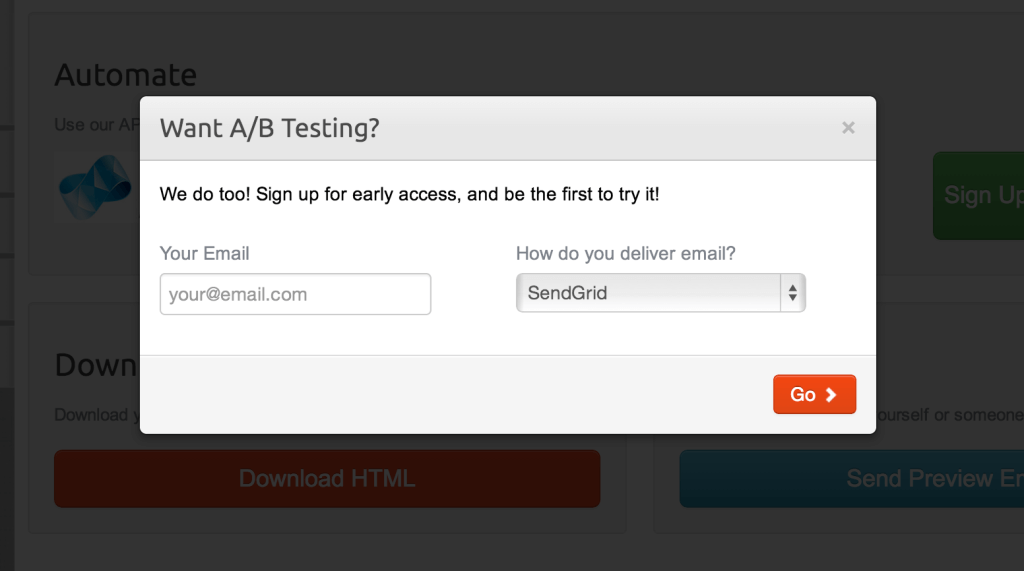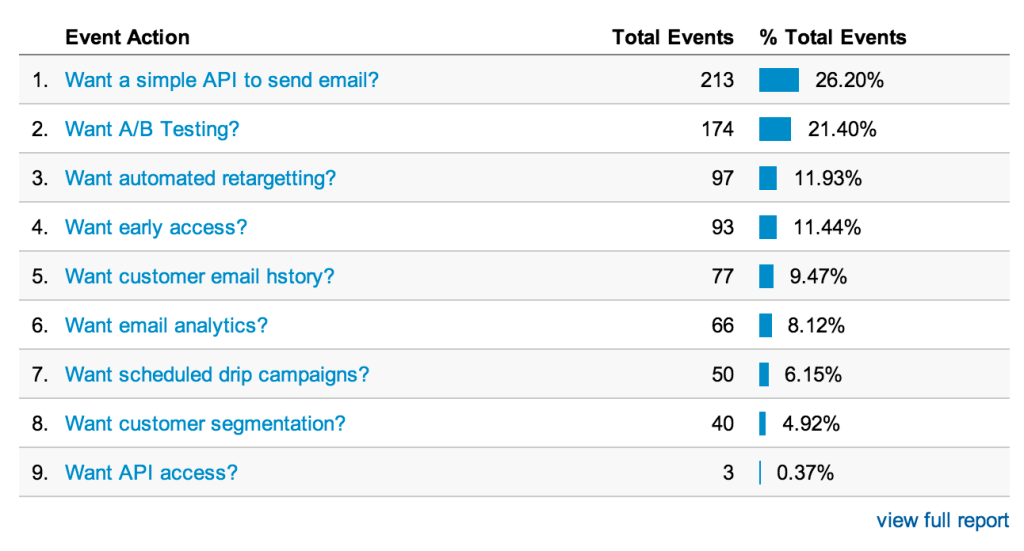 'This experiment proved to be a really effective way to survey our target market. Even now, a year later with actual growth, real customers, and a real product we use similar techniques to measure and validate big product ideas.'

Brad used "fake demo" in order to identify the most expected features.
How to build a minimum viable product for SaaS
Express an idea of the app in the form of "problem and solution", offer a "demo";
Create fake demo: 1) interacting with any of the features should open a dialog that prompt the user to sign up for early beta access; 2) connect Google Analytics to track every mouse click;
Get the traffic to the landing page;
Analyze results, make conclusions;
Start creating a real-world application based on the results of previous stages.
'We decided to build a website that seemingly offered many features and measured which ones customers were most interested in. Our goal was not to build a great product – it was to gather information about what a great product might look like. Next, we brainstormed all the features we thought customers might want. We then peppered these features throughout the UI as buttons, links, checkboxes – whatever made sense. We made the UI look like it supported all these features. Interacting with any of these "dead end" features would open a dialog that prompted the user to sign up for early beta access. This would hopefully give us a clear picture of what our users were doing inside the experiment. We spent the next 24 hours getting as many people as possible to view and interact with the experiment. Conclusion: Potential customers wanted an API to send and A/B Test transactional email templates. And we had a list of 92 potential early adopters ready to go.'
Counterexample: he did not use MVP for SAAS and lost $50, 000 before launching a complex SaaS app
Groove SaaS startup was launched in 2011. It never participated in any incubators like Y Combinator, TechStars or Angel Pad. In 2016, Grove reported more than $5 million annual revenue (before this he rejected $5 million in VC funding proposal in 2013 and $12 million acquisition proposal in 2014. However, he raised $1 million from a small group of angel investors). This Customer Service Platform is now developed and maintained by a remote team. Alex Turnbull, the non-tech founder of Groove, shared his experience of pre-launch activities without validation.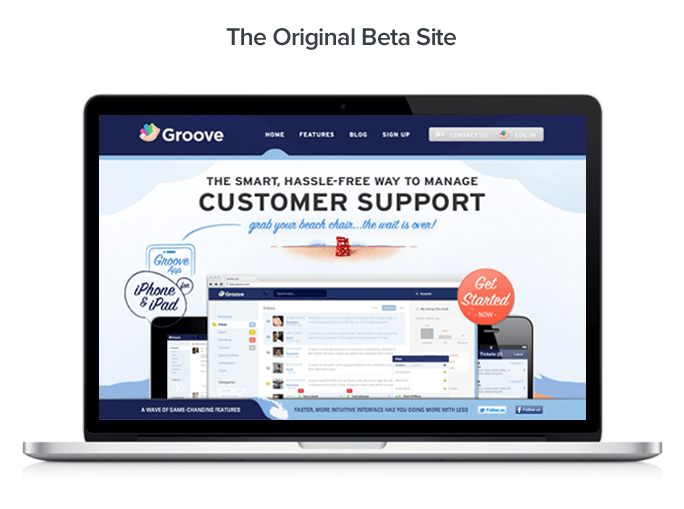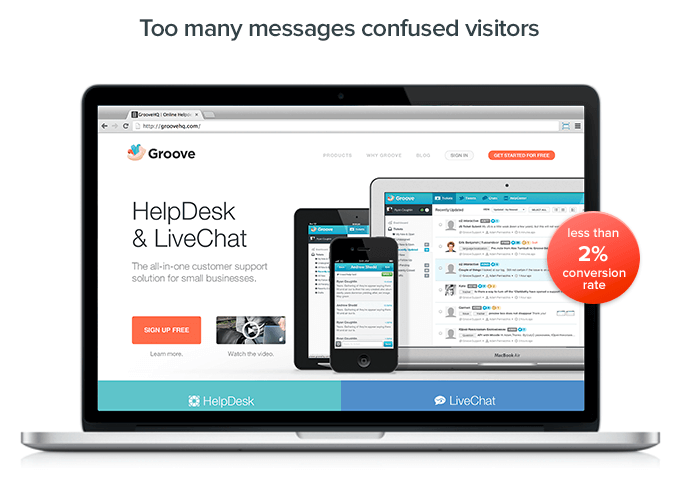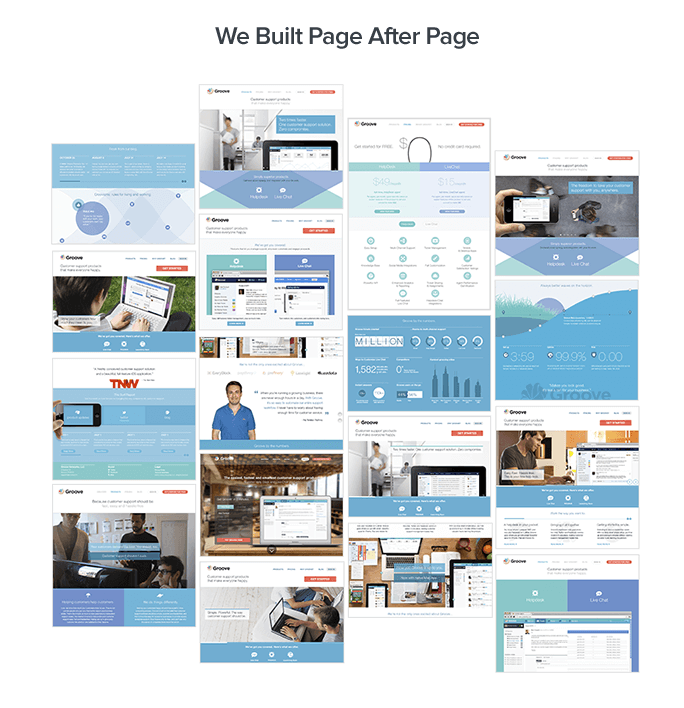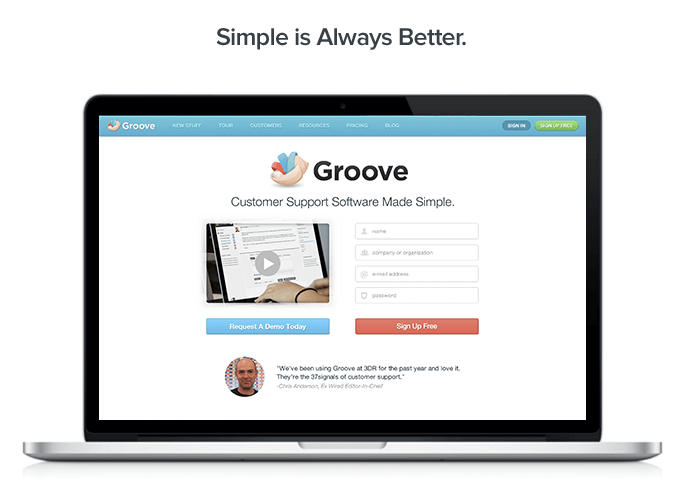 'When we started building Groove, we spent $50,000 creating the wrong product. We built based on our own wishlist of features, based on what we thought people would want. What I learned: Swallow your pride, and test your assumptions vigorously. Whatever you think you know, there's a great chance that you're wrong, so test fast before betting the house on a single strategy.'
Alex's tactics:
Alex started his pre-launch activities with not-public beta using free access (figure 1).
After some initial success, he decided to transform his landing pages to marketing sites. He spent 5 months creating great marketing site before public lunch without validation (figure 2 and 3), but after it was launched, it failed: that marketing site almost did not convert users to subscribers.
Alex found himself in a terrible situation, but then he swallowed his pride and put up a three-page (landing, pricing, and signup) site that was hyper-focused on the benefits of this platform, and nothing else. The site took three days to build (figure 4). Conversions tripled overnight.
'Over the next few months, the feedback we were getting was clear: while the design was awesome, the product was more than users needed, and it was getting more complicated each time we "enhanced" it. We had disproved our initial hypothesis about the features we thought users wanted, and learned what our users actually wanted: simple ticketing and knowledge base software. So armed with that data, we stripped down the product to its core, and simplified the user experience. That simplification was a major turning point for us.'
MVP for SaaS: Validate idea first and find paying customers before launching a SaaS app
Y Combinator-Rejected startup Buffer, founded in 2010, got more than $10m annual recurring revenue in 2016. This Social Media Management platform is now a SaaS company with a distributed team. When he first started Buffer, Joel Gascoigne, a Co-founder and CEO at Buffer, was working full-time as a freelance web developer. He shared his experience of pre-launch activities.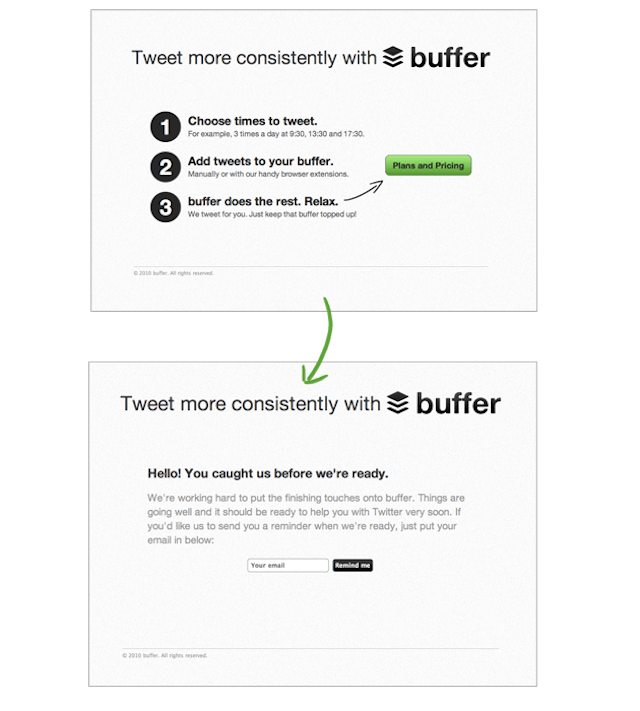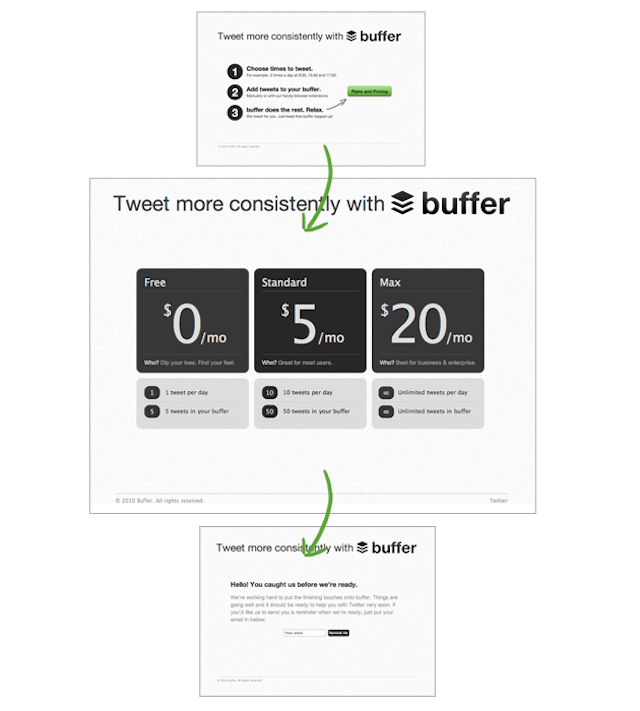 'I had lost 1.5 years of my life to not validating ideas before building them. The landing page - and more importantly the conversations resulting from people signing up through it - proved to be great validation.'
Joel used these landing pages to gather emails from potential customers in order to start a discussion with them.
Another example of minimum viable product for SaaS
Express an idea of the app in the form of "problem and solution" ;
Divide the experiment into 6 stages: 1) create a two-page landing website to gather emails without specifying plans and pricing, 2) get the traffic to the landing page; 3) communicate with every subscriber; 4) create a three-page landing website to gather emails with specified plans and pricing; 5) get the traffic to the landing page; 6) communicate with every subscriber;
Start creating a real-world application based on the results of previous stages.
'Put up a landing page for your product. Make it look like the product exists, and then when people try and sign up, show them a page letting them know that you're not quite ready for them yet. If you have people hitting the page and no one gives you their email, you know there's a problem with your idea or the way you're describing it. Treat the emails as people who are happy for you to get in touch with them to discuss your product idea further in order to validate that it would solve a real problem for them and that they might actually pay. The benefit of this method is that you can also work on your product in parallel with learning about your customers and about how clearly your landing page is getting across the idea of your product. With a few tweaks, you're very likely to be able to launch the actual product with the same landing page. Your first landing page can be very simple. This is also how I launched my latest startup, Buffer, and it worked pretty well.'
Further Reading
Basecamp's book "Getting Real" uncovers the smarter, faster, easier way to build a successful web application, like Basecamp. Many designers and developers consider it the software development bible.
Written by
Partner / Department Head
I've been leading projects in Healthcare, Financial and other domains for 14 years.
Let's Talk Business
Do you have a software development project to implement? We have people to work on it. We will be glad to answer all your questions as well as estimate any project of yours. Use the form below to describe the project and we will get in touch with you within 1 business day.