Business Analyst is a person who investigates customer's problem, looking for solutions and develops idea into the form of requirements, which will be used by the developers when creating a product in the future.
Main tasks and responsibilities
The main task of business analyst is to identify customer business problems and find the most effective solution. To do this, he must have knowledge in the subject area. Business Analyst works with the requirements at all stages of software development life cycle and constantly mediates between the customer and a team of programmers.
Business analyst activity includes the following stages:
Identify customer needs, understand the problem he wants to solve.
Develop idea independently or with a help of a team.
Develop the idea into requirements specification to create future product. Different techniques of business analysis can be used: models of processes and structures, user interface prototypes, use cases. At the same time, it makes accurate estimates of efforts and work duration.
Specify each requirement in specification form.
Advise programmers and QA during product development and negotiate with customer any disputable issue.
The range of tasks can be described in simple words: work with requirements. This means that cooperation with stakeholders on customers' side and with team members who are responsible for solutions development process.
In a world practice, Business Analyst career looks like this: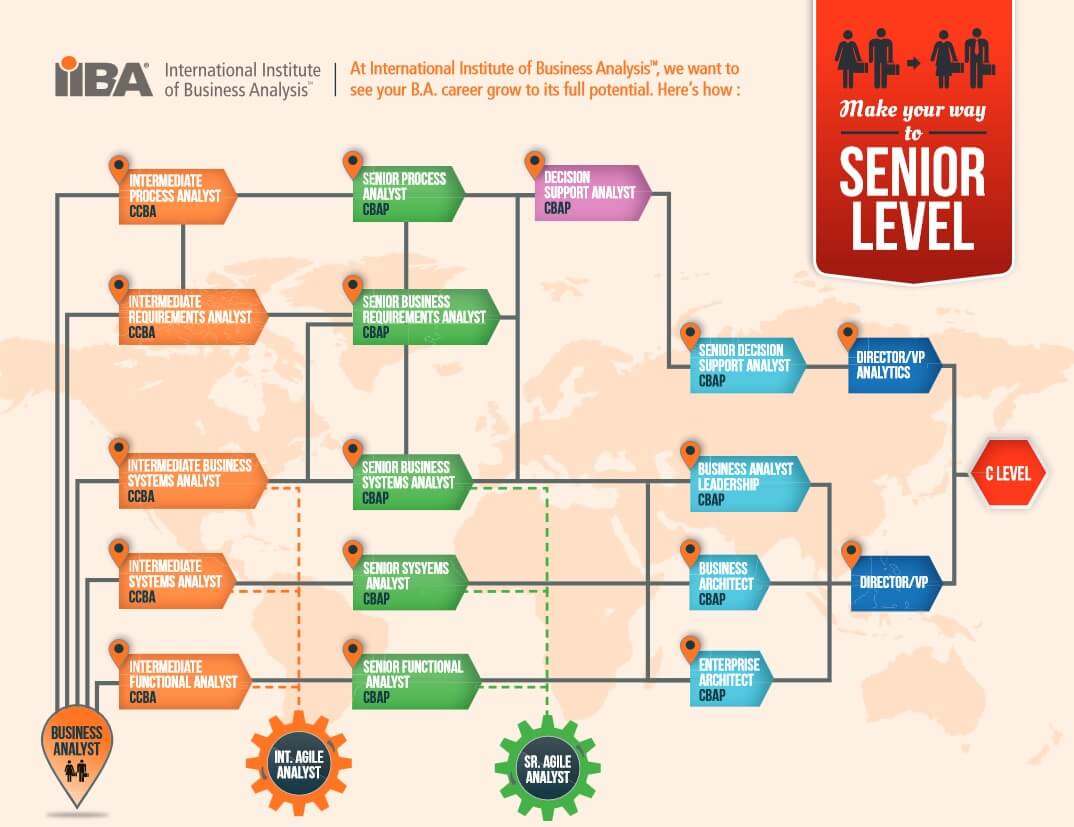 Image Source: www.iiba.org
In some projects, there is no need to use a dedicated analyst. Sometimes it happens the opposite situation when the analyst is responsible for project management, QA or technical writing.
Sometimes in large projects Business Analyst is sharing his role with Systems Analyst. Business Analyst role is to identify customers' business objectives, solution ideas and requirements forming ideas. System Analyst responsibilities are formalization and requirements specification according to functional objectives and program implementation.
Sometimes, business analysts complain that the customer doesn't know what he wants. As a rule customers understand and know it, but unfortunately the analyst doesn't have enough analytical skills to understand all that.
Business analyst main duties
Customer business needs analysis;
Drawing up future products requirements (communication with stakeholders - developers, customers, end-users);
Requirements analysis (different methodologies and notations usage - prototyping, surveys, brainstorming, existing documentation analysis and competitors);
Problem domain analysis and improvement suggestions;
Requirements formalization (separation on business, functional and non-functional requirements);
Requirements management (processing of change requests, analysis and description of the impact on existing requirements);
Requirements transmission between the developers and the client.
The analyst may have good English, the gift of gab and write a perfect documentation. But if he doesn't understand the domain, cannot understand the customer and make it clear to the developer that will lead to a failure.
A typical working day of business analyst
Project team members and the customer meetings;
Conceptual solution elaboration;
Work with the analysis tools: charts, diagrams, models and prototypes;
Work with the requirements: collection, writing of requirements specification;
Developers and QA consultation;
Standards learning.
It depends on a project stage but sometimes business analyst can educate himself or he can write documentation or examine documents written by the other guys, test the program or communicate with the customers.
Advantages and disadvantages
The main advantage of business analyst profession is the possibility to fathom the essence: to understand how it's arranged, which parts relate and interact with each other and then describe difficult things with simple, but useful models.
Business analysts are fond of beautiful problem-solving plans. «Beautiful» means logical and universal which lies under current structure and then becomes a scalable with future changes. Real problems are the origin of customer's problems and symptoms that he had from the very beginning.
Business analytics help different parties to understand each other and as a result get an implementation that will satisfy everyone.
Another advantage is the importance and significance of business analyst activity, as the result of work determines the course of the project.
Among the disadvantages of communication difficulties with the customers there is a problem with bringing good ideas or the restrictions due to terms and budget.
Another complaint – business analyst needs to explore large amounts of information in a short time. Besides working on his own project business analyst needs to feel the pulse of a new methodologies study basic principles of a new platforms.
There is no ideal requirements specification, and you don't always need it since it requires huge effort of time and money. You should learn to separate the wheat from the chaff as there is always criticism in any field.
Written by
Partner / Department Head
I've been leading projects in Healthcare, Financial and other domains for 14 years.
Let's Talk Business
Do you have a software development project to implement? We have people to work on it. We will be glad to answer all your questions as well as estimate any project of yours. Use the form below to describe the project and we will get in touch with you within 1 business day.