I've been building and managing highly performing offshore teams for clients globally for 14+ years. Now, I share my knowledge with real-life examples to help you understand and compare 3 core IT outsourcing pricing models and make the informed decision for your project.
In Belitsoft, we examine each case individually to choose the IT outsourcing pricing models that allow our clients to get real high-level skills on demand, decrease costs for development, and speed up the product delivery.
In case you prefer talking to me directly, reach out to me now.
What is a Time and Material Pricing Model
I recommend a Time and Material in software development for:
A startup with the expertise in IT;
A medium or large business where decision makers have experience in managing staff remotely and understand how to work with offshore teams.
Key features:
What is a time and materials contract?
Time & Material is a contract where the total cost isn't defined when the development starts. A software development company, which you hire, assigns specialists to your project at a fixed hourly or monthly rate. The final project cost is calculated de facto upon the number of hours spent by the assigned staff.
You get freedom in changing project requirements and scope of work alongside the development.
Typically, Time and Material pricing model is used in line with Agile project management methodology. The development process is iterative. Each iteration represents a full development cycle with an end result, for example, the delivery of a new feature or integration.
Advantages of a Time and Material pricing model:
✅ You start the development quickly. Having detailed specifications isn't a must. Give the first task to the development team, and they'll start performing, while you're working on the next task;
✅ You pay only for the time spent de facto. You don't pay sick leaves or holidays, your vendor takes on this responsibility. On top of that, the agreed rate doesn't change during your cooperation, making budget planning easy;
✅ You can adjust the level of your managerial involvement. On the one side, you can limit your participation by weekly meeting and focus on other business tasks instead. Otherwise, you can fully control every development step directly or by assigning your Product owner or other representative. Anyway, you have regular meetings with a vendor's project manager, and get immediately notified in case of any urgent updates or issues.
Disadvantages of a Time and Material pricing model:
❌ The cost of the project might differ from the initial estimates. In Time and Material pricing model, you are free to change or add requirements in the development process. However, in this case, you pay for the developers' time that hasn't been planned initially, and your budget grows.
👉 How does Belitsoft resolve it? You get a skilled Project Manager and Business Analyst (on demand) from us. They help you describe the project specifications in more detail before the development. The more details are specified, the better picture of the result you have, and the lower is the risk of spending time on wrong tasks. It allows you to add or change some details in advance.
❌ You may not know what specialists are behind your project. T&M is a result-centered model when you expect a certain result till deadline. Usually, you don't even know the team structure. As a result, there is a risk of quick turnover in the team, which negatively affects the team expertise in your product and may delay its delivery.
👉 How does Belitsoft resolve it? Belitsoft has introduced a best practice for Time and Materials contract in software development. Our clients personally interview and choose key specialists for their projects. Then, we take on the responsibility to retain them as long as your project requires. On top of that, a Project Manager from our side acts as an intermediary person who communicates your ideas to a development team, makes sure that your requirements are clear to them, solves any urgencies, and gives you regular updates.
How we applied T&M in the real project:
Client: the global creative technology company.
Product: custom resource management software.
Project highlights: The client needed a complex resource management system that was supposed to be scaled and upgraded in line with the enterprise growth.
We opted for the Time and Material pricing model because:
the client wanted to retain full control over the project;
the development was gradual and continuous, the client needed the freedom of changing and adding tasks on the go.
When the software was already in use by hundreds of employees in the enterprise, Belitsoft kept on improving it according to the growing company and employees' needs. To be exact, we automated a unique business workflow, migrated the software to the Cloud, and realized other improvements – all step by step without downtime for the client's company.
Following the Agile project management technique, the software development process was iterative and flexible. When the client had new tasks, their product owner communicated with Belitsoft's project manager and business analyst to analyze and agree on details. After that, the team developed and delivered the results. Finally, the project manager received client's feedback and asked the team to make changes if needed – all in a quick turnaround.
Now, the client successfully uses the software to automate resource management workflows. Thanks to this, the enterprise optimized working processes and the number of managers, reaching significant budget savings.
What is a Cost Plus Pricing Model
I recommend a Cost plus model in outsourcing for:
A medium or large business, typically a product company, with an in-house development team. Usually, a company needs extra resources when their in-house staff is overloaded or when they lack the required expertise;
A startup where a decision-maker has had a previous experience with outsourcing services.
Key features:
How does Cost plus pricing work?
You have a long term project or a series of projects for 1+ year. You contact an outsourcing software development company to get a dedicated team of IT specialists, which is a cooperation model that goes ideally with Cost+.
The members of a dedicated team are vendor's employees de jure, but they become your full- or part-time employees de facto with a fixed salary. You fully manage them as your in-house employees.
How is price determined using Cost plus pricing?
Selecting the Cost plus model in outsourcing, you take on a monthly payment that includes: the salary of hired IT specialists (with fees actual for the vendor's country) and the overhead to a vendor, which covers utilities, rent, insurance, and other expenses.
With Cost+, you know what your monthly payment consists of and how the money is distributed, and you understand which specialists with what salary work for you.
As for project management methodology, you can choose Agile, Kanban, Waterfall, or others depending on specifics of your tasks.
Advantages of a Cost plus pricing strategy:
✅ You save about 40% of budget compared to development costs in the US, UK, Israel, etc. By outsourcing software development to the countries of Eastern Europe, you save money on developers' salaries and fees, without sacrificing the quality;
✅ You select each team member personally. Usually, a vendor's HR team pre-selects candidates for you. Then, you personally or your team interview the shortlisted ones and select those who meet your requirements;
✅ You are very likely to get a high-performance team. Typically, a dedicated team comprises specialists that have experience of working as a part of a dedicated team and perfectly know how it works (for example, they can work with communication and management tools, like Jira, Slack, etc). So, they start performing as a united team from day one, bringing you great outcomes.
Disadvantages of a Cost plus pricing strategy:
❌ Your in-house staff may oppose hiring a dedicated team. Some managers and in-house developers turn out to be not able or not ready to accept and communicate with an offshore team. Partly, this happens due to the lack of such experience. However, for others, it's a job security issue, when employees may feel competition and doubt their skills and further employment.
👉 How does Belitsoft resolve it? Thanks to our years-long expertise in building dedicated teams for Cost+ contracts, we know how to create a team that will be on the same page with your in-house employees and managers. Our Project Manager will introduce communication and management tools, like Jira, Slack, Microsoft Teams, or others, and will help your in-house staff get the maximum benefit from them. As a result, the communication becomes smooth and friendly, and both teams start working as a single one.
❌ You take the same level of responsibility as with an in-house staff. You pay the salary, sick leaves, and holidays. Besides, you should provide constant workload for such a team, otherwise, you pay for downtime.
👉 How does Belitsoft resolve it? We flexibly react to the changing scope of work can scale up and down the dedicated team quickly. As for the expenses, you clearly see what the pricing includes, how expensive every specialist is, or which part of the budget goes to pay fees – you get access to employees' contracts and other financial documents.
How we applied Cost+ model in the real project:
Client: an Israeli high-tech company.
Product: custom development, customization, and testing of network intelligence and security solutions.
Project highlights: The company had a team of in-house developers and testers. However, due to the growing demand for customization of their products, the in-house team didn't cope with the workload, and the waiting list stretched for years.
To deliver the products on time, the client decided to compensate the lack of in-house resources by partnering with Belitsoft. Initially, their request was to create a dedicated team of QA engineers. Later on, having evaluated the professional approach and results of Belitsoft's work, the enterprise entrusted the customization and then custom development of their products to us.
We suggested and implemented communication and management tools for smooth and productive mutual work of the in-house and offshore teams.
We also know how essential it is for large product enterprises to retain key specialists in a project due to knowledge domain specifics. For that, Belitsoft assigned an account manager who was 100% free for our client. His task was to retain key professionals in the team by timely forecasting and preventing any issue within the team or with the client. By following this best practice, we've retained 85% of the team for over 2 years up to now.
As a result, our dedicated team has scaled up to 100 testers and developers on board, providing a definite increase in velocity. Belitsoft has helped attract new clients, increase revenue, and save 40% on development and testing.
What is a Fixed Price Model
I recommend a fixed price model for:
A startup with a new idea but without experience in the IT industry;
A small or medium-sized business with detailed specifications and clear goals;
A medium or large business with a pilot project. Usually, a company describes project specifications in detail for apple-to-apple comparison among new vendors. Based on the results, they pick a vendor for further cooperation.
Key features:
A fixed price model is the contract based on a fixed project cost agreed before the work starts. You can use it when you know exactly what to do.
All your requirements and specifications are described in detail, usually in a Statement of Work (SOW). Based on the SOW, a software development company evaluates the team size and a time frame and makes a budget assessment.
Typically, a fixed price model is a go-to option for MVPs and small projects with limited budget and strictly determined deadlines.
This outsourcing pricing model is traditionally used with Waterfall project management methodology, which is not an iterative approach. Your development team will break down the work into predefined chunks and deliver them according to the SOW.
Choosing a fixed price model, you can expect that a development team will strictly follow the agreed specifications without ongoing changes.
Advantages of a fixed pricing model:
✅ You know for sure what budget and results to expect. You get exactly what you've requested in the SOW with regard to the price, terms, and quality;
✅ You run very limited risks during the development process. Any project risks (technological, operational, or related to skill resources) become the responsibility of a software development company;
✅ You can compare vendors. You get an opportunity to compare several outsourcing companies by giving them a pilot project. Thus, you get insights about working with each of them and can decide which one suits to you best.
Disadvantages of a fixed pricing model:
❌ You may face a high risk of wrong project assessment. Few businesses and startups have a clear vision of the end goals. As a result, the SOW poorly covers project details, often leading to wrong project assessment in terms of budget and deadline. If your project is underestimated, a vendor might lack time to complete it without sacrificing the quality. If it's overestimated, you pay more than your project really costs.
👉 How does Belitsoft resolve it? If you don't have a SOW, Belitsoft will assign a Business Analyst and a Project Manager who will do a project discovery phase for you and document all your requirements with detailed specifications. As a result, you get an exact final cost estimation.
❌ You cannot start the development right away. The well-though Discovery phase is a must for a fixed price model. Otherwise, your requirements might cause a bunch of issues (wrong choice of a tech stack, underestimation, difficulty to add certain features further, etc). So, you and your vendor require extra human resources, time, and money for the preparatory phase instead of starting the development right away.
👉 How does Belitsoft resolve it? We know that a skilled Project Manager and Business Analyst are a key to a thorough yet quick discovery phase and detailed specifications. Belitsoft has well-versed specialists with years of experience in fixed price projects who will take on this stage.
❌ You cannot make changes in the project on demand. The major difference between fixed price and time and material is that in a fixed price model, you cannot alter your initial project scope and requirements whenever you need it.
👉 How does Belitsoft resolve it? We suggest that you make change requests – formal proposals to alter a product. Thus, you get a possibility to add extra details to your initial Statement of Work, though it might require extra time and budget.
How we applied a fixed price model in the real project:
Client: the US-based health tech startup.
Product: custom CRM for clinical trials.
Project highlights: A fixed price model was selected as the startup founders came to Belitsoft with detailed requirements.
The development team started from a discovery phase. Our business analyst and business development specialist elaborated a step-by-step development strategy that linked the client's requirements to their technical realization. It covered both business and technical details, such as market research, product features, tech stack, etc.
As a result, the client received a precise cost estimation with a technically-backed vision and scope of the project and the exact deadline.
We set up clear deadlines for every milestone and delivered results on time and on budget.
We also applied change requests when the client wanted to change or add new deliverables. It took some time and money, but the client received the product that perfectly met the requirements and became competitive on the market.
If you lack sufficient in-house resources or skills that are required for successful and timely project delivery, let's talk and resolve this challenge together.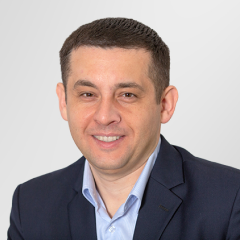 Written by
CTO / Department Head / Partner
Recommended posts
Belitsoft Blog for Entrepreneurs