React Native continues to rise triumphantly through the ranks of mobile development technologies. Take a look at some examples of successful healthcare companies utilizing its benefits.
Healthcare industry might be a little slow to take advantage of the new technologies. But some entrepreneurs see the opportunities that the innovations have to offer and embrace them.
React Native is currently the most popular framework for cross-platform mobile app development. And it is no wonder that the aspiring healthcare powerhouses use it for their products.
ALAN
Alan is a French startup, aiming to disrupt the health insurance business. The market they wanted to work on was pretty packed - they were the first new French insurer in over 20 years. But, the founders were able to persuade the investors and have received about $13m in funding.
They wanted to dramatically speed up the insurance claims process. It would allow them to stand out and attract more customers. And according to Alan website, they usually reply within a minute from the moment they've got the request.
They were able to achieve this thanks in part to their React Native mobile app. It allows their customers to communicate with the insurance agents, send the photos of the documents and track their claims.
According to developer Robert Zyskowski, they've chosen React Native because it helped them release the app faster. It also allowed easy addition of new features and was simple to learn. Alan developers compared it to the native mobile development and other cross-platform technologies, but RN won in the end.
'While investing in building classic native apps has proven to be highly flexible and scalable, they are costly to develop and have a steep learning curve for engineers who don't have mobile experience.'
Robert Zyskowski
Moreover, React Native had turned out to have some additional benefits. Code sharing was one of the key advantages, allowing development team to reuse same snippets in both Android and iOS mobile apps, as well as their web application.
'Within a month or so, we had two beautiful apps available in the App Store and on Google play.'
Robert Zyskowski
At the moment Alan team continues to develop their mobile application and is eager about contributing to the community.
IODINE
Iodine have made a name for themselves as a provider of plentiful and relevant information about various medicines. They help people make informed decisions about whether a certain drug will work for them by getting information from FDA (Food and Drug Administration), as well as aggregating user reviews. It also provides information about side effects, including potential weight gain and alcohol interaction.
They've received $2.5M as their seed funding and have been developing their initial offering ever since.
In 2015 Iodine has released Start – a mobile app for people taking antidepressants. It helps users track their condition and effectiveness of medicines. That's when Iodine development team has first tried React Native.
'In retrospect, choosing to use React Native back in the spring of 2015 was risky. It had only been available for about a month at the time. We were placing a bet on a nascent, unproven, and frankly, ambitious technology.'
Iodine stated in the dedicated blog post
However, it was a calculated gamble. React Native has Facebook behind it, which gave Iodine team reason to believe that this technology is going to be improved further. Moreover, the team was already familiar with React.js, having developed their website frontend with it.
The gamble has paid off. Firstly, React Native turned out to produce high levels of quality and performance. It allows using the native functions of each device – hence the "native" in the name.
'And when the framework doesn't provide a component you need, it bends to your will, allowing you to build native components at just the right level of granularity.'

In the end, the team was able to build the app without sacrificing their design quality, which is an important part of building trust with the user.
Secondly, the developers cited the speed of React Native, meaning both app performance and time it takes to deliver a complete project. The framework allows seeing the results of your code changes in seconds. So making minute adjustments and tweaking important logic becomes much faster.
'Feedback that a native developer might get in minutes, a React Native developer realizes in seconds.'

Besides, testing the RN code on the actual phone or tablet is also quick thanks to sending JavaScript bundles to the device from local server.
This has another unexpected benefit for iOS devices. Changes in native code have to be approved by AppStore, but if your logic is written in JavaScript. So you can release and send out updates whenever you need to, without having to spend days waiting. Iodine developers mentioned that this feature allows them to respond to user feedback in record time, which is especially important for a startup.
Another advantage of React Native, which Iodine made use of, is its vibrant community.
'If you encounter a bug in the framework, more likely than not somebody has already opened an issue in the repo or posed a question on Stack Overflow. If you can't find built-in support for a certain native functionality like push notifications or a tab view, somebody has probably already built it.'

Also, if there are no existing modules for your problem, you can write one yourself and contribute to the open source community.
React Native is not perfect, and Iodine mentioned several pitfalls to watch out for. Developers need to take special precautions to avoid runtime errors and the documentation for this framework is not comprehensive. It could make programmers spend extra time researching the inner workings of RN.
In the end, the development team was able to release Start for iOS in three months. And later (in about a year's time) they've made an Android version in another three months.
GYROSCOPE
Gyroscope specializes in health analytics. Their online personal dashboard helps users learn more about their daily activities and achieve their health-related goals – be they 6-pack abs, weight loss or peace of mind. Gyroscope can integrate with popular fitness trackers like FitBit. It also utilizes AI to assist in teaching people healthier behavior.
The company has received $1.3M in investment and their iPhone and Android apps rank 4,5 and 3,5 stars on their respective marketplaces.
The apps were built using React Native. It was no surprise – Eric Florenzano, one of the original co-founders, was a big fan of React.js. So he decided to try RN for their mobile app.
Anand Sharma, the other co-founder, was also impressed with its ease of use.
'Within a few hours, I was able to edit elements on the page and style them with a Flexbox/CSS-like syntax. It was magical.'
Anand Sharma
Apparently, the experience was successful, as in April 2017 Gyroscope has hired a custom software development company to create an Android version of their app also using React Native. And now it has over 100.000 downloads on Play Market.
Send us a message to get your own dedicated team!
OSCAR
Oscar is a New York-based health insurance startup. It leverages modern technologies to improve customer experience. Their mobile app offers easy communication with concierge team and doctors available 24/7. There is even a motivation to stay fit – step tracker which rewards achieving goals with Amazon gift cards.
Since their founding three years ago they've received a hefty $727.5M investment and are expected to generate $1B in revenue in 2018.
Oscar mobile app
According to Yang Mou, one of the Oscar programmers, their engineering team currently has about 80 people, which is not that big taking the company size into account.
But thanks to their streamlined approach to the development process it is easy for them to be full-stack developers. One team can make same features both on mobile and on web app, saving money for the company.
Oscar technology stack revolves around React and React Native for frontend and Python (Flask framework) for the backend. It means the developers only need to learn these few technologies to stay effective.
According to Mou, React Native allows for over 80% code reuse, especially in typical tasks like pulling information from API. Not having to do the same job twice speeds up the development.
When they've announced React Native, Facebook representatives stated the framework's principle of "Learn once – write anywhere". Oscar developers have already known React, which they used for their web app frontend. Although they couldn't always just copy and paste their code, learning React Native was quick and easy for them. It was another major benefit to Oscar team.
'In our experience, it takes more time for native engineer to learn React Native, than it is for web engineer.'
Yang Mou
Like their Iodine counterparts, Oscar devs have made full use of the active community that has grown around React Native and improved their speed.
'They [the community – A.K.] are very good at opensourcing. Anything you want to do, someone tried to opensource that already.'
Yang Mou
Another benefit of React Native, which provides "an unbelievable developer experience", was the fast feedback that the programmers were able to receive. Thanks to the Hot Reloading feature Oscar team was able to see the results of their code changes in seconds rather than in minutes it usually takes for native developers.
Finally, Mou said that React Native and the libraries around it make testing the software much easier than on native technologies.
Despite the positive impression that this framework has made on them, Oscar developers mention some of the drawbacks of React Native. The other teams should consider them when choosing the right technology stack.
The framework develops rapidly, which means the applications built with it will always be behind the latest version and accumulate technical debt. The APIs used in the app are always under threat of breaking. And every once in a while the project would need extra work to make sure everything stays operational despite the updates.
'And if you fall behind, someone's got to take a week to just get you caught up,.'
Yang Mou
A vibrant and productive community has its drawbacks as well. There are many libraries teams can use, but those libraries aren't that well-tested, potentially giving the developers unpleasant surprises.
As much as it allows to decrease the need for native code, React Native doesn't eliminate it completely. Some knowledge of the native Android development is still required for the app to function properly.
''You cannot do it with just JavaScript engineers and then spend a lot of time figuring out why your activity disappeared.'
Yang Mou
The performance of React Native applications is also falling behind when compared to native technologies. It was acceptable for the Oscar team, but developers working on more resource-intensive applications might see it differently.
Finally, this framework still "feels like an iOS-first project", because Android side of it is lagging in terms of getting updates and bugfixes. Although, according to Mou, the situation has been improving lately.
Conclusion
With each passing day, more healthcare companies are turning towards promising modern technologies like React Native. Although it is not a one size fits all solution, it could be very beneficial when used properly.
Looking for React Native developers? Send us a message and get a free quote on your project!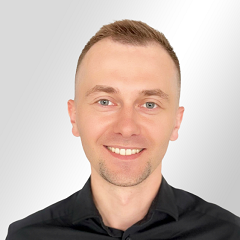 Written by
Deputy Business Development Director at Belitsoft
I am a customer's advocate and a manager of several key accounts.