Case studies are a great way to know the experience of how other successful companies implemented React Native in their software development processes. Do you need React Native developers? We are here to help you. Get a Free Quote.
Migrating Cross-platform apps to React Native at Walmart
Walmart is made of many different brands, such as Walmart Grocery, Sam's Club, ASDA, Walmart.com, etc. — each with its own IT needs, requirements, and dev teams. Things get even more complex on the mobile side. Each brand has two teams of mobile developers, building apps for each OS, that are similar in functionality, but different in execution. This was not by choice, but rather necessity as it is very difficult to find highly-skilled developers who are adept at writing native apps in both iOS/Android.
For associate tools, they mostly wrap web apps using ionic or similar solutions.
They felt that React Native could really change the paradigm.
'Solutions in the open source world similar to what we accomplished are 'PhoneGap' or 'Cordova.' Going down this route led to a noticeable difference in performance compared to other parts of our native app. This was validated when we re-wrote those parts in React Native or mobile app technologies and saw metrics which showcased more engagement from our customers.'
Alexander Grigoryan, the senior director for software engineering, application platform and online grocery for Walmart Global eCommerce
The team also looked at Microsoft's Xamarin tools, but decided that it wouldn't give it benefits like reusable UI components , shared JavaScript modules and over-the-air updates as React Native.
'Our front-end for web is also React, so it all just made sense for us to invest in React Native as the solution.'
Alexander Grigoryan, the senior director for software engineering, application platform and online grocery for Walmart Global eCommerce
So, they already have mobile apps in production that have lots of features powered by tons of code.
Typically, developers who want to move their apps to React Native would have to either rewrite their app from the ground, build a quick and dirty integration that'll cost them later, or build a new platform and tooling for integrating React Native into their apps. Rewriting everything would be a massive investment of time, hiring, and training (translation: money). And a complete rewrite is prone to failure compared to an incremental migration approach.
Walmart went with the last option. They created the Electrode Native Platform. The basics idea here is that Electrode Native allows large companies like Walmart to take their existing apps and slowly migrate parts of their code to React Native.
Alex Grigoryan, Sr Director of Software Engineering at WalmartLabs, says, "Electrode Native offers a streamlined integration of React Native into existing mobile applications. With Electrode Native, there will no longer be a need for an engineer who specializes in both mobile and React Native technology in order to put the two technologies together. For your existing mobile application, there is no heavy infrastructure, code, or development lifecycle changes.
When considering their approach to using React Native, WalmartLabs developers decided that building features into production applications incrementally would be the solution with the highest chances of success.
As of February 2017, they migrated one of the webviews to RN. As of August 2017, they were migrating few more webviews and building new features in RN. Walmart developers reported no scaling issues.
Native iOS and Native Android to React Native at Bloomberg
Bloomberg is a financial software, data, and media company headquartered in New York City with 9.4 billion USD revenue (2014). Bloomberg's mobile app for iOS and Android, launched on January 2016, offers users personalized content, videos and live feeds. To develop the app, an engineering team at Bloomberg's New York City headquarters developed the app using React Native.
With React, Bloomberg engineers were able "to more easily and quickly rebuild the company's consumer app for both mobile platforms".
'While other free software projects like Titanium and PhoneGap promise to offer developers a native look and feel, Bloomberg found that React Native was the best tool available in the market today to create native apps simultaneously for both iOS and Android platforms.'
Before React Native, Bloomberg teams would have developed the iOS and Android versions in parallel without being able to share most of the code they wrote, leading to delays and repetition. By comparison, the React Native platform's unified development capabilities and made for a seamless process that allowed each developer to focus on one feature at a time.
'That helped speed things along. It took the team of developers in New York just five months to develop the app—roughly half the time it would have taken had they not used React Native.'
Another benefit of React Native is that it automates code refreshes, accelerating the release of new product features. Instead of recompiling, your app reloads instantly. Once users open the app, they get the latest update.
That same feature lets coders experiment, iterate and quickly push out upgrades with A/B testing. For example, before the app's launch, the team tested user preferences by placing images on the left and right sides within the app, collecting data and metrics to identify what internal beta users favored. This was just one of the many experiments the team conducted to validate this tech and workflow.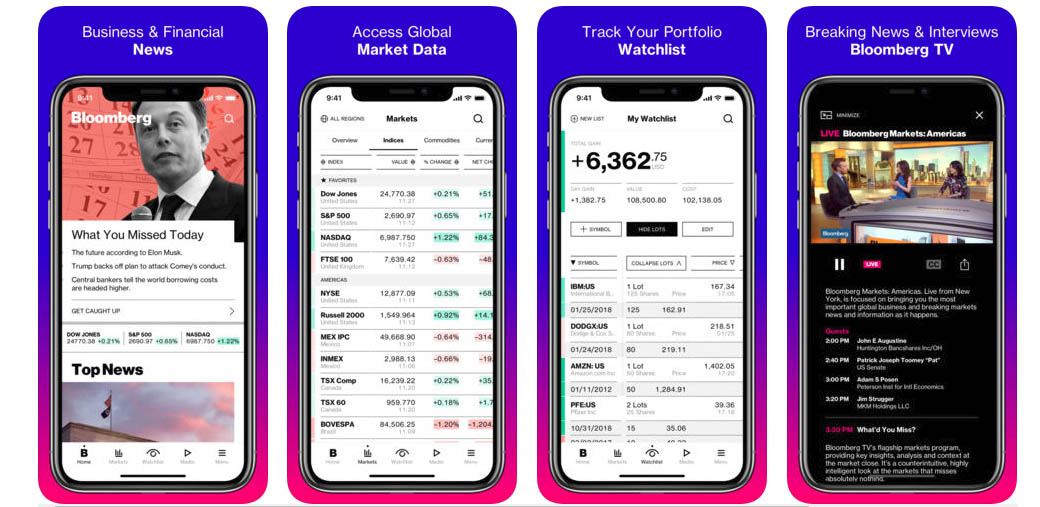 Source: itunes.apple.com/us/app/bloomberg/id281941097
React Native made it easy for Bloomberg engineers to "sprinkle in interactive animation," such as a parallax of images in the news feed or the ability to swipe a headline to share or bookmark an article. It also enabled the team to ensure the continual updating of the app with market-moving news, data, and analysis, all of which is accessible via personalized widgets. There is no performance impact on media features like animation because the JavaScript is running on a separate thread.
'React Native is the best out there. Expect it to appear in other Bloomberg mobile apps in the future.'
Gabriel Lew, a senior software engineer at Bloomberg
Native iOS (Swift) to React Native at Artsy
Artsy is a New-York based startup with total funding amount $100.9M. It is a marketplace for buying and selling visual art online. Artsy's database contains over 270,000 pieces for sale from the top galleries and auction houses. Artsy's iOS app was first developed in Swift but soon "a small team of iOS developers with decades of native experience switched to React Native". In the series of blogposts Artsy Engineering team covers the reasons why they made that choice, including "support other future platforms such as Android without creating more teams", enabling "different business teams to work on the app without disrupting each other", evolving "our architecture in order to increase programmer efficiency". As they concluded, "new apps going forward we will default to React Native apps".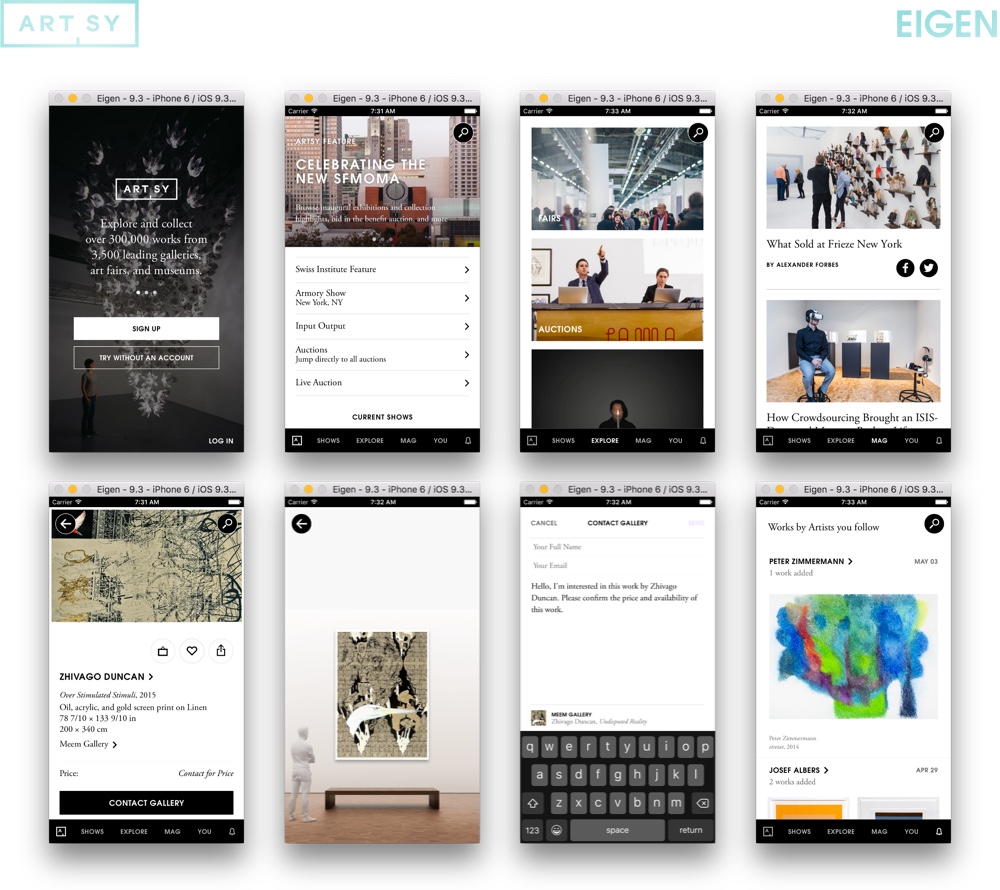 Source: github.com/artsy/eigen
Other Case Studies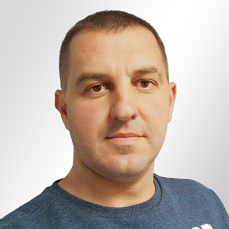 Written by
Senior Business Development Manager