The growing demand for security, scaling, and sharing data is causing trouble for providers who use legacy EHR Systems. We know these problems well and offer Electronic Health Record modernization services to help you avoid them. This upgrade can help providers, payers, and HealthTech companies gather useful information to focus on patient needs and outcome-focused care.
EHRs serve as a digital record of a patient's medical history that stores, manages, and shares patient data across different healthcare settings. Tailored for value-based care, the new EHR system can incorporate automated workflows to optimize time management and prioritize quality patient care delivery.
The primary goals of EHRs are to:
Improve patient care by giving up-to-date access to patient information,
Facilitate information exchange among different healthcare providers,
Automate administrative tasks, minimizing the risk of errors and saving time,
The Challenges and Limitations of Legacy EHR Systems
While EHRs have revolutionized medical documentation and information management, there are several challenges and limitations associated with their implementation and use.
Interoperability challenges. Healthcare providers often use diverse EHR platforms that don't easily communicate or share information with each other. This can lead to fragmented patient records, inefficiencies in care coordination, and potential errors in data transfer.
Data security and privacy concerns. Outdated systems may lack robust security measures, making them vulnerable to data breaches and unauthorized access. Additionally, the sharing of patient information between different systems raises concerns about privacy and compliance with data protection regulations.
Limited interconnectivity with medical devices. Many medical devices generate valuable patient data, such as vital signs, imaging results, or lab test outputs. Outdated EHR systems may face challenges in integrating with these devices, resulting in manual data entry or the inability to capture real-time data.
High implementation and maintenance costs. The costs associated with hardware, software licenses, training, and ongoing technical support can limit widespread EHR adoption.
User Experience issues. Legacy EHR systems tend to have complex user interfaces and unintuitive workflows. As a result, healthcare professionals face difficulties navigating through menus, inputting data, or finding relevant information quickly.
Key Benefits of EHR Modernization
Application modernization plays a significant role in the digital transformation of any industry, revamping and upgrading legacy systems in healthcare to meet growing expectations and competition. It refers to the process of migrating from outdated technology, software, and system technology architecture to newer, more efficient solutions. This not only improves operational efficiency and scalability but also strengthens security measures.
Gradually, in the realm of healthcare, application modernization becomes particularly significant when considering new Electronic Health Record or Health Information systems. Here, the need for modernization is imperative, as these systems handle sensitive patient data. Legacy EHR systems often lack the capacity to seamlessly interact with other systems, potentially compromising patient care and efficiency.
Electronic Health Record modernization not only addresses existing challenges but also opens up new possibilities for healthcare organizations to deliver higher-quality care, improve patient outcomes, and drive operational efficiency.
Outbeat the competition. By upgrading their EHR systems, businesses can shift from outdated technologies to digital transformation. This includes integrating modern technologies like Cloud, AI/ML, Blockchain, and Graph technologies, setting the stage for innovation and progress.
Reduce healthcare costs. Modern EHRs support better data sharing, interoperability, and patient engagement. These features can significantly cut down diagnosis costs and avoid the expense of unnecessary duplicate testing.
Enable advanced collaboration between health organizations. Upgraded EHRs can seamlessly share patient data among healthcare institutions and professionals. They also offer advanced analytics capabilities, turning vast amounts of data into valuable insights. Moreover, they prioritize patient-centered care, enhancing the overall patient experience.
Adapt more efficient next-gen payment methods. Modern EHRs can handle new payment methods like episode-based, or bundled payments. This adaptation leads to more cost-efficient and quality-focused healthcare, benefiting both the provider and the patient.
Automate and optimize data management. Modern EHRs help handle documentation accurately and automate administrative tasks, appointment scheduling, and billing processes. They offer real-time patient insurance eligibility checks and provide access to up-to-date patient information. All these factors lead to improved trust between payers and providers, smoother revenue cycle management, and ultimately, a more efficient business operation.
Key Components of the EHR Modernization Process
Step 1: Define requirements and the project scope
Analyzing business requirements and functional specifications,
Identifying the need for new capabilities in the EHR system,
Defining the scope and objectives of the modernization effort,
Mapping existing data structures and workflows, developing migration plans, and leveraging healthcare integration solutions.
Step 2: Implement the EHR modernization solutions
Designing and architecting Health Information Exchange (HIE) solutions,
Creating automated data workflow exchanges, adopting standardized data formats and communication protocols, such as HL7, FHIR, Restful Services, and JSON formatted data,
Implementing real-time solutions using HL7-based interfaces,
Implementing encryption, access controls, and audit trails,
Compliance with data protection regulations, such as HIPAA,
Designing and implementing cross-platform solutions with Restful Services,
Integrating data between different systems such as OMDS and MHSG-T,
Incorporation of artificial intelligence and machine learning,
Integration with emerging technologies (e.g., Internet of Things),
Data analytics and predictive modeling for proactive healthcare.
Step 3: Deploy the EHR modernization solutions
Collaborating with the architecture team to ensure alignment with enterprise architecture direction,
Ensuring the successful deployment of the new EHR capabilities,
Conducting code reviews to maintain code quality and adherence to standards,
Providing technical support during the deployment process.
Step 4: Maintenance of the new capabilities of the modernized EHR system
Regular security assessments, staff training on data privacy best practices, and the establishment of incident response protocols to maintain data security and privacy,
Working collaboratively with the architecture team to ensure ongoing alignment,
Carrying out systematic problem identification, analysis, and resolution,
Analyzing and reducing complex problems into manageable components,
Continuously monitoring and optimizing the EHR system's performance and functionality,
Providing ongoing support and maintenance to ensure the system's reliability,
Designing training programs to familiarize healthcare professionals with the new system's features, workflows, and functionalities,
Providing ongoing support through training sessions, user manuals, and a dedicated help desk ensures that healthcare professionals can effectively use the system.
Example of a Tech Stack for Electronic Health Record Modernization
Artificial Intelligence
Machine Learning
Azure, AWS, Google Cloud
API for FHIR
Graph Databases
Edge Technologies
etc.
Get professional assistance in revolutionizing your services with a secure, effective, scalable, and user-friendly EHR system that will cover all aspects of healthcare. Let's talk!
Frequently Asked Questions
EHR modernization refers to the process of updating and improving electronic health record (EHR) systems to enhance their functionality, usability, and overall effectiveness in healthcare settings.
The most significant improvements in the new Electronic Health Record system include patient engagement, integrations, big data implementation, and standardization.
Empower physicians to deliver high-quality patient care.
Foster team-based care and collaboration among health care professionals.
Enhance care coordination across different providers and settings.
Provide modular and configurable EHR solutions to accommodate diverse needs.
Decrease cognitive workload for healthcare providers, improving efficiency and reducing errors.
Facilitate the exchange of health data to promote seamless interoperability.
Enable digital and mobile patient engagement, empowering individuals to participate in their own care.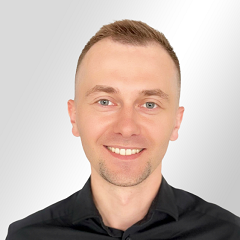 Written by
Deputy Business Development Director at Belitsoft
I am a customer's advocate and a manager of several key accounts.
Recommended posts
Belitsoft Blog for Entrepreneurs