Client
Our Client is a US-based freight management company with over 10 years on the market.
With 14,000+ active carriers in the database, the company handles large contracts in high-demanding industries of refrigerated, flatbed, dry products, and parcel transportation. It was ranked as one of the Fastest Growing Companies in the region based on average annual revenue growth.
The company stakeholders have been watching digital transformation across the industry and realized the demand for higher agility in transport and logistics operations, essential for providing superior customer service.
As a forward-looking business, the Client decided to embark on digital transformation by implementing a transportation management system to optimize the core business workflows of a freight management company.
Challenge
When the Client came to Belitsoft in 2018, their company used a legacy ERP in a combination with .xls files and multiple tabs opened in a browser for accessing third-party apps. The process was time-consuming, implied lots of manual repetitive work, and was exposed to a high risk of human errors.
Freight brokers use 3 different carriers' marketplaces (DAT, Truckstop, Truckertools) and manually post new requests from customers on load boards.
A freight broker creates and emails agreements for every carrier manually. In addition, they use a third-party service for managing an insurance online, then upload the signed documents into the ERP.
A freight broker tracks a load status and location with the help of a 3rd-party application, while a customer has no access to this app. So if a customer wants to know the status of their load, they call or email a broker.
A freight broker creates an EFS check for a driver through a 3rd-party EFS system. Then, they manually transfer all the data to the Transportation Management System and to the accounting department.
An accountant of the freight management company manually enters all the data necessary for invoicing to the customer and the carrier after getting the information on the delivered freight from a broker.
A freight broker receives a package of documents from a carrier by email and uploads them to the ERP. Then, a broker manually resends the necessary documents to the customer and the documents with financial data to accountants.
The freight management company owners analyzed the profitability of carriers and customers, as well as brokers' performance by gathering the information from the ERP, the accounting software, and .xls files.
Related cases
Related cases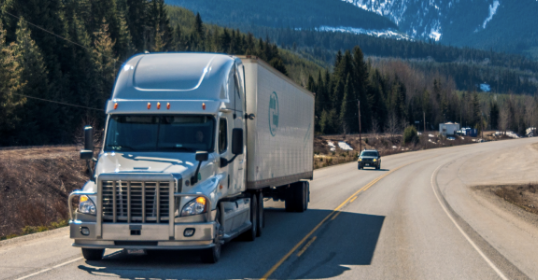 Our client is a software product company from the USA. They came to us with an idea of a truck load tracking web application (a custom trucking tracking). The target audiences of the application are customers from transportation freight industry, which need tracking trucks with their goods in real time from any smart device.