We provide you with expert Magento developers who can build your online store, manage SQL databases, maintain PHP code, and customize the front and back ends of your Magento platform. We have deep familiarity with Magento architecture (themes, layouts, extensions) and Magento elements (catalog, orders, payment). Our Magento team is excellent in end-to-end project development, including design, Magento customization services, integration, and deployment. Our Magento development team (best Magento developers and Magento consultants) is result-oriented and always open for communication.
Magento extension development
Magento consulting services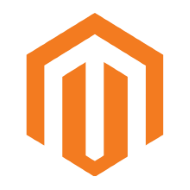 Due to its functionality, Magento Commerce is one of the world's leading platform used to build an e-сommerce site. Its wide range of functions allows using Magento for effective online e-commerce business solutions development. It was used for the deployment of thousands of web stores that are currently running successfully and show visible results like the number of customers and profit increase. Using this system one can start many online web shops, manage warehouses and customers, process orders, generate various reports for the products in and out of stock, sales, tax and different products and purchases, start promotion campaigns with coupons and other discount types set per product or customers group. You can use such product features as multiple images per product, reviews, availability, selectable product options and view product group. Your customers access feature-rich accounts to view online order statuses and tracking information and other.
Having a rich background in Magento app development, our e-commerce Magento development agency takes your business objectives and transforms them into a functional e-commerce solution that drives sales, applying the best knowledge of Magento platform. Due to the extensive experience of our Magento e-commerce developers, we can build any industry-specific online store. For all these years, we have been providing e-commerce, order management, business intelligence, and social solutions.
Why choose our Magento development services
Outsource magento development to Belitsoft! We use an individual approach to every project. Based on Agile we will implement your individual needs and increase your sales. Creative Magento programmers' team are here to provide custom solutions designed for your specific needs. Our Magento developers' team is ready to implement custom Magento extension of any complexity level – both for small webshop and for big shopping portals with hundred thousand of users every day.
Are you trying to find a Magento developer? Our best Magento programmers can create and deploy e-commerce web portals and webshops or an online store from scratch, customize Magento Commerce system, integrate it into your current system and develop complex custom extensions for Magento. We innovate and grow your business, using the world's largest open source e-commerce platform. Our Magento developers are well versed enough to develop a variety of features such as payment function, product attribute option, analytics and reporting features etc. to help you successfully run your online store and make sales. We leverage our talent and best development practices to deliver quality Magento websites and reliable extensions.
We've created MagePlace.com, gained extensive experience and currently provide Magento 2 development services for our clients. For more than 2 years MagePlace team has been working on Magento extensions development. Bronze Partner badge proves that our work corresponds to all high Magento standards and we are worthy to work with. Being an official Industry Partner of Magento e-Commerce development team we are able to sell our custom Magento extensions for Enterprise, Magento Go and Community versions. It means that all our extensions are tested with all Magento versions, including the latest Enterprise Edition versions. Our Magento agency works to be always among the leaders and provide the best solutions for our customers who are our main support and encouragement.
Hire Magento developer from Belitsoft at affordable rates and flexible contract types, working schedule.
Direct communication with the development team on request.
Warranty term and professional customer support service to answer your questions and solve all your troubles. This is the thing we are proud of the most since not all service providers offer it to clients;
Magento platform has one of the world biggest developers' communities who enhances its functional. The mobile Magento platform release made it possible to manage an online business with any mobile device from anywhere. Our Magento backend developers can help you customize your Magento mobile system too.
Belitsoft Magento company has several e-commerce projects where we offer software products made by our PHP developers for different CMSes and online commerce platforms. We developed many websites for our clients to enable online services and products sales for their businesses using custom solutions and ready-to-use e-commerce software. As the firm that it trying to be the best Magento development company, we will continue contributing to this e-commerce platform development and producing custom extensions to satisfy needs of our customers.