The traditional recruiting process for hiring employees, for patient trials, or for market research is time-consuming and prone to errors as it requires gathering data from multiple sources, manual entry of this data in the internal system, and further analysis and work with the data. Automating the recruiting process saves managers time and money and ensures that the right candidates are hired.
Recruiting software automates many tasks throughout the hiring pipeline, which is particularly useful for larger companies with a high volume of job openings and applicants or for research businesses providing recruiting services.
With multiple ready-to-use offers of recruiting software, there is still a need for many companies to create their own system. Usually, the reasons are to:
Get a proprietary SaaS product to provide services or sell it to other businesses.
Save in the long run due to avoiding subscription fees.
Get unique functionality that corresponds to the specific company workflow.
Have total control and security over the stored data.
The 3 domains and use cases that most frequently turn to recruitment software:
Healthcare. Patient recruitment for clinical trials and research.
HR. Employee recruitment for finding and acquiring the right applicants.
Marketing. Candidate recruitment for all types of market research.
Healthcare Use Case: Patient Recruitment
High risk of trial failure and money loss
86% of the clinical studies performed by pharma and other healthcare organizations in the US fail to timely recruit a sufficient number of patients needed to perform a trial. It usually means the termination of a trial, resulting in huge financial losses.
Patient recruitment software to ensure a sufficient number of patients on time
Patient recruitment software helps clinical trial sponsors, contract research organizations (CROs), and researchers accelerate, automate and improve the complex and time-consuming process of recruitment, screening, and management of potential participants for clinical trials. The customized recruiting software acts as a single controlled-access collaborative system.
Must-have features of patient recruitment software
New patient screening and eligibility assessment. Usually, the software gathers potential participants directly from research sites and specific landing pages. The candidates get pre-qualified by completing online forms and are sorted among trials they are eligible to participate in based on the pre-defined trial criteria.
Patient database management. All the collected data is immediately available in a single database via controlled access by the appropriate managers. The database allows storing and managing information about potential clinical trial participants, such as their demographics, medical history, and contact information.
Patient communication and outreach. The integration with communication tools, for example, Twilio, for automating SMS or email sending allows communicating with potential participants, including scheduling appointments and providing information about the clinical trial. The software also automates messaging with patients based on certain triggers, such as a left voicemail or visit confirmation to increase patient conversion rates.
Patient tracking and retention. The tracking tool helps monitor the progress of potential participants through the recruitment pipeline and to retain them once they have been enrolled in a clinical trial by sending timely follow-ups and notifications.
Reporting and analytics. The analytical dashboard may include various KPIs of the patient recruitment process on demand. Usually, it analyzes and reports the number of potential participants screened, enrolled, and retained, the average number of contacts with each patient, the patient conversion rate, and much more.
Integration with other systems. Patient recruitment software may be able to integrate with other systems, such as electronic health records (EHRs) to get new patients directly from it individually or in bulk.
Belitsoft's Healthcare development team has expertise in building a custom solution for patient recruitment for the US digital health company. Contact us to use our experience for your business case.
HR Use Case: Employee Recruitment
The difficulty to find enough employees with the right skillset
Attracting and retaining enough employees with the necessary skillset is the key to developing a robust leadership pipeline, meeting the needs of a company's growth, and transferring key knowledge. However, the difficulty to find and retain the right talents is the number one problem for CEOs and business owners these days, impeding business growth.
Employee recruitment software to find the required employees quickly
Effective employee recruitment is vital for businesses of all sizes, as it helps ensure that the business has the right people in the right roles to support their operations and achieve business goals.
To find the best candidates for the job, in terms of both their skills and their fit with the company's culture, customized recruiting software is the right option. It can also help reduce turnover and improve retention by ensuring that new hires are well-suited to their roles and the company.
Must-have features of employee recruitment software
Job posting. API integration with career sites, job portals, and social media like LinkedIn allows advertising job openings directly from the customized recruiting software.
Resume parsing. This tool automatically exports candidates' details from 3rd-party sources and extracts information from resumes, such as work experience and education, and organizes it in a usable format.
Applicant tracking and qualifying. The tool tracks applications from candidates through the hiring pipeline and measures candidate skills based on pre-defined questions to mitigate bias.
Applicant communication. This allows companies to communicate with candidates through the software, including scheduling interviews, sending messages, and sharing feedback.
Interview scheduling. This tool helps schedule and coordinate interviews with candidates.
Offer management. This helps companies create and manage offers to candidates, including tracking acceptance and rejection status. Automate and speed up time-consuming tasks by setting up automatic replies, alerts, and notifications based on pre-defined rules.
Onboarding. Some customized recruiting software solutions may include tools for onboarding new hires, such as creating employee profiles, setting up payroll, and scheduling training.
Reporting and analytics. This may include tools for tracking such KPIs as the number of applicants, time to fill positions, employee retention rates, and offer acceptance rate. The recruiting software ensures controlled access to information by setting up the company's hierarchy structure based on the managers' roles.
Integration with other HR systems. Many customized recruiting software solutions can integrate with other HR systems, such as an HR portal or performance management software.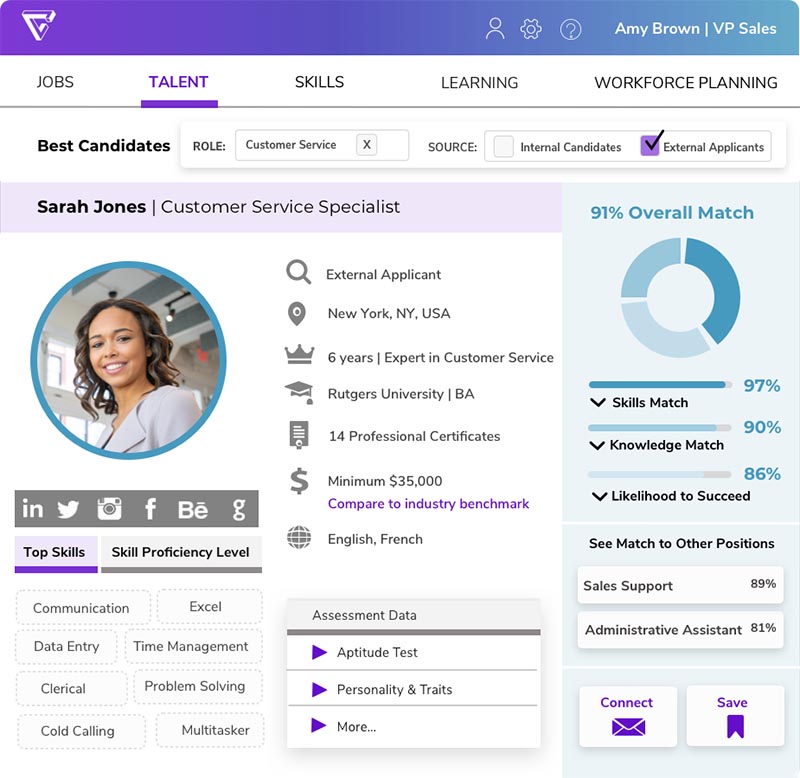 Example of a dashboard for employee recruitment
Belitsoft can develop a stand-alone employee recruitment system or make it a part of an end-to-end Talent Management System or Resource Management System like we did for our clients. Or just let us know about your specific needs.
Marketing Use Case: Candidate Recruitment for Market Research
Error-prone and time-consuming data gathering and analysis leading to poor experience of end clients
Gathering enough candidates with the right characteristics for certain research on demand of other companies can be a highly profitable business on the condition you do this process quickly and provide your B2B clients with the right candidates.
Traditionally, to deliver the eligible candidates to each end client, managers manually gather and analyze multiple requests from a range of sources. All this data is usually stored in many diverse .xls files and even papers. Such a workflow is slow and prone to human errors, which delays the delivery of final results to end clients and makes the results less accurate.
Candidate recruitment software to ensure accurate and quick results delivery
Effective candidate recruitment is important for market research firms, as it ensures that they can gather a sufficient number of eligible candidates to provide the end client with accurate and representative data in their research.
A custom candidate recruitment software for market research automates the entire recruiting pipeline, including advertising the opportunity to participate in market research studies, reviewing resumes and applications, conducting interviews, and making offers to candidates.
Must-have features of the recruitment software for market research
Participant database gathering. The software automatically imports data about potential participants from multiple sources, such as their demographics, interests, and contact information.
Participant database management. The system clears irrelevant data. Then it structures the data and brings it to a single format for further convenient storage and management of the information. The managers of a research firm can get different levels of access to the candidate database.
Participant screening and eligibility assessment. The screening function helps identify potential participants meeting the criteria for a particular market research study and are eligible to participate. Within the system, it's possible to divide participants among various projects based on these criteria, apply advanced filtering, create lists, and get real-time database updates.
Participant communication and outreach. Sending and receiving emails and text messages directly through the system allows market researchers to communicate with potential participants, including scheduling appointments and providing information about the study.
Participant tracking and retention. This tool helps track the progress of potential participants along the recruitment pipeline and retain them once they have been enrolled in a study. In addition, the software has automated notifications and follow-ups to boost retention.
Reporting and analytics. This may include tools for tracking and analyzing the effectiveness of candidate recruitment, such as metrics on the number of potential participants, the retention rate, and more. The data are conveniently visualized, favoring more effective and accurate business decisions.
Integration with other systems. Candidate recruitment software for market research may be integrated with other systems, such as online survey platforms or data analysis software.
Interested in building a proprietary custom recruiting software for your business or integrating a certain feature into your existing system? Drop us a line to get a free quote and professional consultation.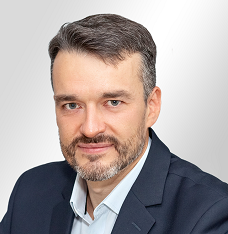 Written by
Partner / Department Head