Our focus is on
long-term partnerships
Support services and CMS updates are offered within the complex project development only
Which solutions can we offer?
Online educational portals
Joomla is a reliable platform that has a broad scope of applicability and can be used for web development building online shops, corporate portals and other custom business solutions at a reasonable price. Creating high-quality solutions using this CMS brought us many long-term (7+ years) clients and years of fruitful cooperation.
Why choose Joomla over Frameworks?
Supported worldwide
2,8 Million websites use Joomla CMS. Software providers from all over the world work with Joomla. This ensures that your project won't be vendor-locked.
Coding standards
Code styles, best practices for maintenance and code transfer acceptance. It makes the team scalable and reduces the time spent on adaptation.
Well-known architecture
We preserve Joomla architecture so the project will be easily understood by any 3rd party and mainly documented by Joomla community.
An abundance of ready-to-go solutions
Joomla offers 7000+ ready-made and fully available extensions from JED (Joomla! Extensions Directory), and plugins for E-commerce, social networking, e-learning, real estate and other domains. Number of them serves as a prototype for further development what reduces the time spent in its early stages.
Open-source community
Joomla CMS has a large community which could help you on forums and social network platforms. This helps solve any problems swiftly.
Our Joomla department in facts & figures
Сertified Joomla specialists
Two members of our team have successfully passed the test and got recognized by the world Joomla community.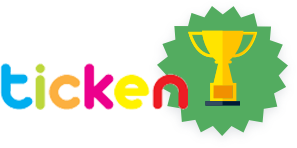 Award-winning projects
E.g.
Ticken
(an online typing course we've developed for a customer) won "The Thuiswinkel Starter Award".
We contribute code to Joomla core
Our developers know the inner workings of this CMS thoroughly enough to further improve it and extend its capabilities.
Over a decade of hands-on experience
We do Joomla development for over 10 years, even before it was named so. Our employees participate in Joomla CMS releases and constantly develop their skills. That's why Belitsoft is the place to hire best Joomla developers for implementing any of your business ideas.
Belitsoft
Providing an account manager
Setting up NDA
Business Analysis
Requirements document (optional)
Project estimation
Analysis and Estimation
Company
Divide the project into sprints
Plan a database
Make a prototype
Preparation
Company
Design
Application architecture
Back-end development
Slicing design, markup
QA
Development
New case in our portfolio
Company
New features development
Your ideas implementation
Project maintenance
Regular backups
Support and project expansion
Possible team structure
For Joomla project development we offer the following team structure:
120+
featured Joomla projects estimated at $25.000+ each
is the average experience of our specialists in the Joomla department
17
in-house Joomla! developers
have been with us for over 7 years
Hire our Joomla developers to create your own extraordinary custom website!
Technologies we use
Joomla CMS is great for complex projects and web applications thanks to its modular structure and underlying framework. Our Joomla developers use the following technologies to create solutions for your specific business needs and requirements:
Backend
PHP, NodeJS, Joomla! CMS framework, Eloquent ORM, Blade templating
Frontend
HTML5, VanillaJS, jQuery, VueJS
Databases
MySQL, MariaDB; Redis, Memcached; MongoDB
Integrations
JoomlaLMS, HikaShop, Any 3rd party RESTful API