What is API Modernization?
API modernization updates legacy APIs (Application Programming Interfaces) to meet the latest security standards like OAuth 2.0 and JWT/JWS.
The service enhances API efficiency, security, and scalability for easier use with RESTful architecture.
API modernization seeks to improve integration, user experiences, and enable new digital service development and applications.
Clear API strategy, right technology environments, and expert engineers and product owners are Belitsoft's best practices for API modernization. Let's transform the outdated.
If your legacy application lags, you need to upgrade it. The challenge is that as a business owner, especially without tech expertise, you don't know how to modernize legacy applications. Who's creating a modernization plan? Who's executing this plan? How do you find staff with the necessary experience or choose the right external partner? How much does legacy software modernization cost? Conducting business and technical audits helps you find your modernization path.

Dmitry Baraishuk Belitsoft's CTO on Forbes.com
Benefits of API Modernization
On average, 31% of an organization's technology is made up of legacy systems. Maintaining those systems can be a costly burden, with an average of 60–80% of IT budgets allocated to keeping them running
Fast and Cheap Legacy Systems Modernization
API integration enables modern, flexible architectures for businesses.
Handling Large Data Volumes
API integration aids in handling larger volumes of data efficiently and reliably for businesses.
Real-Time Data Processing
API integration supports real-time data processing and event-driven interactions, meeting modern business demands and improving responsiveness.
Scalability
API integration enables scalability, adapting to demand or fluctuating traffic patterns, ensuring reliable performance under heavy load.
Improved System Interoperability
API integration improves interoperability, simplifying the connection and coordination of various systems, apps, and services.
Better Performance
API integration can significantly improve system performance, reducing latency, and ensuring smooth and efficient operations.
Enhanced User Experience
Faster response times and intuitive interfaces through API integration can increase customer satisfaction and loyalty.
Future-Proofing
Updated APIs create adaptable systems for future tech and requirements.
API Modernization Pipeline by Belitsoft
API Assessment and Strategy Planning. Our specialists analyze your API-based architecture and identify gaps and areas for improvement. We offer support for API management best practices and modernization roadmap development. Our modernization recommendations vary based on app size and complexity: refactor, rearchitect, or replace with modern alternatives. This step requires the right API team to be assembled.
API Design and Development. Belitsoft assists in new API development and upgraded systems for improved performance, flexibility, and compatibility. For that, we migrate from a traditional SOAP-based API to a RESTful API or build GraphQL APIs.
API Integration. Developers ensure APIs connect and work with other software systems. This involves creating custom connectors or optimizing APIs for effective handling of diverse data sources.
API Security Enhancement. Belitsoft makes sure APIs are secure and compliant. This may require implementing security protocols like Auth and JWT and managing keys, tokens, and certificates.
API Testing and Monitoring. To ensure proper API functionality, API testing services can perform functional, load, and security testing. Setting up API monitoring can track performance and prevent major issues early.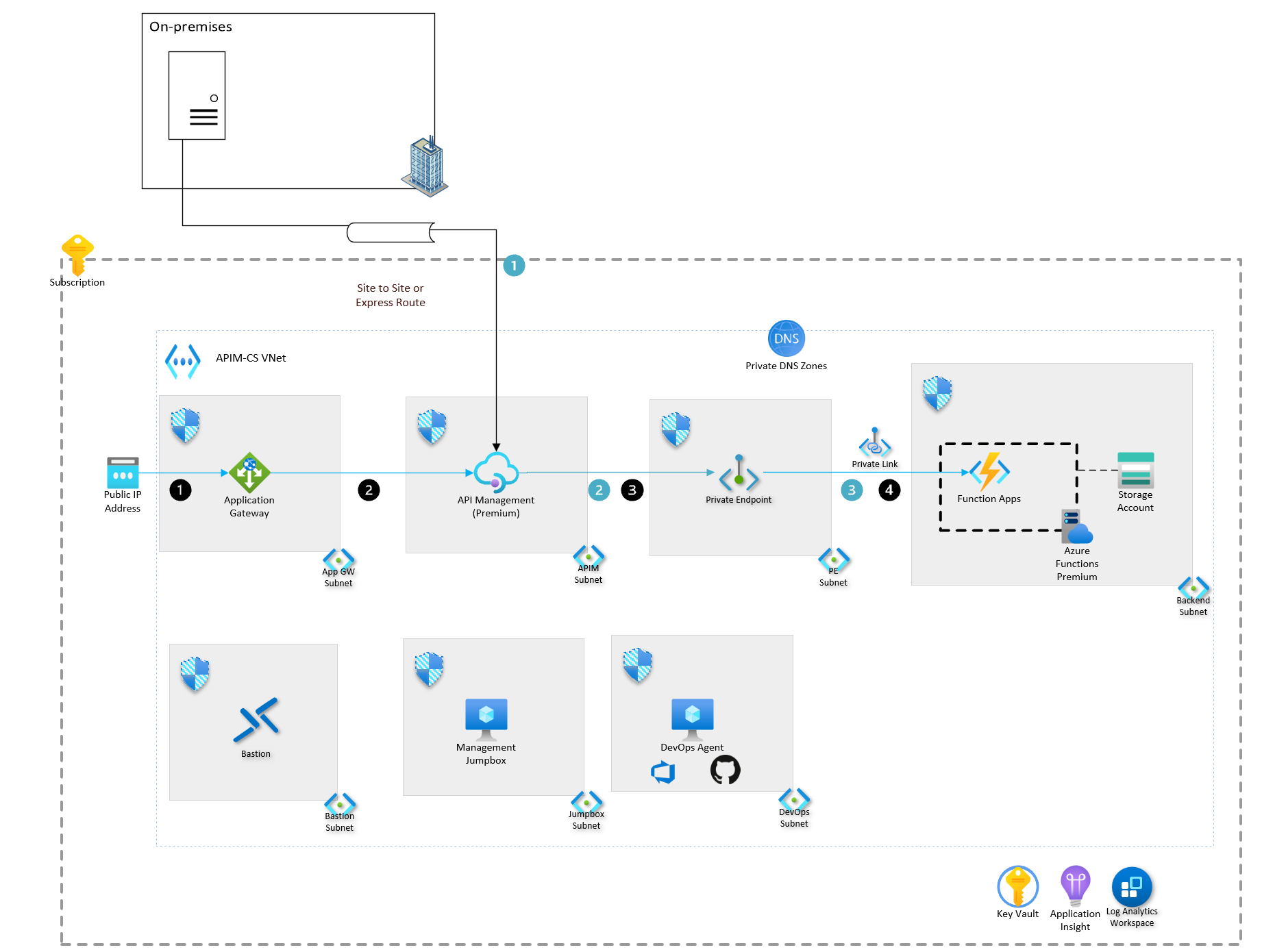 The architecture of a solution to manage both internal and external APIs through Azure API Management
Azure API Management for API Modernization
We can use Azure API Management to modernize your APIs instead of rewriting them from scratch, which is preferable in certain situations. We can add new features without disrupting existing functionalities or users and without the time and expense of a full overhaul. This also allows us to test experimental functionalities on a subset of users without affecting the entire user base. Security enhancements, such as OAuth protocols, can be integrated more easily without altering the core API code. Effective version management is achieved by routing requests to the appropriate API version. Efficient API gateway, the developer portal, response caching and automatic scaling for high-performing and scalable APIs are well-known advantages of using this service. Azure API Management is a logical choice for companies who are in the process of
Azure cloud migration
, as it works well with other Azure services like Azure Functions, Logic Apps, and Event Grid to build robust, cloud-native applications.
Apigee API Management for API Modernization
Our Apigee services:
Utilizing Apigee tools for API design, development, and testing
Managing API traffic, caching, and payload transformation through Apigee's API gateway
Customizing the developer portal for improved understanding, exploration, and API accessibility
Leveraging API analytics for real-time insights into API traffic, response times, and error rates
Providing monetization assistance to maximize returns on your API investments
Implementing Apigee Microgateway for effective microservices architecture management
Amazon API Gateway for API Modernization
Our development team provides:
API development and deployment for seamless application integration
Traffic Management with throttling rules and caching capabilities for optimal performance and responsiveness
Security Implementation measures using AWS Identity and Access Management (IAM), Amazon Cognito, and Lambda authorizers to safeguard data against threats
Integration with AWS CloudWatch and X-Ray for comprehensive monitoring of API execution, facilitating issue identification and performance enhancement
Real-time API analytics reports for data-driven decision
Strategic Planning
Belitsoft has a systematic and strategic approach to modernization. We plan and design an API-based architecture blueprint to integrate your core platforms through building APIs.
CI/CD Approach
We use Continuous Integration/Continuous Deployment practices for reliable API and application updates. This includes branch management with Azure DevOps, full-cycle Apigee API management, and work management.
Business Value-Based Prioritization
We evaluate services for application modernization based on relevance and complexity. We prioritize what's important to your business.
Customized Pipeline for Each Client
We avoid a one-size-fits-all approach to API modernization. Instead, we tailor the process to the specific needs and circumstances of each client.
Frequently Asked Questions
API modernization involves transforming traditional APIs and services into contemporary REST APIs compliant with the OpenAPI Specification. It incorporates up-to-date security standards like OAuth 2.0, JWT/JWS, and more.
API modernization for legacy software entails exposing its functionality through an API, enabling interaction with other applications. This integration streamlines enhancing legacy systems without requiring a complete overhaul.
A strong API strategy is necessary for overall business success, since APIs can be profitable. It creates digital platform business models with amplified transaction value through network effects.
Organizations can improve business compatibility by repackaging legacy services. They can achieve this by:
encapsulating services with RESTful APIs, providing access to underlying web service operations
constructing microservices by restructuring the foundational application code and exposing functions through APIs
API-first facade approach. Belitsoft uses an API Management Layer as a facade for your existing legacy APIs and services while working on modernizing your legacy API-based architecture and infrastructure. Your software gets OpenAPI 2.0 / 3.0 compliant REST APIs using the latest security standards such as OAuth 2.0 / JWT.
Hybrid approach. Our development team utilizes containerization and Service Mesh to manage microservices, which can be hosted in the current On-Prem environment along with the API Management layer.
According to the State of APIs Report, developers significantly increased their API utilization in 2022 and intend to continue this trend in 2023. APIs are recognized as a pivotal driver for achieving business agility, growth, and adaptability.
Recommended posts
Belitsoft Blog for Entrepreneurs