Belitsoft develops chatbots for eLearning industry. A chatbot is a software that you can "chat with". Corporate learning departments need chatbots. But how could a chatbot support corporate training strategy? Let's explore some real-life examples.
Example of a Conversational interface (chatbot) for a Corporate eLearning. Source: http://learn.filtered.com/globalfilter
Chatbots For Bringing New Staff Into an Organization
The chatbot can guide an employee from job acceptance; getting them excited about joining and validating their decision, through the initial on-boarding process where they can learn about processes, team structures and brand values. Nothing beats the feeling a new employee gets when they receive a personal message from the company founder or their manager! Millennials (Generation Z) will make up 50pc of the global workforce by 2020. They like messaging platforms, so companies probably should use chatbots to engage these employees.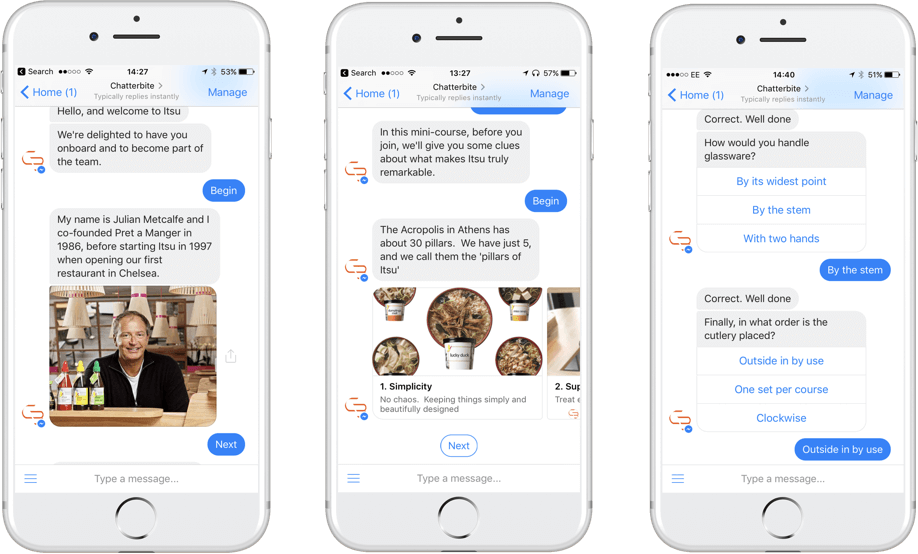 Example of a Conversational interface (chatbot) - Chatterbite - for a Corporate eLearning. Source: http://www.chatterbite.com/internal-comms/r
Chatbots For Skills Gap Analysis
Employees should have the skills to do their job. Skills gap analysis is the process of evaluating their skills to find out where they currently are and where they should be. The paperwork in doing a skills gap analysis in the traditional way is overwhelming. So they don't happen as often as they should.
As Sam Hennessy from Filtered (a UK eLearning publisher) noted, "Using a chatbot you could roll out the questions little by little. Then deliver feedback in the form of insight based on the previous batch of questions. This will actually create a positive feedback loop. People will want to give good answers because they are now interested in the results".
Chatbots For Microlearning
Bite-sized learning (microlearning) is text or video that teaches something in under 5 minutes, like "how to protect a spreadsheet". It's become popular in corporate learning and can be delivered in the chat interface. Harvard Business Review has created something close to this using a Slack chatbot. Every weekday it picks a random article from a curated pool and sends a summary to you via chat. This is a great example of being proactive.
Chatbots For Getting Feedback
Once someone has taken a course, have the chatbot ask them some quiz questions. Do this over a few weeks. Many people find repetition helps them with learning.
Then look to see if anyone keeps getting the question wrong. If they are then the corporate learning department can step in and give those people a little extra help. You can also get feedback on how good the course was.
Chatbots for Search Needs
Imagine a machine that could access your company wikis or knowledge bases and serve up information in real time, in a context that's helpful to the employee who needs it—much like the computer on Star Trek's "Enterprise."
Because of their deep learning ability, chatbots can be individualized to specific employees and eliminate any data that's not relevant to them. Rather than sifting through work data in an effort to complete daily tasks, workers can simply ask individual chatbots for the information they require.
In essence, chatbots will make the acts of Googling and searching. Anything you use the internet for you can use a chatbot for—without the hassle of sifting through unnecessary information.
'Enterprises are increasingly turning to web applications to streamline their processes and make collaboration easier. Still, applications are siloed and unable to communicate with one another. A chatbot could one day render apps obsolete. Chatbots can conduct the same tasks as most applications in one integrated system and tailor the results to the user.'
Daniel Newman, CEO of USA-based Broadsuite Media Group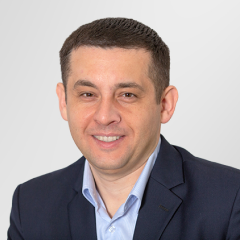 Written by
CTO / Department Head / Partner
I've been leading a department specializing in eLearning applications for 14 years.
Let's Talk Business
Do you have a software development project to implement? We have people to work on it.
We will be glad to answer all your questions as well as estimate any project of yours.
Use the form below to describe the project and we will get in touch with you within 1 business day.