Belitsoft's expert with 14+ years of experience in CRM/ERP development describes the main difference between CRM and ERP.
In short, CRM is a part of ERP. ERP handles manufacturing and financial operations, while CRM traditionally deals with customers on all stages, automating marketing and sales activities.
In real life, there are several scenarios:
a company uses ERP but not CRM;
a company uses CRM but not ERP;
a company doesn't have either ERP or CRM.
Whatever your scenario is, you can get the benefits of both systems and keep all your business's data in a centralized database by developing the ERP with CRM functionality from scratch, integrating CRM into ERP, or customizing ERP adding CRM features. Contact us to learn how we can help you.
Enterprise Resource Planning (ERP)
Using the ERP, you can reduce operating costs by 11% according to the research from a global marketing services company. That's why the bigger a company is, the more savings in absolute numbers it can gain.
Such saving numbers can be achieved on condition of automating key business processes typical of your industry.
In practice, it's about implementing particular functionality in ERP.
Budget Forecasting and Planning
The ERP acts as a single database that provides business leaders with current financial data across the company, including
profitability ratios,
fixed assets,
inventory margins,
liabilities,
and many more that can be added and customized individually.
Using these metrics, business leaders can forecast revenue, expenses, and plan budgets across departments and company-wide.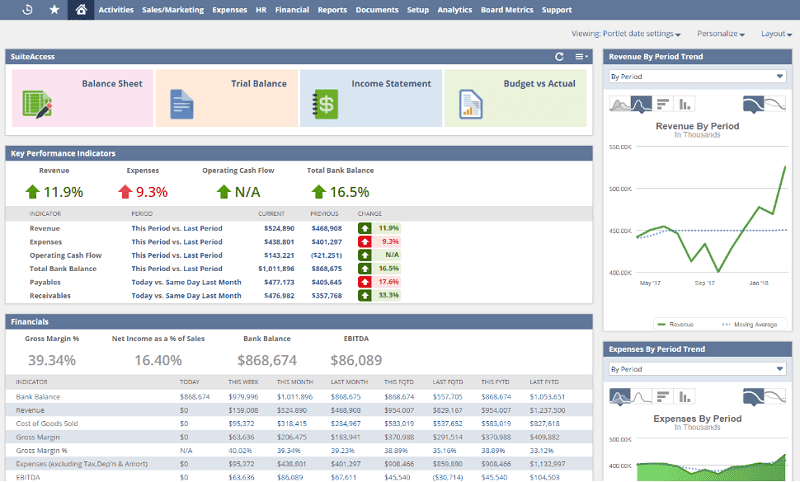 An example of the accounting module of the ERP with key performance indicators and trends necessary for making data-backed forecasts
Automating Accounting Tasks
The ERP automates all bookkeeping repetitive tasks, such as creating invoices, bills, entries for material costs, collecting data from other departments for calculating payrolls, order costs, or incomes. Now, your finance team can allocate dozens of hours saved monthly to more beneficial tasks, such as analyzing trends, reviewing transaction details, and investigating anomalies.
The ERP can replace your standalone accounting software. Or, if you already use one (such as QuickBooks, Sage One, Xero, or others), the ERP can be integrated with it. As a result, all the financial activities will be managed through the ERP solely.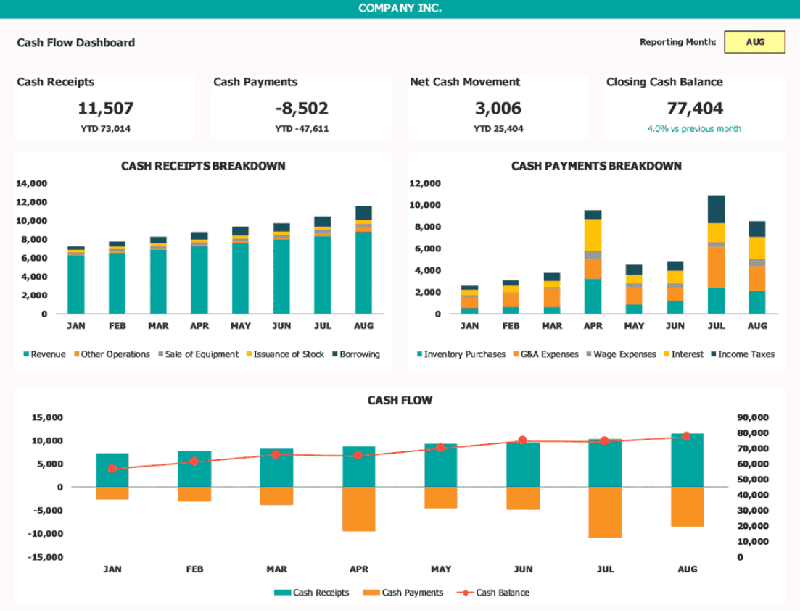 An example of the accounting module of the ERP with outgoing and incoming cashflows details
Procurement and Inventory Management
The inventory is updated based on actual sales data, helping avoid both out-of-stock and excess inventory.
The ERP alerts managers when it's time to place purchase orders and assists them throughout the procure-to-pay process.
The software simplifies procurement management, saves time, and improves accuracy by automatically creating purchase orders, linking procurement transactions with vendor records, goods receipts, and billing documents.
All procurement-related information, such as transactions, a list of approved suppliers, pre-negotiated contracts, is consolidated in the procurement dashboard.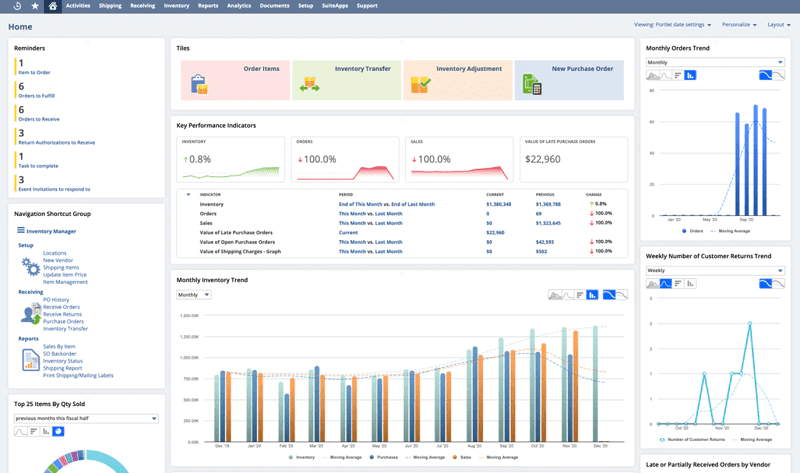 An example of the ERP dashboard with monthly inventory trend, orders to fullfill, purchase orders, and other essential data. Here you can also see reminders for purchasing managers
Order Management
The ERP helps handle the complete order lifecycle, from receipt to delivery. This module can automate and ensure accurate record keeping, covering order readiness status, order release, shipment confirmation, etc.
Some ERPs, such as the woodworking ERP by Belitsoft, also support complex processes such as split shipments (when a large order can be shipped in several batches).
All of this favors increasing on-time delivery rates and customer satisfaction.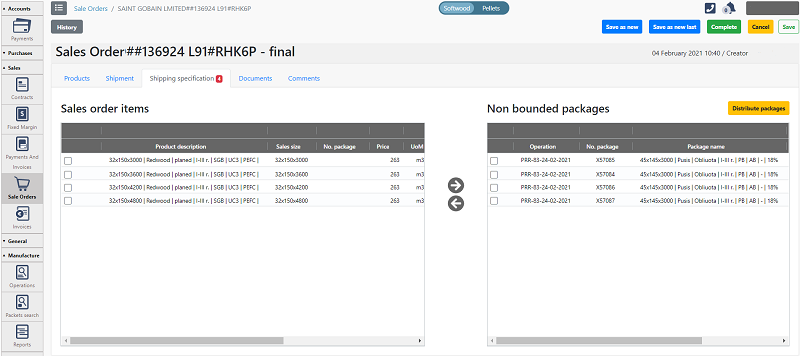 An example of a custom ERP dashboard where a split order shipment is applied
Manufacturing
The ERP grants you real-time visibility into every step of the production process, from production planning and scheduling to order fulfillment.
There is a lot of potential for different technologies and features in manufacturing management. Here are the examples of what Belitsoft has implemented in custom ERPs:
Quality monitoring by implementing IoT technology on production lines to allow the ERP to get data about the number of quality items and the number of defects.
The ability to schedule employee hours, accept sick leave requests, see the projects that staff members are working on to correctly allocate human resources, and more.
It streamlines the entire manufacturing process, reducing costs and increasing on-time delivery.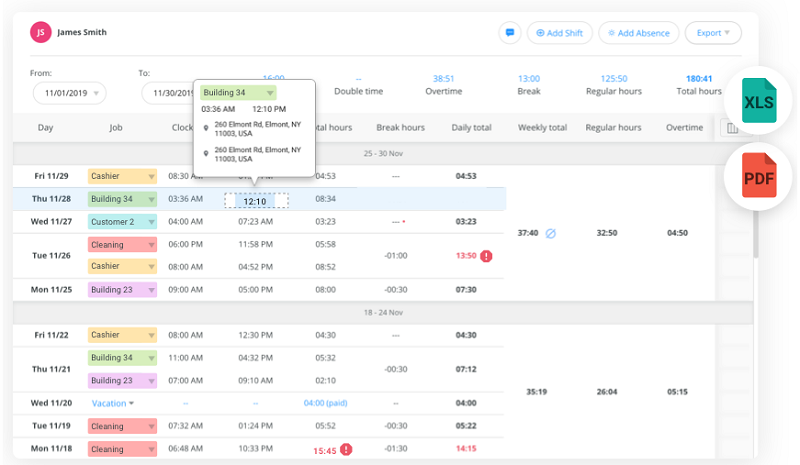 An example of an ERP dashboard with employees' workload during the manufacturing process
Make faster, data-backed decisions, impacting profitability and efficiency across your company by building a custom ERP as a single, shared database for all financial and operational data.
Customer Relationship Management (CRM)
According to the research from a consulting group, Microsoft's partner, every $1 you spend on your CRM implementation returns as much as $8.71 in ROI on your sales revenue. So it's no wonder that over 91% of organizations with more than ten employees in their workforce use CRM.
Marketing automation
The CRM allows tracking and measuring all marketing campaigns, including emails, multichannel campaigns, events. It gives valuable data about a prospect's activity and helps identify when a lead meets certain buyer-readiness conditions. It allows marketers to pass a lead to a sales team at the right moment.
In addition, the CRM allows segmenting leads based on demographics, response patterns, purchase trends, and support histories to deliver personalized marketing campaigns.
By aligning marketing with sales in real-time, you can continually fine-tune marketing campaigns, generate more leads, and maximize ROI.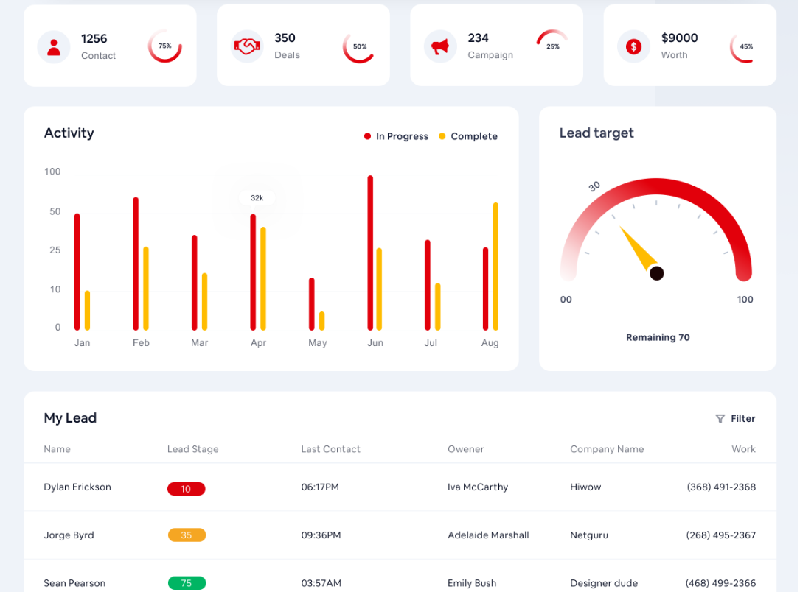 An example of a CRM dashboard illustrating the number of gained contacts, deals, the lead target, the list of leads, and other key data
Sales and Customer Service Automation
A study shows that sales teams spend only about a third of their day selling, while all the other time goes for tasks that could be automated, such writing emails (21%), entering data (17%), scheduling calls (12%).
The CRM cuts out manual work from day-to-day sales tasks by managing quotes and invoices, automating follow-up messages, scheduling meetings, and much more.
All of this speeds up the lead-to-cash process and boosts overall sales efficiency by shifting your sales managers' time from routine tasks to more beneficial ones, such as improving customer acquisition, upselling, and retaining existing customers.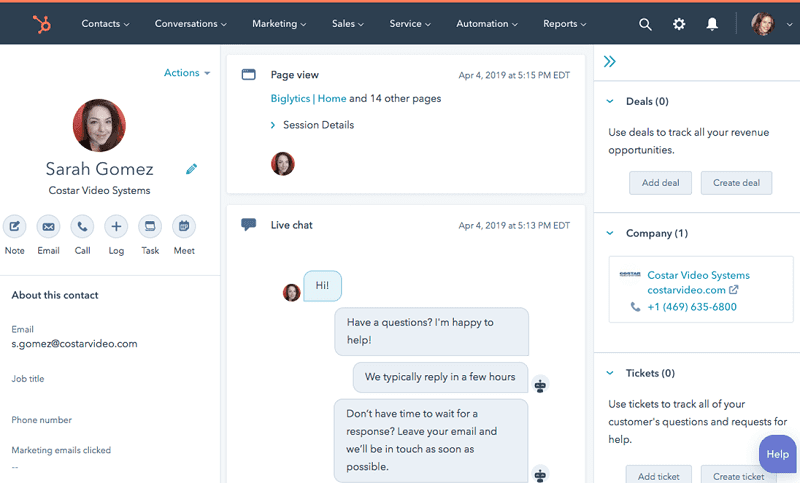 An example of a CRM dashboard with the customer history, including the latest messages, information about previous tickets and deals, contact data, and other helpful things
Analytics and Forecasting
The CRM can use real-time sales data to more accurately predict future sales and revenue, consequently.
Thanks to advanced analytical tools, the CRM allows marketing, sales, and service teams to monitor their performance:
Marketing reps can examine acquisition, engagement and conversion metrics for certain campaigns.
Sales managers, for example, can access personal goals, such as sales achieved against the benchmark.
Customer service teams can measure post-sales inquiries trends and overall client satisfaction.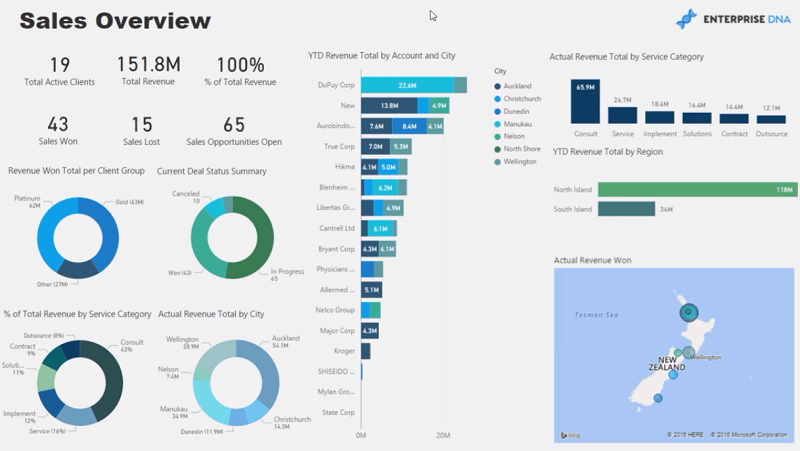 An example of forecasting sales opportunities based on actual sales data
Make informed decisions on how to service customers efficiently, which customers to pursue for higher revenue, how sales teams are performing, and much more by building your proprietary CRM with a skilled development team.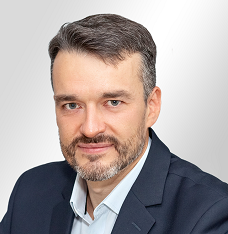 Written by
Partner / Department Head
Recommended posts
Belitsoft Blog for Entrepreneurs