Belitsoft develops native IOS and Android mobile apps using React Native framework. While it has a few issues, they are overshadowed by the mountain of benefits you get from using React Native. From startups to Fortune 500 companies, if you're considering taking on a new mobile project, use React Native — you won't regret it.
If you're considering taking on a new mobile project, use React Native — you won't regret it. Below you can find 8 major React Native advantages.
#1 React Native speeds up the development and saves money
One of the most appealing sides or React Native is that you only have to build your app once using JavaScript. A purely native approach, on the other side, will require building two different apps (one for iOS and one for Android) from the ground up.
With only one code written, React Native means two times lower costs for building and maintenance and only one team of developers to pay.
Moreover, if one has already made a website with React, React Native can reuse the existing code. About 90% of the codebase can be used across both platforms (listen to devs from Skype, Vogue, Facebook, TaskRabbit and Postlight talk about it in this video). Business logic can be shared with web applications as well.
From our experience with React Native development, we can conclude that it can save at least 30% of costs compared to native technologies. The exact savings would depend on the number and complexity of platform-specific features.
Much the same code and tools like hot reloading also make adding new features and bug fixing a significantly quicker procedure. And as far as testing concerned, the same automation suite can be applied to both iOS and Android.
'Native implementation is great in theory, but practically, we need to think about productivity/code sharing/time-to-market, which is where a cross-platform framework like React Native comes in.'
Keertimaan Tenneti, Senior Engineering Manager at Walmart Global eCommerce
In fact, React Native makes use of native Objective-C/Swift and Java/Kotlin ingredients. They help integrate native code to provide native-like UI and boost the performance in intensive operations. Yet, native modules can't be reused across different platforms.
Interested in React Native development? Send us a word!
#2 React Native is free
React Native is entirely open sourced. It means developers can utilize the frameworks and its libraries literally for free.
React Native functions under the MIT license. This is a permissive software license that puts only limited restrictions on the software reuse and grants legal protection to the developers.
What is good about MIT license?
you do not have to make the source code public to share the software;
you can easily modify the software under any license;
you do not have to report the changes of the source code.
#3 The largest companies are using React Native
React Native was developed by Facebook itself back in 2015. Three years later, the tool has already gained recognition of some of the world's leading companies like Instagram, Tesla. Skype, Pinterest and many more.
Facebook shows a great commitment to the project and invests considerable time and resources in enhancing the framework and releasing updates on a regular basis. Facebook's support makes React Native a stable and future-proof choice.
We have prepared a detailed post Migrating To React Native: Top-20 Case Studies From Well-Known Companies about how Walmart, Bloomberg, Airbnb and other big brands utilize React Native advantages.
#4 React Native is easy to market
React Native supports these awesome over-the-air updates. The feature allows you to bypass the tiresome market stores approval process if you want to make minor changes quickly. You just have to send an updated version out, the users download it, and the app upgrades.
It means, you can save up 48 hours, that is needed to submit an app to App Store, and up to 24 hours to Google Play.
Thus, you have a control over the updates releases for your software.
#5 React Native is as fast as native
React Native perform as good as native apps do.
John Calderaio, a software developer, carried out a research to compare the performance of the same app built in Swift and React Native. He was interested in how the basic functionalities are applied in both apps and how such indicators as CPU, GPU, and memory usage differ.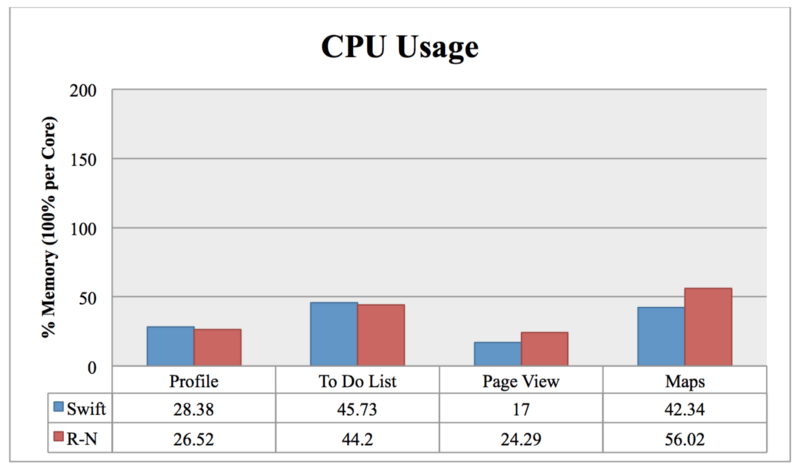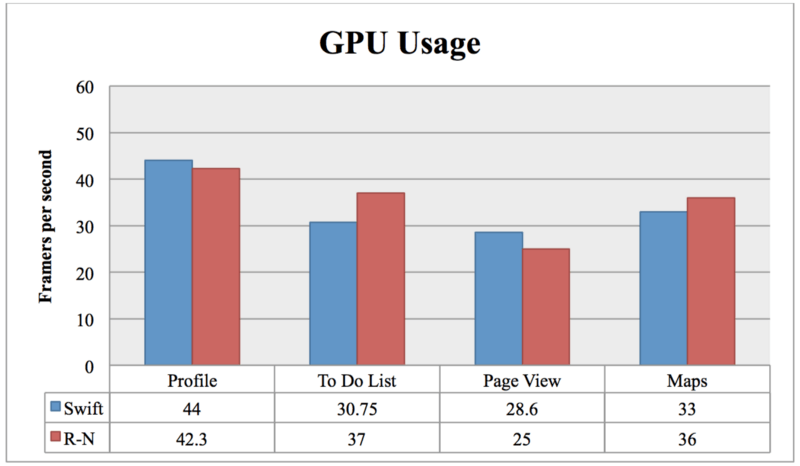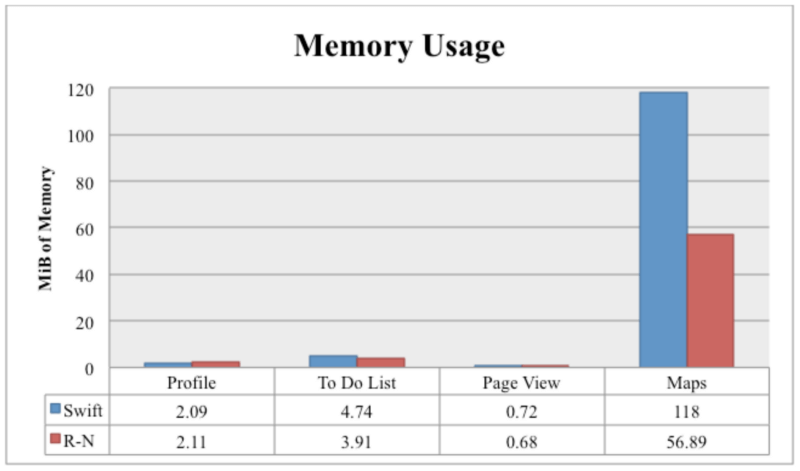 The result?
The mobile apps in Swift and React Native were almost identical in their physical appearance and speed. React Native app showed poorer results in terms of CPU usage ( by over 10%). However, it had the edge over Swift in GPU usage and in memory consumption.
Thus, React native outshined a Swift application in two out of three categories.
#6 React Native feels like native
In fact, your user will not able to see the difference between a React Native app and a Swift/Objective-C or Java/Kotlin app. React Native delivers a platform-specific UI that looks and feels native because of JavaScript interactions with the native environment.
#7 Javascript is the most popular programming language in the world
React Native is written in JavaScript. For the fifth year in a row, JavaScript is the most commonly used programming language in the world, according to the Stack Overflow Developer Survey 2017 (36,625 responses primarily from the USA).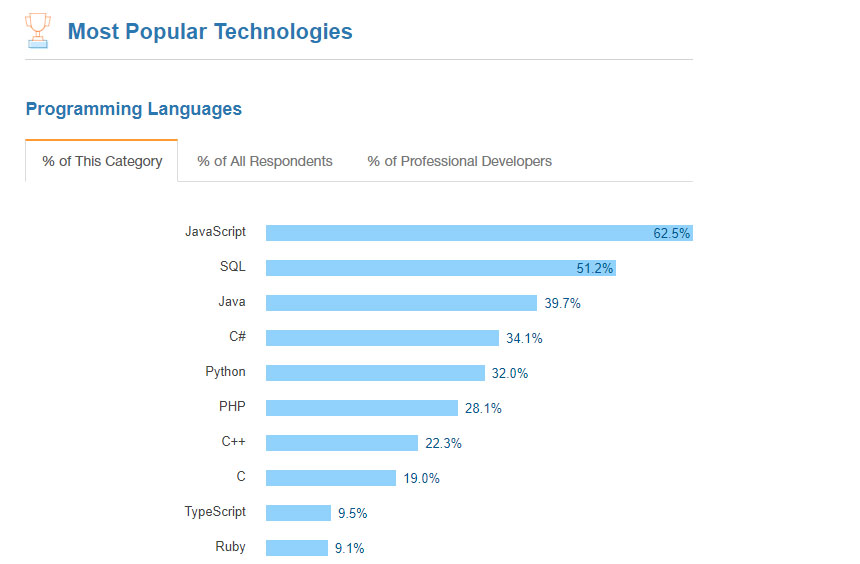 #8 React is the most popular cross-platform framework for mobile development
Developer experience is awesome. React developers get significantly faster feedback during development than compared to traditional approaches because they don't need to restart their packager to see every little change. With React Native a mobile app can be developed simultaneously for Android and iOS.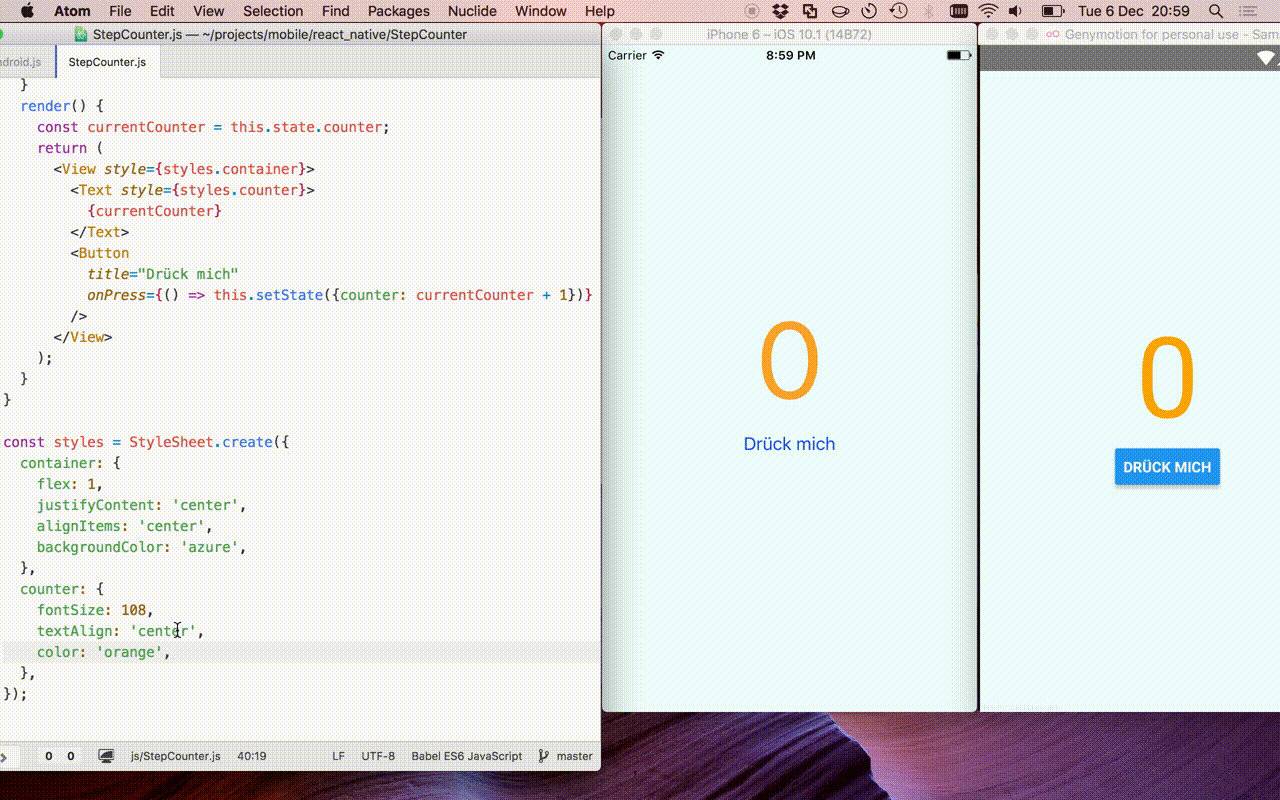 Source: blog.behrends.io/wege-mit-react-native-zu-arbeiten-5c9f5bbcd85f
React is used much more than similar technologies like Cordova, Ionic and Xamarin, according to the Stack Overflow Developer Survey 2017 (36,625 responses primarily from the USA).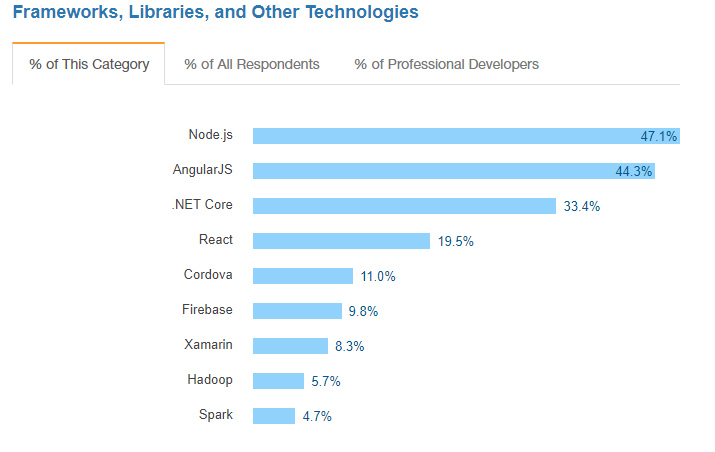 The immense popularity of React and React Native means that there are great communities behind them and a number of sources to get support and accelerate the development.
React Native is not perfect
Just like any other technology, React Native is not without its limitations.
1. There are relatively few developers who know it. Compared to native technologies, there are much fewer RN experts. Indeed.com shows that there are only 288 people with React Native open for hire in California - one of the hottest places for tech. Compare it to the 1570 resumes that include Swift.
It means that getting your own team of React Native developers would be a challenging task. The problem could be solved by hiring an existing team.
2. The developers still need to know native languages. React Native can use the platform-specific features, but it needs the so-called "native bridges" to access them. These bridges are written in - you guessed it - native languages. Yang Mou, a software developer at Oscar Health mentions this issue in this presentation.
3. Open-source libraries for RN aren't always well-tested. Having a great number of solutions to typical problems is definitely an advantage. Some of these solutions, though, can present unpleasant surprises of their own. Mou speaks about them in his speech.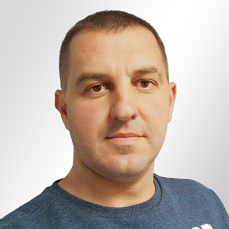 Written by
Senior Business Development Manager