Employees at every level have a role in the growth and success of your business, but if you don't make the decision to engage them, you'll lose forward momentum. That's why employee engagement is such an important focus for organizations today. The level of engagement in your workforce can quite literally make or break your business; engaged workers bring their best every day and build your organization, while actively disengaged employees can fall into destructive work behaviors that tear your company down from the inside.
Corporate professional development (also called staff development) is a typical business process of improving and expanding staff capabilities through access to education and training opportunities in the workplace, conducting staff testing, recommending new skills based on previous achievements.
HR and L&D departments are involved in staff development.
Staff development is a system, the actions are aimed at the development of employees which combines several different processes:
advanced training within a given position,
personnel reserve training,
staff rotation (secondments), secondment to certain positions,
coaching employees
delegation of authority.
All these processes can be optimized with corporate LMS. Our Corporate Talent Management System has a Professional Development Module in which you can create your own employee professional development plan.
The HR department must show managers and employees that development is beneficial. Without a clear return, managers will abandon training costs among productivity losses. Moreover, employees will be less interested in development programs if they do not see growth in labor productivity and career opportunities.
The L&D role involves identifying learning gaps, designing and developing learning solutions, completing assessments and evaluation, or simply providing training.
Employee Development Processes & Methods
Some processes of employee development occur on the job, with a manager or an experienced coworker leading the development activity in the context of the actual work environment. Other development occurs at training facilities or other locations. And organizations increasingly use online methods to develop employees.
Coaching. Coaching involves more experienced or qualified specialists, as well as tips and recommendations aimed at helping employees gain new skills, increase productivity and improve their careers. Coaching has a specific business goal and is usually performed individually for a certain time.
Mentoring. Mentoring is provided to less experienced staff in formal or informal programs.
Individual development plans. To accelerate the pace of employee learning, organizations may use an individual development plan (IDP). This document details an employee's intentions and learning outcomes as well as supports steps that are necessary to meet his or her tangible growth goals. Beneficial IDPs reflect adult learning strategies, experiential learning, and symbolic interaction.
The 9-box grid. The 9-box grid is an individual employee assessment tool that evaluates the current and potential levels of employee contribution to the organization. The grid is most often used in succession planning as a method of assessing the organization's talent pool and identifying potential leaders. In order to assess the effectiveness, the 9-box grid provides a visual reference, which may include data assessment and evaluation, which allows managers to view the actual and potential productivity of employees. Using information from the grid, managers and HR can design IDPs.
Cross-training. Training employees to perform duties other than those normally assigned. Cross-training can be a short-term or special solution, or it can be an ongoing, planned process. Cross-training usually does not lead to immediate promotion, but it indicates that the employee is interested in acquiring new skills. Such a variety of skills can help him or her meet the requirements for further career growth.
"Stretch" assignments. On-the-job training projects and "stretch assignments" give employees a chance to learn while doing real work. Developmental assignments allow employees to develop new skills, knowledge, and competencies necessary for higher-level positions.
Job enlargement and job enrichment. Job enlargement involves expanding the employee's job by adding more tasks and duties, typically at the same level of complexity. Job enrichment builds more depth to an employee's job through more control, responsibility, and discretion.
Job shadowing. Job shadowing requires more than just having an employee follow a colleague around all day. Shadowers view the organization from a different perspective and learn firsthand about the challenges facing workers in other departments. This perspective helps employees realize the impact their decisions have on other groups.
Job rotation. Job rotation is the systematic movement of employees from job to job within the organization. Rotation programs can vary in size and formality. While large-scale employers are more likely to invest in an official job rotation program, organizations of all sizes may consider implementing a job rotation program. Typically, formal rotation programs offer individual assignments to prospective employees to give them an idea of ​​the whole business. Assignments are usually completed for a year or more.
Succession planning. Succession planning identifies long-term needs and develops internal talent to meet those needs. Succession plans are usually focused on the process of training employees for one to three years instead of pre-appointment to new roles in the organization. Many business leaders and HR practitioners consider succession planning to be a complex process, limited to large organizations with the most complex organizational development departments.
Assessment centers. The assessment center is not necessarily a physical object, as the term may imply, but a set of tools and exercises designed to assess whether an employee or a candidate is a good fit to take on a specific role. These centers can be used for screening or professional development. Assessment centers usually operate for one or two days and may involve several employees or candidates at the same time. The participants are assessed based on standardized actions, games, and other simulations to predict the future work of candidates. Assessment centers can help an organization decide how to fill in jobs, career advancements or identify employees who should be included in succession planning programs.
Corporate universities. Corporate universities focus primarily on professional skills, their corporate knowledge and branding, as well as certification. At a corporate university, the focus is on training that will benefit the organization, not just the individual. The benefits of a corporate university format include strategic alignment with company goals, consistent quality and consistent communications that reach all students.
Online employee development. Organizations typically use classroom training on topics unique to a particular employer, and online learning on more universal topics. Online learning allows independent learning on demand. Employees in e-learning situations have more control over their time than in class.
HR and L&D departments' problems that arise in the process of employee development:
Differences in mindsets and approaches to work among different generations. The outdated approaches to learning at the workplace that worked great before are now less effective or not effective at all. A generation of so-called millennials was brought up with different expectations and used to a different work style. Millennials require clear guidance, and goals set by their managers. Most Millennials are accustomed to clearly defined assignments, transparent benchmarks, and constant feedback and discussion. The lack of success that many employers face when working with Millennials is the result of a clash between the mindset of this generation and the way most organizations function.

The development needs of older workers are completely different. In order to recruit and retain employees that are over 50, employers need ongoing training and development programs, because mature workers consider development to be the main attraction in an ideal workplace.

Outdated training programs, lack of innovation. Typically, training programs do not change over the years, and the material that is embedded in them becomes outdated (especially relevant to the IT field). Technology is constantly changing. Businesses must adapt quickly or risk staying behind their competitors.

Lack of analytics and metrics. Few HR managers monitor and analyze such important indicators as the effectiveness of talent management programs.

Gaps in talent development opportunities. Studies show that only a few organizations have managerial capabilities to help people grow in their jobs or provide feedback to support employee development.

Leadership development. A recent study found that more than a third of companies do, at best, average work on implementing leadership development programs. Thirty-six percent of the companies surveyed in the Brandon Hall Group leadership development study found their leadership development practices to be below average.

Changes in management. As a business grows, its strategies, structure and internal processes grow with it. Some employees find it difficult to cope with these changes. Many companies experience declines in productivity and morale in times of change.

Problems with the misuse of employees' time. Coaching, mentoring, etc. requires the time of highly qualified employees. As a result, they do not do their work, but are engaged in training (the process is cyclical).

Legal issues. Human resources professionals must ensure that employee development programs do not create potential liability for discrimination, retaliation, irregularities in wages and hours or violation of copyright laws (by borrowing training material).

Personalization/ adjustment of the training program. "The most important aspect to any employee development program is the implementation of the behavior change sought in the training. Every employee development program should be objective-based, behavior-focused, fun, and measurable." (Dave Gregory, CEO of Conatus3, Inc.)

Expensive maintenance of the current learning platform. For example, SUNRUN (Sunrun Inc. is a United States-based provider of residential solar electricity, headquartered in San Francisco, California): given the objectives of their current LMS, they planned to hire a seven-person team to manage the platform. They spent up to six hours a week on workarounds to get their LMS to work properly.

The current training system is not used or employes do not like it. Edgen Murray is a leading global provider of specialized products for global energy and infrastructure markets. They used their training system only for compliance training and new hiring training, and when they saw that it was never used on a voluntary basis, they realized that they did not get many benefits from the amount of money they had spent. Due to the unfriendliness of the solution, they decided to stop using it.
Corporate LMS helps solve most of the problems that HR and L&D departments face.
The use of modern approaches and technologies helps reduce the costs for corporations in the L&D segment.
Using Corporate LMS, you can:
Optimize the learning process. At the heart of CLMS are features that help streamline and automate an employee's training workflow. Our CLMS is built as a true corporate LMS for small, medium and large businesses to train employees and track their performance.

Administrators can upload content and assign training modules to learners based on departments, job relevance, location, and other specifications in just a few steps.

Select an appropriate development plan and rate of training. It's necessary to create your Professional development plan (or follow Professional development plan Mentor has created for Employee) and complete selected skills according to the timeframes.

The system will recommend new skills based on Employee previous achievements, his interests (elements of LXP).

Individualize and personalize training, which allows you to create an individual development program for employees from different generations, based on their experience and approaches to work.

Reduce costs. For example, Sunrun Inc. (they are building a more sustainable world by making solar simple for their customers) saved the cost of hiring six other full-time employees by requiring only one LMS admin.

Administering a mix of blended learning: traditional classroom training and e-learning courses are blended to create a learning experience with maximum retention.

Make learning fun and exciting. Thanks to the elements of gamification (points and badges), employees are more likely to be involved in the process. Gamified reward foster a need to complete and learn.

Assessment and comprehensive analytics
Our Corporate LMS has a Professional Development Module in which you can create your own professional development plan. System will recommend new skills based on Employee previous achievements and his interests.
The aim of this module is to provide Employees with a learning experience that will help bridge the gap between the current level and future professional life on desired position. This module will help identify personal and professional skills and strengths, and reflect on the skills Employee has developed during the placement.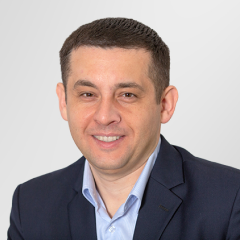 Written by
CTO / Department Head / Partner
I've been leading a department specializing in eLearning applications for 14 years.
Let's Talk Business
Do you have a software development project to implement? We have people to work on it.
We will be glad to answer all your questions as well as estimate any project of yours.
Use the form below to describe the project and we will get in touch with you within 1 business day.