Showcase your products and services in the best light, and make customers love your company. Offshore web application development delivers cost savings, flexible cooperation, fast development, and quality assurance. Trust our offshore web developers to build your website or web app on-time and within budget.
Our Offshore Web Development Services
Custom Web Development
Custom web development empowers businesses to differentiate themselves and keep pace with the constantly changing digital market.
Our offshore web development firm will deliver a custom web solution tailored to your industry, regardless of project complexity or scale. Our services include custom website creating, web application building and e-commerce platform development.
Our team supports B2B and B2C businesses in improving their efficiency by providing high-performing digital web products.
We build web-based enterprise-grade solutions that are secure, adaptable, able to handle growth, and compatible with various devices and platforms.
UI/UX design
Design is what sets your website apart.
Our offshore dedicated development team creates custom designs, tailored to your business and audience. Intuitive and user-friendly, our designs drive results. See ROI within months of launch.
Front-end web development
Front-end developers turn the design into a user-friendly interface.
Our team provides a clear project roadmap, including tool and platform choices. Expect on-scope, high-quality delivery. We work closely with designers, back-end developers and test engineers to deliver the best end product.
Back-end web development
Strong back-end vital for website/app success. Understand technology stack, resources, skills before development.
The team of our web development company will gather all requirements to prevent surprises. The proposal will include ideal technology stack, team, timeline and breakdown structure for a complete understanding of your product development.
SaaS web development
Enter a growing market, attract a large customer base and gain a stable source of revenue in the form of subscriptions!
We develop scalable web-based SaaS products with interfaces to administer the core application, maintain website content to attract new customers, manage user accounts, and bill customers.
Our offshore software architect and business analyst will help you make an informed decision on the perfect cloud provider. Trust our experts to design the optimal tenancy model (architecture) for your SaaS business.
eCommerce web development
We build and enhance your eCommerce software with advanced features to increase sales, improve customer satisfaction and streamline your business operations:
inventory management for easy management of products, stock levels, and orders;
real-time order tracking that keeps customers informed and reduces inquiries and concerns;
customer management for storing and segmenting customer information for targeted marketing;
integration with popular payment gateways such as PayPal, and Stripe for secure and efficient payments;
advanced reporting and analytics to track key metrics such as sales, traffic, and customer behavior;
and more.
CRM web development
Our offshore CRM developers create custom CRM system to increase efficiency and profitability of your business by streamlining essential business processes, targeting potential customers and managing sales, inventory, and multi-channel selling. It also offers enhanced security and the ability to integrate with existing tools, making it easy to adapt and evolve as needed. Plus, the user-friendly interface simplifies adoption and leads to a more productive and successful business.
ERP web development
Our team of offshore ERP development experts will work with you to design and develop a web-based system that is tailored to your specific needs and goals. Custom web-based ERP solution allows to manage your operations from anywhere, at any time. It provides the necessary scalability to start small and gradually add more modules and functionalities as needed. There are often no hardware costs and minimal IT infrastructure required.
CMS integration
Our offshore development company helps to select and implement the best CMSs as well as develop custom-built CMSs for enterprises. We handle integration with different APIs for payments, user requests, and other data.
Why Choose Belitsoft Offshore Web Development Company
Experience
Our highly-educated team brings you business domain expertise and senior-level experience.
Our developers are highly skilled and experienced. Whether you choose staff augmentation or turnkey project development, we ensure that our developers have the required expertise. Our technology stack is wide, allowing us to match you with developers proficient in the necessary programming language or framework
Our offshore web development company has extensive experience in creating custom websites and web applications for various industries. We prioritize testing and security for our web products. Our QA engineers are certified and conduct thorough testing, while our web developers implement necessary security measures and updates based on your specific business needs and compliance requirements.
Cost-effectiveness
Our offshore website development company offers cost-effective solutions to our clients. We don't force unnecessary features or technologies on our clients, instead, we only suggest the necessary ones that align with their business logic. We also strive to save costs by utilizing ready-made solutions instead of reinventing the wheel.
Flexibility
We offer flexible cooperation options to meet your needs. Our staff augmentation model allows you to hire as many developers as you require, ideal for expanding your in-house team. Our turnkey software development model is best suited for full-scale development managed by our project manager.
Agile development is a flexible approach that allows for iterative stages and efficient results. It ensures faster time-to-market and better control of software product quality. Agile processes are particularly beneficial in offshore web development for complex enterprise projects. We also offer other methodologies such as Waterfall and Scrum, which can be discussed and determined prior to the start of the project.
Our team prioritizes high-quality project outcomes, guaranteeing that our clients receive exactly what they expect. We use a traceability matrix to ensure that actual features match formalized requirements. Our change request management program allows us to quickly respond to any requests and provide a plan for next steps.
Our Proven Offshore Web Development Process
With over 17+ years of experience, we have mastered various project management methodologies and approaches to optimize the software development life cycle. Our well-defined process allows us and our clients to efficiently achieve project goals, within budget and faster.
Business analysis is essential to understanding your project goals, objectives, expected outcomes and desired features and functionalities. Our BA specialists will thoroughly examine your business or idea to provide a detailed list of features and recommend the best-suited technology stack.
Our offshore web design team will create a custom design for your website or web app tailored to your target audience. The design will be implemented in front-end development and paired with functionality developed by back-end developers.
Our team offers assistance with deployment. DevOps professionals from Belitsoft will assess your environment and infrastructure to detect any potential issues that may hinder the successful deployment of your web-based product.
After the successful launch of your project, don't hesitate to take advantage of our expert assistance in maintaining and supporting your website or application. With our customizable technical support options, you can ensure a smooth and seamless experience for your users and prolong the success of your project. Trust us to be your reliable partner and take your website or application to the next level.
Cost of Building a Web App with Belitsoft
The more features and functionality that are required, the more expensive it will be to build the app. By clearly defining and prioritizing your requirements, you can ensure that your development team is focused on the most important aspects of the project and that your app is delivered on budget.
Some technologies are more complex and require specialized skills, thus increasing the cost. Choosing the right technology can help to reduce the overall cost of the project.
If the app needs to be built and launched quickly, the development team may need to work at a faster pace and the cost may increase. A tighter deadline may require the team to work overtime. A larger team with specialized roles can work more efficiently and complete the project faster than a smaller team with more generalists.
If you opt for a fixed price model, the development team will work to deliver the project within a set budget. But it's longer. A time and material model allows for more flexibility in terms of budget. But software will be delivered and lauchned part by part. Dedicated team model is ideal for larger and more complex projects.
Timeframe for Building a Web App with Belitsoft
Determining the specific timeline for building a web application is influenced by project requirements, expected time-to-market, team composition, technology used and methodology adopted. Our team will work closely with you to evaluate these factors and establish a realistic and achievable development timeline that guarantees the timely delivery of your web application, meeting your expectations.
Please share your project requirements with us, so we can provide you with a clear estimate. We also offer complimentary strategy sessions upon request.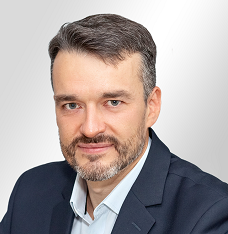 Written by
Partner / Department Head
"I've been leading projects and managing teams with core expertise in ERP, CRM, SaaS development in the Healthcare, Financial and other domains for 15 years."