Both well-established companies and startups are using Laravel Development. The framework is robust and versatile, which is appreciated by business owners on many levels. Take a look at examples of great Laravel-based projects.
#1. STARTUPS.CO
STARTUPS.CO is a startup launch platform built with Laravel to help emerging companies find customers, press, funding, and mentors. The platform tracks 825,000 startups and provides access to 13+ million registered users. It serves customers in the United States and internationally. Startups.co is based in Powell, Ohio.
Fundable.com, a subdivision of startups.co is also built with Laravel. It is a crowdfunding platform that offers rewards-based and equity-based campaigns for small businesses. Fundable has helped arrange $150 million in funding for startups through its platform.
Zirtual.com, another part of startups.co is also built with Laravel. It provides dedicated US-based virtual assistants for busy entrepreneurs, professionals, and small teams to perform in-person tasks; legal, accounting or HR; full-time customer support; team/staff management, etc.
#2. Toyotahalloffame.com
Fantasy football is an interactive online competition for 30+ million players in the U.S. and Canada. Toyota and Yahoo are bringing the average fantasy footballer a chance to be inducted into a fantasy hall of fame. This Laravel website is set up to nominate hall-of-famers.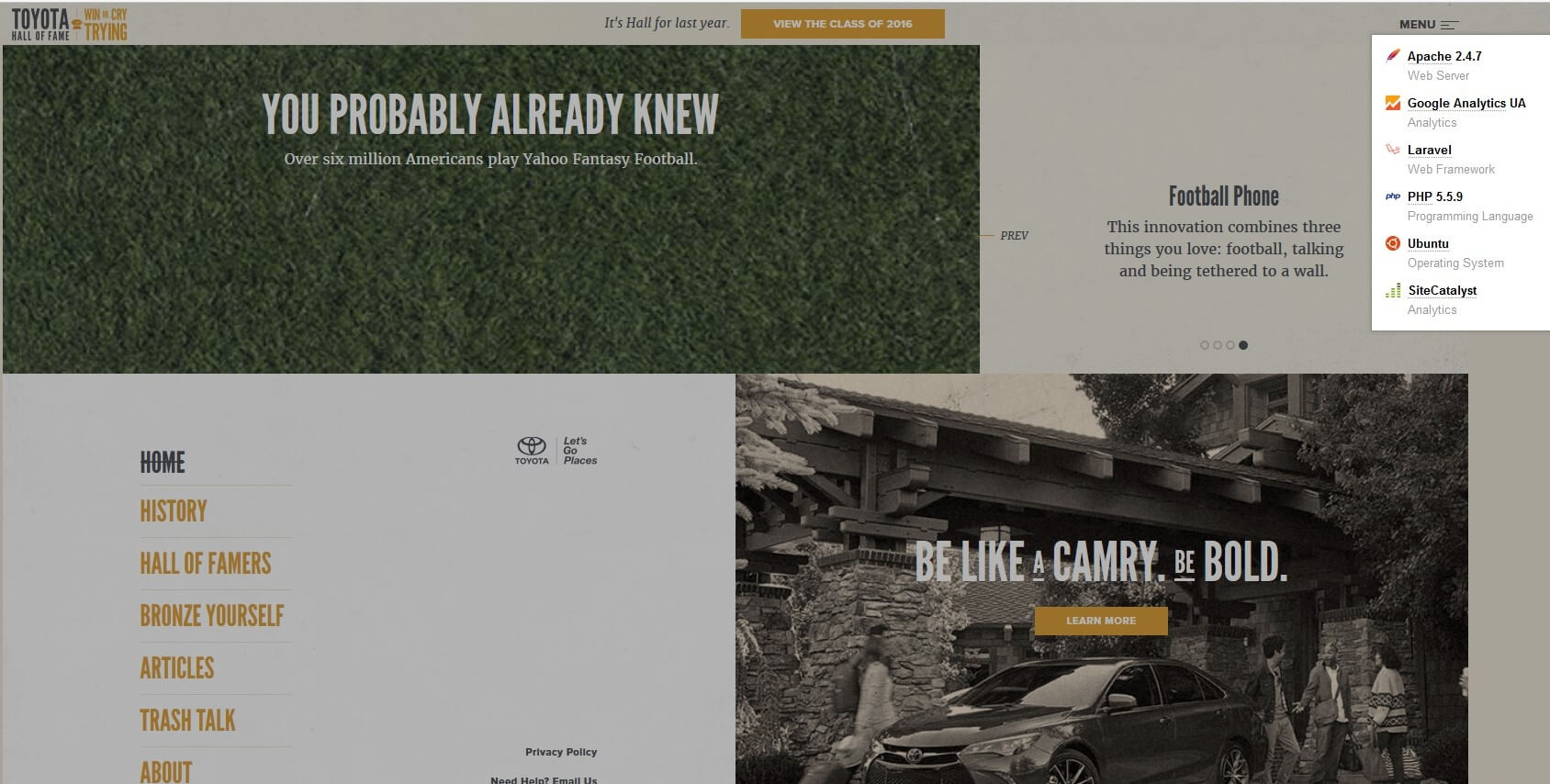 #3. RV.CAMPINGWORLD.COM
RV.CAMPINGWORLD.COM is a Laravel-based web application of the American corporation Camping World, which specializes in selling parts and service for recreational vehicles (RVs) and camping supplies. This Laravel website helps users in selling or buying RVs online and making requests for services (diagnostic, repair, maintenance, warranty, collision, and installation).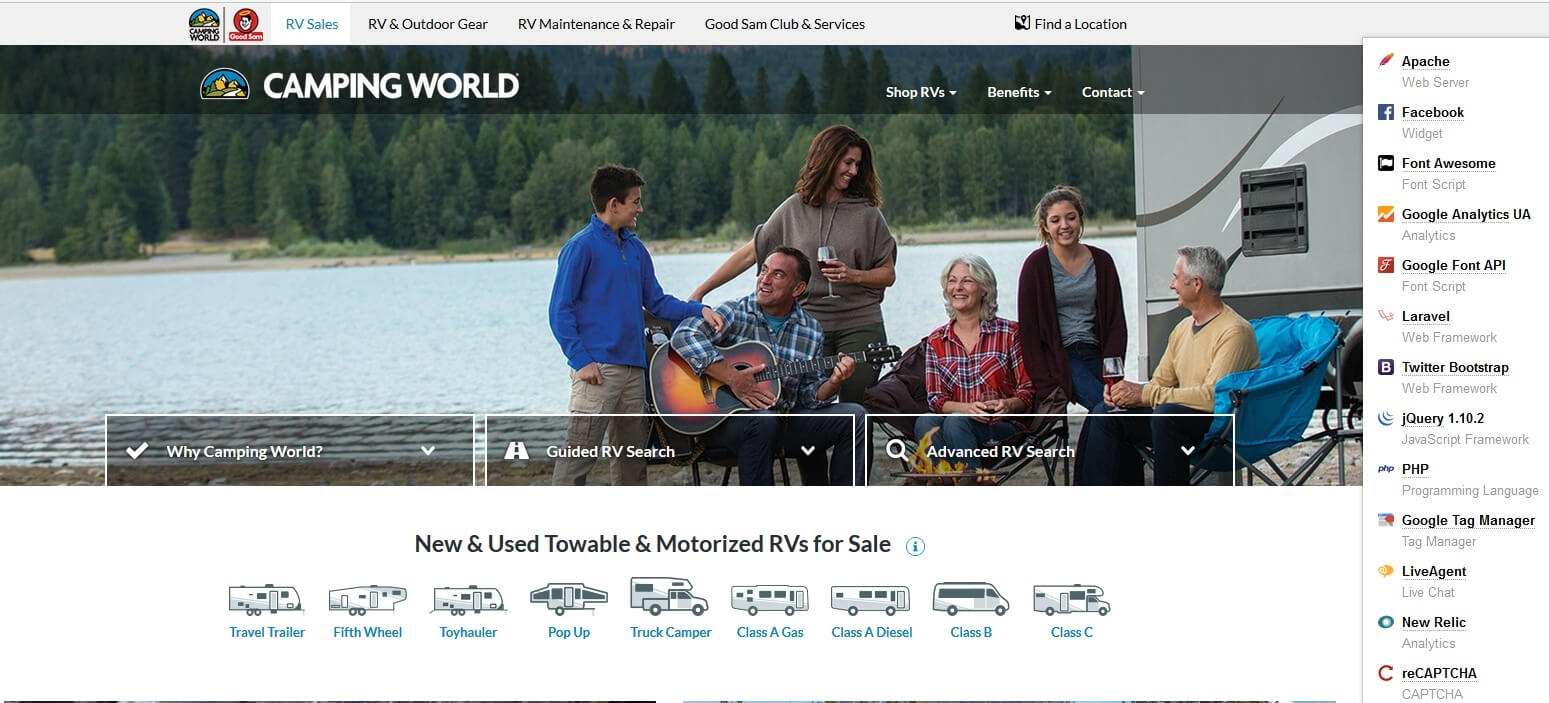 #4. GLOBALDIETARYDATABASE.ORG
GLOBALDIETARYDATABASE.ORG is a data collection Laravel web application created for the Friedman School of Nutrition Science and Policy at Tufts University. It has since attracted media attention and was endorsed by Bill and Melinda Gates Foundation. The aim of this project is to collect diet and nutrition data from hundreds of government health ministries, academic institutions, and NGOs around the world. When this data is compared with disease databases, they can establish correlations between diets and health outcomes. This Laravel web app automatically tracks and maintains the status of all data and communications.

#5. EXPLOREGEORGIA.ORG
EXPLOREGEORGIA.ORG is an official Laravel-based state's tourism website of the Georgia Department of Economic Development (the United States). This innovative and engaging web app uses practical planning tools to motivate travelers to make a trip to the state. Georgia Explorer Trip Planner offers potential visitors a playful way to explore the entire site and plan their dream vacation or weekend. All aspects of the travel decision-making process for the consumer have been taken into consideration – from inspiration to trip planning to booking to sharing via social media.
The site provides greater exposure for the state's thousands of tourism industry partners. More than 16,000 Georgia restaurants can be searched and filtered based on location, cuisine or type of establishment. The similar affiliate websites are Marketgeorgia.org and Tourgeorgiafilm.com, which also use Laravel framework.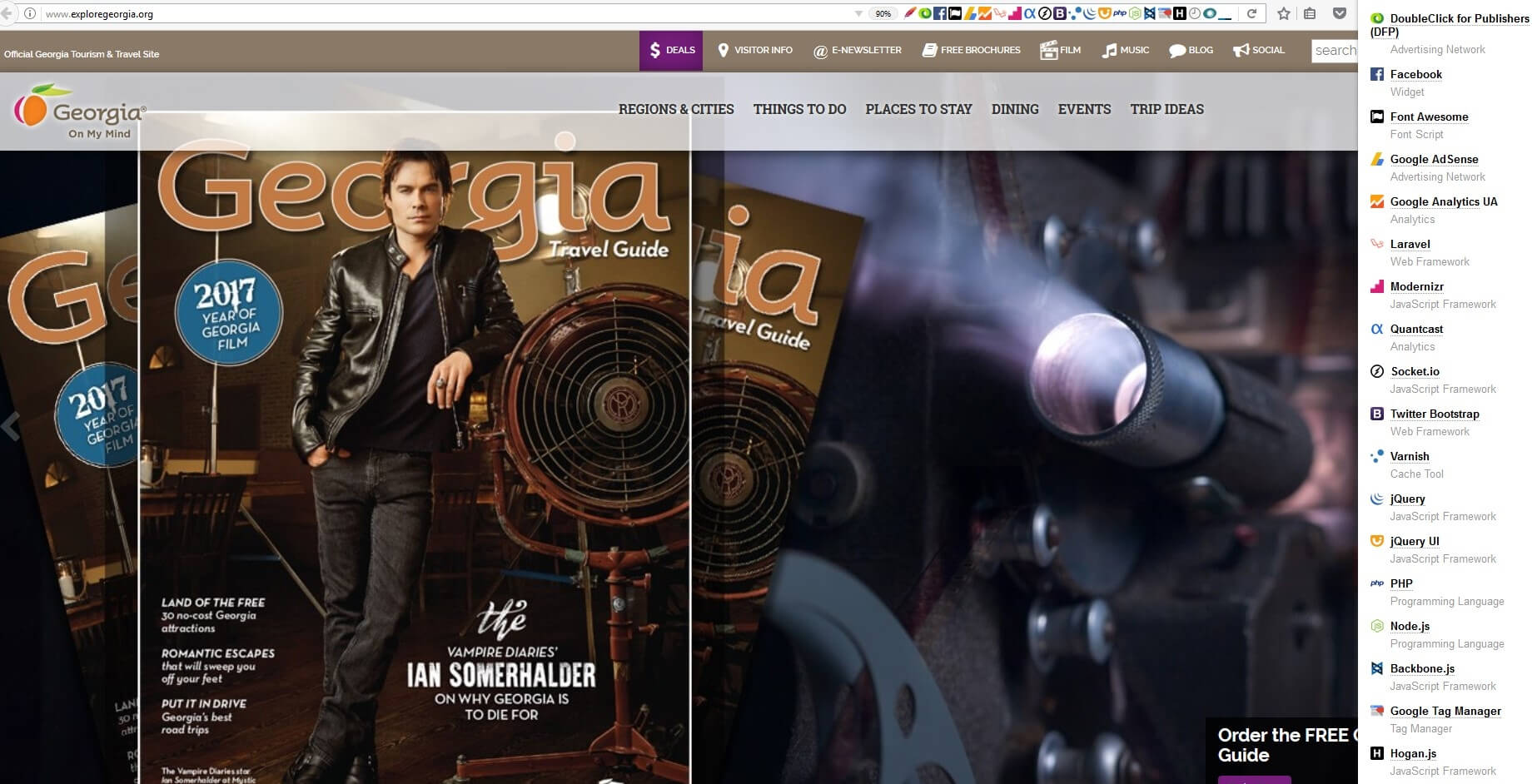 #6. CEENTA.COM
CEENTA.COM is a complex corporate Laravel-based website of an American Medical Group, Charlotte Eye Ear Nose & Throat Associates (CEENTA) located in North Carolina. CEENTA is the region's premier provider of the eye, ear, nose, and throat care for adults and pediatric patients for more than 90 years. In addition to otolaryngology and ophthalmology, the group's complete services include audiology, allergy, clinical research, contact lenses, on-site surgical facilities, facial plastic surgery, sleep medicine and full-service optical shops.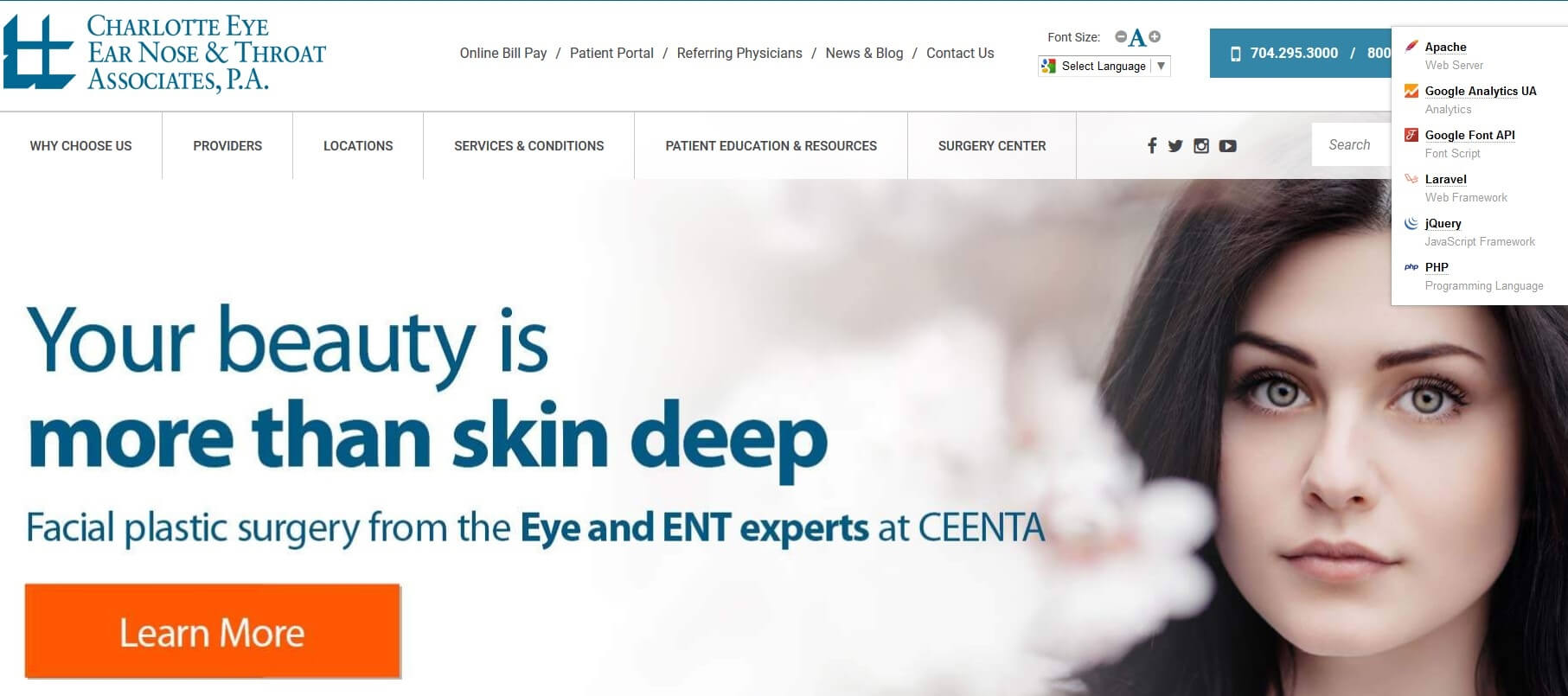 #7. INVICTAWATCH.COM
INVICTAWATCH.COM is a complex corporate website built with Laravel of an American watch company Invicta Watch Group (previously founded in 1837 in Switzerland). The website has e-commerce features such as online product catalog with images, videos and descriptions.

#8. RATEMYAPPRENTICESHIP.CO.UK
RATEMYAPPRENTICESHIP.CO.UK is a Laravel-based web application, which is aimed to provide young people in Great Britain with relevant information about Apprenticeships and School Leaver Programmes as well as other relevant opportunities such as Sponsored Degree Programmes, Gap Year Programmes, Traineeships and work experience. An apprenticeship is a real job with a mix of on-the-job and off-the-job training during which a specific set of skills and qualifications is taught that will be useful in future jobs. It usually takes between one and four years and can be done in a variety of industries, including accountancy, finance advice, engineering, retail, law and social care. In addition to training and education, an apprenticeship provides the apprentice with work experience and an income. RateMyApprenticeship.co.uk belongs to the UK Company RMP Enterprise (based in Westminster).
#9. FOX47.COM
FOX47.COM is an official news website of Fox-affiliated television station WMSN-TV that covers society, sports, weather and traffic for the Wisconsin Capital Region.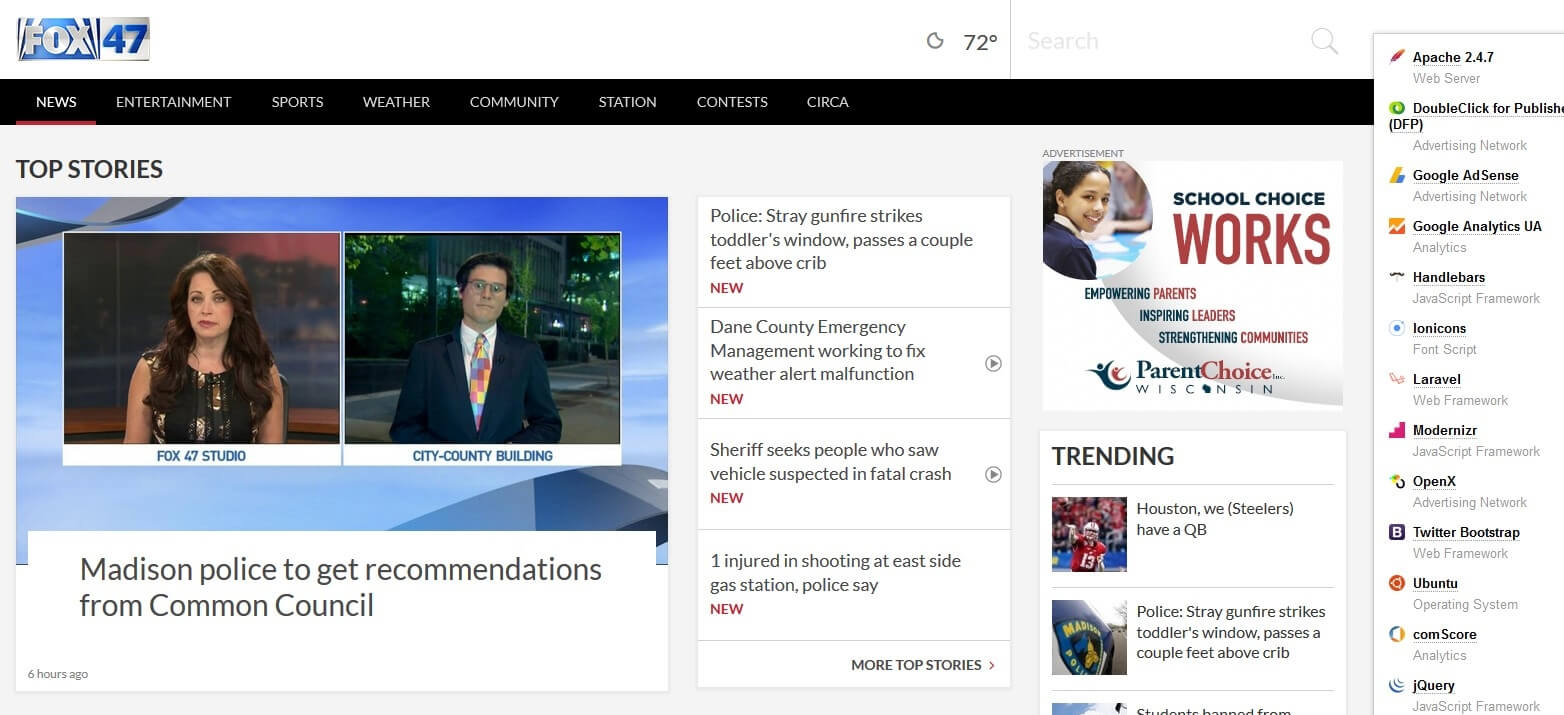 #10. BONAPPETOUR.COM
BONAPPETOUR.COM is a community marketplace (Airbnb-style social restaurant) built with Laravel framework that connects travelers with local home chefs for a unique home-dining experience. On this website, travelers can find dinners available in the cities they are visiting (in over 75 cities around the world). Each dining experience features a menu prepared by the home chef (there are more than 500 verified hosts), a description of the host and reviews by previous guests (if any). Travelers can message the host if they want to. Once both the traveler and the host have confirmed the arrangement, the traveler should make payment via the website. Bonappetour was founded in 2013 in Singapore.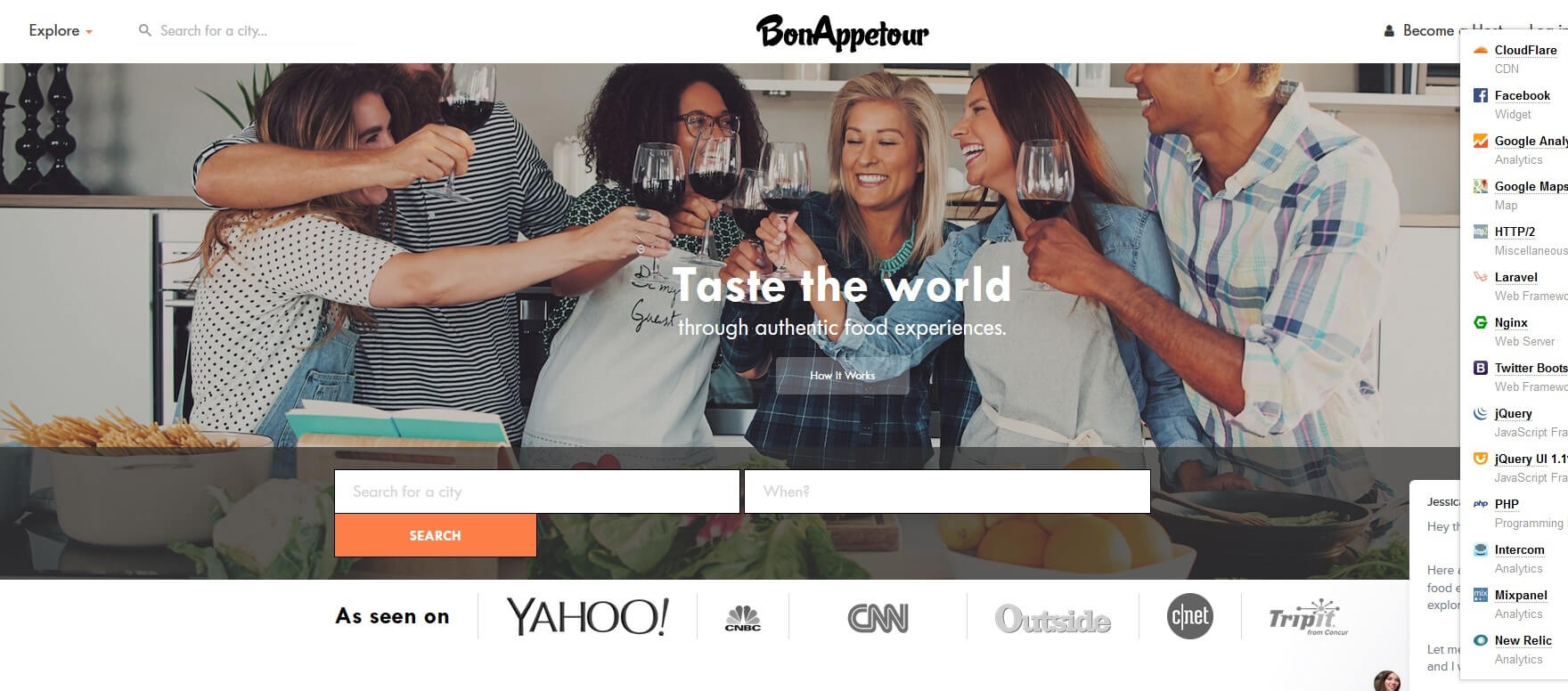 #11. YULAIR.COM
YULAIR.COM is probably a website for Canadians to search for the best airfare to/from the country. This multilingual web application is built with Laravel framework. A team of experts scours the web for the cheapest flights leaving from different local airports and posts them on this website. Visitors can then search the site or get email alerts. Yulair averages 100,000 unique monthly visitors and has a social media following of over 80,000.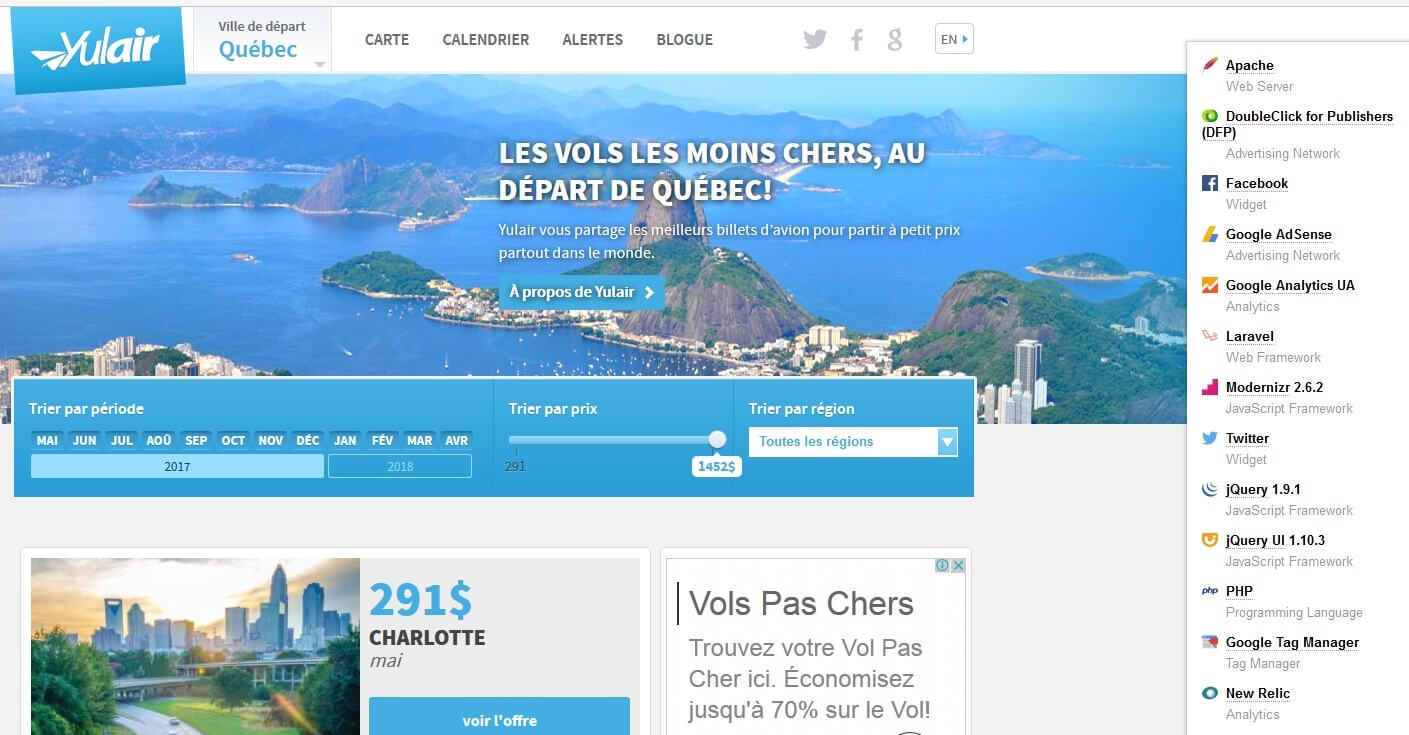 #12. LARACASTS.COM
LARACASTS.COM is a well-known e-learning Laravel-based website that specializes in teaching subscribers PHP framework, Laravel, and other related technologies. It updates daily, specifically for working web developers. The majority of beginner-level content is free to everyone. And a monthly $9 charge gives developers access to the entire catalog of videos. Laracasts is based in the USA and has a social media following of over 25,000 on Twitter and 10,000+ on Facebook.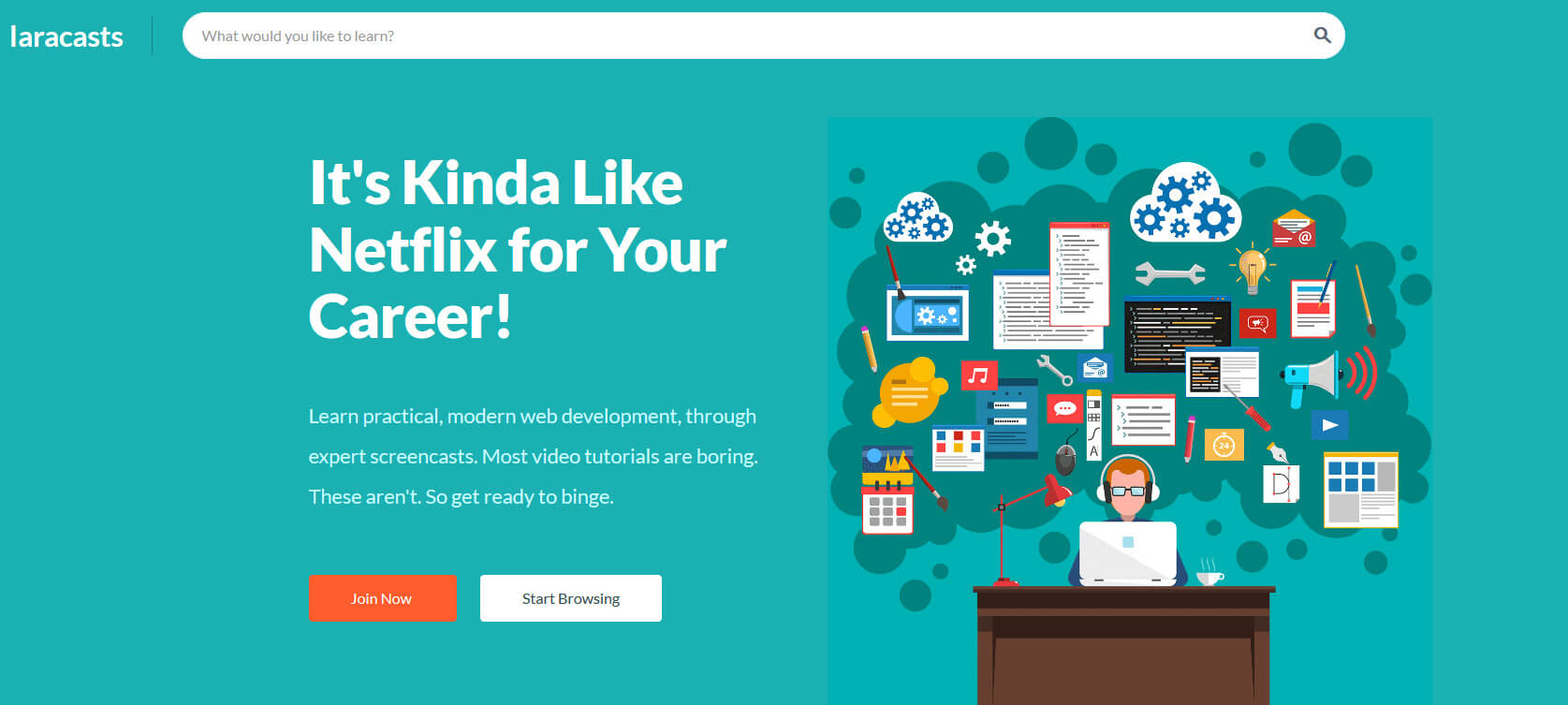 We used wappalyzer to uncover the websites' technologies.
Do you think 10+ Laravel projects are not enough to ensure that Laravel is widely used by great companies? Well, according to the data of Internet services company BuiltWith (Australia) there are 171,838 active sites using Laravel framework (as of July 2016)!
Other articles you might be interested in:
Written by
Partner / Department Head
I've been leading projects in Healthcare, Financial and other domains for 14 years.
Let's Talk Business
Do you have a software development project to implement? We have people to work on it.
We will be glad to answer all your questions as well as estimate any project of yours.
Use the form below to describe the project and we will get in touch with you within 1 business day.