With 10+ years of experience, we follow the best practices for setting up a successful dedicated software development teams in Belarus for our clients from US, UK, Europe, and Israel. Our transparent business model helps you to choose the value for money programmers and be sure that you will not overpay! With our dedicated developers, it's possible to cut budget starting from 40% and more. Our top dedicated developers do their best to help you succeed.
The process of hiring dedicated developers is very similar to how you would hire personnel locally:
According to your specific requirements, our experienced Recruiting and Human Resource specialists look for candidates not only from company pool of available programmers but also from open job market with thousands of developers available.
Human Resource or Recruiting managers together with our Senior Technical and Management staff hire the most suitable candidates to you and your project.
You are free to Skype / phone interview the developers and make a decision on whom to hire for your projects from the best available professionals. The trial period is provided for any new developer.
We do our best to communicate with you better i.e. if you are from the USA then we agree on overlapping hours where you can communicate with developers using email, Skype, phone, online conference and etc.
All hired staff will report directly to you and follow your directives and timelines. Our dedicated developers will use whichever project management tools your company uses or we can provide an access to our own tools. This will help you to get 100% transparency in development processes i.e. no unnecessary people in your project, and understanding of every person's effectiveness.
Rated 4.9 out of 5.0 for Dedicated team services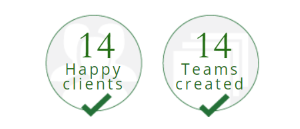 * Data is based on small surveys we sent to clients after several years after Dedicated team creation.
Our portfolio of dedicated teams
You will have your own remote software developers located in Belarus but at a significantly lower price in comparison with your local cost or T&M cost in Belitsoft. Major administrative headaches regarding a team like recruiting, HR, payroll, accounting, local management, and the whole infrastructure will be on our shoulders.
Each dedicated developer will work at a fixed monthly cost, no hidden expenses.
Our monthly cost is constructed in the way that you benefit in the long term (12+ months)! Just contact us and we will give you more details.
You will have full control over software programmers: decide when to augment /decrease remote programmers or when to give direct bonus/salary increase personally to a developer(s) if they perform well. So developers will be more loyal to you knowing this information.
Final monthly fees will be calculated after all your requirements including needed developers profiles are agreed.
In this pricing model, you truly get what you pay for and we believe it is the key to a successful and mutually beneficial collaboration that will last for years. Besides traditional offshore Dedicated model described above, we are also familiar with Build, Operate & Transfer (BOT), Outstaffing and Joint Venture variations of it.
Let's Talk Business
Do you have a software development project to implement? We have people to work on it.
We will be glad to answer all your questions as well as estimate any project of yours.
Use the form below to describe the project and we will get in touch with you within 1 business day.