As a system, SaaS app can be built with the help of broad-ranging technical approaches and methods. However, SaaS is a business model first, and technology second. That's why we need to compare the SaaS business model with the traditional software business model.
Traditional Software Business Management and Operation: Hard To Grow Fast

The traditional model of software packaging and delivery means that each customer gets from a provider a software product and has to install it in its own independent environment following strict requirements to the operating system, the database system, and so on, according to the purchased software version.
Individual environments may lead to the necessity of software customization to fit the environment's requirements, otherwise, the software will not work. As a business owner, you have to dedicate resources to manage, update, and support these customizations. Thus, the traditional software business model could lead to additional operational costs for each new customer, while cost optimization options are limited by default.
The one-off customization business model is suited for companies whose growth and the number of clients are moderate. In this case, the requested provision of unique features to every environment can be considered as a sales tool.
Whereas a business begins to grow exponentially and new clients are added fast, then the rising incremental expenses associated with the increasing number of dedicated teams start to erode the business margins.
The traditional software business model also slows down a company's development pace and does not allow for keeping up with the market. The attempt to implement new features into customers' systems may hit limits, both objective and subjective, blocking sources of potential income for software business owners.
Facing such complexity dedicated teams have to spend more time on feature analysis, thus, delaying their delivery to the customer. The focus shifts from delivering to verification. The new feature testing takes most of the operational processes. Dedicated teams now are more focused on overhead operations and technical aspects of testing, leaving less time for delivering new functions, which were conceived to take the company forward.
By accepting this slow pace and more cautious approach the development cycle increases drastically, constituting large gaps between the stages in which the solution is visualized, built, and supplied to a customer. Together these factors can push back competitive efforts and lag behind the market.
SaaS Business Management and Operation: Easy To Grow Fast

Saas is a service-centered model whose main advantage is the fast release of new features.
With the SaaS model, the focus is shifted to how customers are onboarded to your service, how fast they appreciate its value and how rapidly you provide the features that meet customers' needs.
SaaS providers' goal is to deliver new features often and fast. With the SaaS model, it is possible to release new features when needed as opposed to the traditional model which is expected to present new releases periodically, and the development cycle is scheduled for two years in advance. SaaS companies can respond quickly to market changes almost in real-time.
The main idea behind the SaaS model is that a SaaS provider (or a customer) has a single SaaS environment (standard multitenant architecture) and every customer is considered to be a tenant (renter) of this environment. Either a company with a large staff or a single user can be a tenant in the SaaS model.
A SaaS provider operates, upgrades, and maintains this environment. Thus, tenants do not need to have their own on-premise hosting solution. On the contrary, they are being hosted, managed, and billed in the shared SaaS environment.
The SaaS environment also offers a wide range of shared services. These are accessible to all tenants. The onboarding services, the identity management services, as well as metrics and billing management, are available to every SaaS provider's customers.
The essence of Saas is to enable a universal set of services every tenant can use.
Whereas all customers are using the same version of a software product, new features can be deployed at the same time during the single, common-for-all-tenants processes.
This makes it possible to monitor and coordinate all tenants using a unified management scheme thereby forming a shared experience. It also allows the add new customers to the SaaS environment without the additional operational overhead costs.
With the SaaS model, you can easily add either 100 or 1000 new tenants and you can consider each new wave of customers as a "growing point" in your business not a headache.
A concept of a shared experience is a great opportunity to boost growth, speed up agility, and enhance production efficiency, which is the core of the SaaS business model.
Take full advantage of a SaaS business model
Allow a team of experienced SaaS developers to look into your business case and propose a path for transitioning from a traditional to a SaaS business model. We can analyze your current solution and modernize it, or build a SaaS solution from scratch that allows you to easily operate, update, and maintain your application.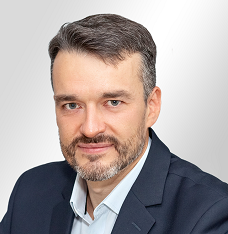 Written by
Partner / Department Head
"I've been leading projects and managing teams with core expertise in ERP, CRM, SaaS development in the Healthcare, Financial and other domains for 15 years."
Recommended posts
Belitsoft Blog for Entrepreneurs