Let's say you decided to develop custom software without having your own team of developers for the project and for some reason you don't want to hire additional people in your company. It's clear that you cannot move forward without a help of contractor. But what type of cooperation model you need to choose: Fixed Price or Time & Material or Dedicated Team Model. What is more reasonable for you? Let's have a look into this more deeply from different perspectives (client and vendor side).

FIXED PRICE MODEL
Firstly I would like to answer my favourite question: «What customers problems can be solved using Fixed Price? Why so many clients are trying to work using this model?». Then I came to the following arguments:
It's easy to control your budget and cash-flow: you can know exactly WHEN and WHAT to pay.
Customer doesn't take any project risks, because all project risks will be transferred to the team.
According to customers, deadlines, responsibility, fix budget will stimulate team members. They'll work hard and answer for the results.
When you are using Fixed Price model (as a customer), it is easily to say why it suits you. After all when you come to the restaurant you want to know the price in advance to make sure what to order and what will be the final price. Thus the exact price is the key to any purchase deal of other simple services.
WHEN TO USE FIXED PRICE MODEL - SOME EXAMPLES:
When it's a short-term project.
When you have a full project description with clear goals, working procedures and results.
When you are working with new contractor (pilot project with fixed price can be a good test for contractor to become a permanent partner)
Fixed price model requires carefully compiled documentation. I mean documentation requirements of which will not change lightning-fast or will not depend on the mood, in any way. Of course, if you've decided to change some requirements in Fix Price project you can negotiate this with the contractor, but in this case project release can be delayed and budget can be changed.
For disadvantages of Fix Price model please refer to the section "From Contractor side".
TIME & MATERIAL / DEDICATED TEAM MODEL
This model is suitable for projects where Fixed Price can't be given and for clients who are willing to invest in a gradual and continuous development of quality product as they understand that creation of a new product is an iterative process where the development has a large number of rounds. Here the main basic factor is the team that is carrier of all the technologies, architecture, experience and knowledge in project development.

The advantage for customer of Time & Material or Dedicated team model that it's almost the same like managing local staff but distantly:
If it's a small project and you work using Time and Material model, then you receive software development experts available for you some hours in a month. Development can be planned for several months.
If it's a long project and you need full time or part time experts for 12+ months then the most effective solution is dedicated team model as you receive selected by you experts at the lowest available price.
In both models you have a right to have your own project manager, dictate the methodology, development practice, technical platform and even corporate culture and policies for long term dedicated teams. Remote team will be the like extension of your technical local team.
WHEN TO USE TIME & MATERIAL OR DEDICATED TEAM MODELS:
During long-term projects when the current plan means the attraction of additional long-term full time resources and the use of new technologies.
When the original needs and goals are unclear, and you cannot predict the final result (i.e. in case of start-up).
When you know in advance that requirements or task priorities will be changed (changing the course won't become too hard, since you're running a dedicated team).
IN TIME & MATERIAL OR DEDICATED TEAM MODELS IT IS GOOD FOR CUSTOMER TO:
Use short 1-3 weeks releases during the solution development. That will show the current progress, help to adjust the product and stimulate your team to work effectively.
Pay according to short releases results (some specific Time & Material) – this helps customer to see what he paid for. Source code and program are available for the customer and available according to his needs.
Use other good Agile software development principles.
To select a model that is most suitable, you need to discuss a number of details in every case. Some of these details worth to discuss directly with the contractor.
Sometimes it's better to start with fixed price and then refer to Time & Material or even Dedicated Team model if you like a team you are working with.
For additional information about Pros and Cons of Dedicated team model please refer to the following link.
Here's contractor view regarding each model of cooperation.

Unlike Time and Material or Dedicated team models, most of the contractors don't like a fixed price model in software development outsourcing.
The reasons are - often different risks and a large degree of uncertainty efforts because of various and unusual projects.
The stumbling block in the cooperation of fixed price model is unwillingness by contractor or vendor to be responsible for the risks or in other words to pay for these risks.
Contractor can't put all risks in the bid (one of the reasons is that Customer usually selects inexpensive option and thus often works with the vendor who presumes that it will not be affected by all the risks or with the vendor which lacks quality). As the result of Fixed Price model occur, both parties might lose.
THE CUSTOMER'S POSSIBLE LOSES IN FIXED PRICE MODEL:
Using Fixed Price some teams will not do "properly" their projects, and they will act according to the principle: if only the Customer accepts it. They are not interested for their work to be performed well. After all their interests are limited to make everything easier in order to have budget for the risks, which might occur or they didn't take into account.
Due to the first reason, the further product support will be much harder. There is no point to talk about the efficiency, reliability and stability because it is not the interest of such teams.
The projects, based on the fixed price model often cause ill feelings in support teams. Nobody writes comments, structure and elegance of code is beyond "must have". Obviously, the first support team's desire is to ask: "Who developed this product? It is impossible to support it!".
Sometimes, some teams will not solve the problem, but they will try to work "according to specification". Why do they need to try to develop a better product if they don't make a profit on it or even reduce their income?
It's in the interest of some teams to conceal the potential problems of the product. If the problems are not obvious and there is a chance to complete the project successfully, the Customer will never know about problems.
If there are some problems during the project execution a lot of time will be spent on a deep analysis of correspondence, promises and documentation. When all that time could be spent on developing the product. Sometimes, even all discussions take more time than system revision.
Therefore, the cost of project ownership increases.
THE CONTRACTOR LOSES IN FIXED PRICE MODEL:
If the contractor's team (or team member) didn't take something into account during the project planning the performing company could suffer serious financial losses (or even become a bankrupt). Each project is the risk for the team and the company.
When a team members forced to compromise with inner understanding of quality this sharply reduce the motivation to develop this product and thus quality of the final product is decreased.
As soon as project profit approaches zero, team starting to slur over the mistakes, instead of bugs fixes, which leads to product quality degradation.
WHAT IS A CONCLUSION?
Any of the software development model is always a balance of money, quality and timeline. Often the customer's goal is to save money. In this case, some teams can offer only a low-grade product or delays in delivery. A very good illustration of this balance is on the following picture: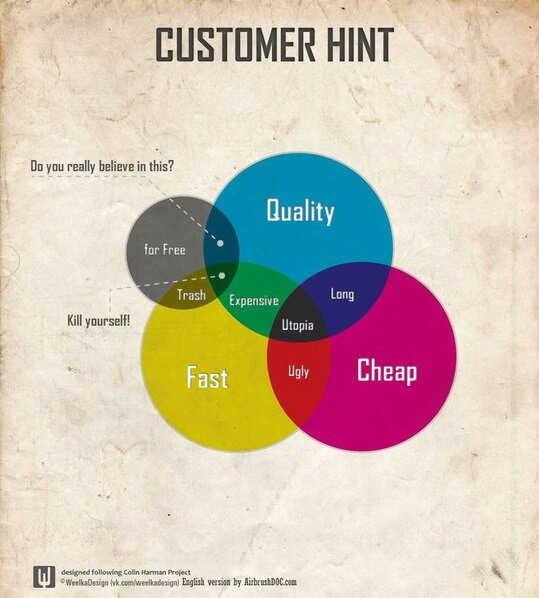 (Click to enlarge)
Anyway customer is a king and he should choose the model that suits him better. And it will be really great if the customer considers creating a positive and friendly atmosphere for contractor/developers working on his projects and try to temper disadvantages of chosen models and work out solutions if problems arise. Anyway no one wants to shoot themselves in the foot and release a product with a bad quality or create a product, which will be expensive to support in future. So, talk with your contractor, discuss the details and make rational decisions!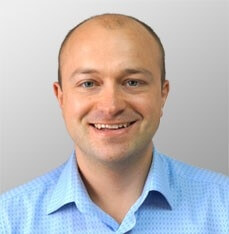 Written by
Co-Founder and CEO
I manage key operations and create strategic partnerships at Belitsoft.
Let's Talk Business
Do you have a software development project to implement? We have people to work on it. We will be glad to answer all your questions as well as estimate any project of yours. Use the form below to describe the project and we will get in touch with you within 1 business day.