An experienced BI analyst is absolutely necessary, at least for the initial configuration of healthcare BI software, including self-service tools. This analyst is responsible for tailoring the data models and dashboards to meet the unique needs of a health-related organization.
Business Intelligence Analysts work with company data to identify areas for improvement in current processes. They create and track metrics or KPIs to monitor the performance of the company's products and identify areas where they are falling short.
The Analyst must possess strong data visualization skills to present their findings in an easily digestible format to stakeholders.
The role of a Business Intelligence Analyst is not limited to just reporting. They help businesses identify what they don't know yet, and uncover answers to questions they didn't even realize they could ask. BI analysts have to ask the right questions before digging into the data to get insights.
To achieve this, BI specialists use a range of tools, including web analytics tools, database tools, ETL tools, and full-stack BI platforms like Power BI or Tableau.
Requirements often include:
Experience in health informatics and healthcare analytics;
Ability to analyze data and communicate insights through dashboards, and reports;
Strong skills in SQL programming and advanced data manipulation;
Experience building data products using business intelligence software;
Familiarity with various healthcare data sources, such as claims, electronic health records, and patient-reported data;
Detail-oriented with a focus on producing accurate and polished work;
Excellent communication skills, both written and oral.
The tailored responsibilities of a BI analyst in a particular company are highly dependent on their specific needs.
Devoted Health was seeking a Sales Operations BI Analyst to help them measure and present the company's performance in the best possible way. They were looking for an experienced BI Analyst who is comfortable working with complex data, enjoys communicating insights through data visualization, and understands the significance of data governance when building long-lasting data products. The ideal candidate was expected to collaborate closely with multiple teams within the company, such as business teams, data science, product management, analytics engineering, data engineering, and software engineering.
McLaren Health Care network was seeking a BI analyst who could handle the reporting, analytics, and statistical analysis of healthcare claims and quality data. The ideal candidate was required to have a strong grasp of healthcare data, including the cost of care and patient utilization metrics, and experience in healthcare analysis, including the application of statistical methods or data analytics such as data mining, forecasting, simulation, and predictive modeling.
The analyst would be responsible for:
Collecting and integrating health plan and internal systems data in various formats and generating meaningful reports to assist clinical leadership in monitoring and achieving quality performance objectives.
Creating data visualization solutions to present results to key decision-makers.
Examining trends and providing actionable insights to promote population health management.
Aledade sought for Business Intelligence Data Analyst to join their Business Intelligence team.
The Data Analyst's primary responsibility was assumed to provide continuous analytical support to stakeholders using operational and clinical data to answer pressing business questions, supporting data operations and project management functions.
Other key responsibilities of the Data Analyst included:
developing actionable roadmaps for workflows and processes,
setting up and organizing KPIs and timelines for deliverables that align with team objectives, building interactive dashboards, reports, and data visualizations that effectively communicate insights from data to drive action,
helping to design and implement data warehouse tables or views to support analysis and reporting.
The Data Analyst had to support the team in research, data analysis, meeting preparation and follow-through, and development of strategies to address health disparities. In case of major risks or challenges, the Data Analyst had to "manage up" and flag them to draw attention, resources, or other mitigation steps.
Franciscan Health was looking for a Healthcare Business Data Analyst with the following functions:
Identify and propose evaluation strategies for key performance indicators (KPIs), quality metrics, outcomes, population management studies, and other relevant areas.
Develop technical and functional specifications based on business requirements and workflow analysis.
Manage database processing functions, such as merge/purge, data hygiene, data appends, and coordination with business partners.
Identify and address data quality issues that may affect reporting, such as duplicate records or missing data.
Use appropriate programming languages and technologies to extract and process data for business analytics.
Identify effective methods of data visualization and presentation to communicate project findings to management.
Track and analyze trends and relevant measures to maximize database capabilities.
Integrate add-on programs to optimize back-end processes.
Act as a liaison between the analytical needs of departments and business partners.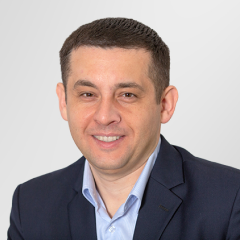 Written by
CTO / Department Head / Partner
Recommended posts
Belitsoft Blog for Entrepreneurs