Healthcare business intelligence platforms empower non-technical users to model and analyze data, and share insights. With an emphasis on visual self-service, today's healthcare BI software may incorporate AI to provide automated insights. In the healthcare industry, most BI customers require cloud deployments to meet the increasing complexity of analytics use cases and the growing volumes and types of data. Gartner lists Amazon QuickSight, Microsoft Power BI, Tableau, Google's Looker, Oracle, SAP and Sisense among top BI software providers. What possibilities they bring to health-related companies?
Top Features to Look For in Healthcare Business Intelligence Software
Security
user administration;
platform access auditing;
authentication management.
Cloud-Readiness
The ability to build, deploy, and manage the BI software in the cloud across multi-cloud and hybrid cloud deployments.
Data Source Connectivity
Enabling users to connect to and ingest data from various storage platforms, including on-premises and cloud. Supporting users to combine data from different sources using drag-and-drop.
Data Preparation
Creating analytic models with user-defined measures, sets, groups, and hierarchies.
Automated Insights, Natural Language Generation, and Data Storytelling
Applying machine learning to automatically generate insights and identify the most important attributes in a dataset. Automatically creating descriptions of insights in data that explain key findings or the meaning of charts or dashboards. Generating news-style data stories that combine headlines, narrative text, data visualizations, and audiovisual content based on ongoing monitoring of findings.
Natural Language Searching
Enabling users to query data using terms typed into a search box or spoken.
Data visualization
Supporting highly interactive dashboards and exploring data through manipulating chart images, including heat maps, tree maps, geographic maps, scatter plots, and other special-purpose visuals.
Reporting
Providing parameterized, paginated, and pixel-perfect reports that can be scheduled and burst to a large user community.
Amazon QuickSight
Amazon QuickSight is a business intelligence platform that AWS customers primarily use. One of the key reasons for its adoption is its strong integration with the Amazon data stack, scalability, performance, and competitive pricing model.
Amazon QuickSight offers natural language query capabilities, the ability to embed analytic content, scheduled reporting, and serverless cloud architecture, allowing organizations to support large-scale BI deployments.
Amazon QuickSight integrates natively with existing AWS security frameworks and data sources. However, Amazon QuickSight runs only on AWS, limiting its deployment capabilities to a single cloud platform, which may not be suitable for organizations that use multiple clouds.
Microsoft Power BI
Microsoft Power BI is a comprehensive data analytics tool that provides data preparation, visual data exploration, interactive dashboards, and augmented analytics. It is primarily offered as a software-as-a-service option on Azure. Additionally, AI-powered text, sentiment, and image analytics are available in Power BI Premium.
Power BI can be seamlessly integrated with Office 365 (Microsoft Teams, Excel, and SharePoint). It also can be further enhanced by embedding Power Apps into its dashboards, and Power Automate flows can be created to automate tasks based on the data.
However, Power BI does not offer deployment on other cloud infrastructure as a service (IaaS) options. While data connectivity enables multi-cloud and hybrid cloud scenarios, the service can only be run on Azure. Governance of self-service usage is one of the most common concerns related to Power BI. On-premises Power BI Report Server has a less feature-rich offering with the absence of key features such as dashboards, streaming analytics, prebuilt content, natural language question and answer, automated insights, and alerting.
Tableau
Tableau, a product from Salesforce, offers a user-friendly way to access, prepare, analyze, and present data. Tableau empowers business users to visually explore their data through an intuitive no-code drag-and-drop interface powered by the VizQL engine.
The BI software provides a natural language query feature, Ask Data that can be integrated into a dashboard, and a data explanation tool, Explain Data. The vendor focuses on extending their natural language generation and data storytelling capabilities. Analysts can use Lenses to curate existing datasets. The tool provides a lot of dashboard accelerators on the Tableau Exchange. Additionally, Tableau provides centralized row-level security and virtual data connections.
However, Tableau's licensing costs are relatively high, with additional fees required for features such as Data Management, Server Management, and Einstein Discovery. Below-average satisfaction with Tableau's overall service and support is reported. Sometimes it is hard to find Tableau-specific support.
Google's BI software for healthcare
Google's Looker is a cloud-based BI platform that provides users with self-service visualization and dashboard capabilities. Looker offers support for multi-cloud scenarios, both from deployment and database connectivity perspectives, and is continuously improving integrations with other products within the Google Cloud stack, such as BigQuery.
Looker's extension framework is a fully hosted development surface that allows developers to build data-driven applications. Looker provides direct query access to cloud databases, lakes, and applications as its primary data connectivity method. This enables users to leverage LookML's virtualized semantic layer without having to move their data.
Google intends to open up the LookML data modeling layer to other BI platforms, including Microsoft Power BI and Tableau, as well as its own assets like Data Studio, Google Sheets, and Google Slides. Looker's APIs, software development kits, and extension framework (including the Data Dictionary) enable customers and OEMs to create customer-facing applications and embed analytics in business workflows. Looker's Marketplace provides prebuilt data and machine-learning model Blocks that address common analytical patterns and sources.
Although Looker's coding requirements may be a disadvantage compared to competitors' drag-and-drop data modeling and advanced analytics capabilities, the platform offers prebuilt data and ML model Blocks to mitigate this issue. However, Looker lacks augmented analytics features for automated insights, data storytelling, and Natural Language Generation, and its Natural Language Query interface is weaker compared to competitors.
Oracle Healthcare BI
Oracle offers an end-to-end BI cloud solution, including infrastructure, data management, and analytics applications, with data centers in 30 regions. Oracle maintains an open architecture approach to accommodate customers' multicloud needs.
Oracle invests in conversational user experiences and automated data storytelling features that generate audio podcasts highlighting key trends, changes in data, outliers, and additional contextualized insights. Users can leverage Natural language queries in 28 languages, and Oracle Analytics Day by Day for mobile devices.
Oracle offers Oracle Analytics Server for on-premises deployments and prebuilt analytics solutions for Oracle Cloud Applications via Fusion Analytics Warehouse. Oracle warehouse offers native integration for Oracle's ERP, human capital management, supply chain and NetSuite products.
Although Oracle Analytics Cloud can access any data source, its packaged analytic applications (Fusion Analytics Warehouse and NetSuite Analytics Warehouse) work only with Oracle enterprise applications out of the box. To gain similar capabilities, non-Oracle application customers would have to build applications for themselves using Oracle Analytics Cloud. As to disadvantages, it's reported that customers often review service and support from Oracle as below-average. The company provided Oracle Healthcare Foundation (OHF) analytics solution but now it's considered legacy.
SAP Healthcare BI
SAP Analytics Cloud is a cloud-based platform with an integrated Data Warehouse Cloud. Its Story Viewer and Story Designer tools make it easier for non-technical users to create, navigate, and interact with dashboards/reports. The Analytics Designer, a low-code development environment, uses APIs to facilitate the creation of analytics applications.
SAP Analytics Cloud is integrated with SAP cloud applications and can also query on-premises SAP resources, such as SAP Business Warehouse, for live data. It provides users with the ability to conduct "what-if" analysis, track changes, and perform calculations. It also includes strong functionality for natural language generation, natural language processing, and automated insights. Its integrated functionality for planning, analysis, and prediction sets it apart from other platforms.
SAP Analytics Cloud offers pre-built business content for the healthcare industry and lines of health-related business, including data models, data stories, and visualizations. However, it is primarily used by existing SAP business application customers and legacy business intelligence users. Customers who do not have a SAP-centric application or data ecosystem typically do not use SAP Analytics Cloud.
SAP Analytics Cloud is a cloud-native platform that can query on-premises data. Customers who want an on-premises deployment would need to use a standalone SAP BusinessObjects BI to support SAP Analytics Cloud's analytics catalog functionality and Universe connector for a complete hybrid deployment experience.
Sisense Healthcare BI
Sisense is a BI platform that offers self-service analytics and analytics application development capabilities. Most users utilize the product in an OEM form.
Sisense Fusion is focused on integrating analytics into business workflows.
Sisense Notebooks serve as a bridge between data professionals and visual self-service users who want to perform advanced analysis using SQL, Python, R, and other programming languages.
Sisense Fusion has a microservices-based architecture that is fully extensible, making it ideal for embedding analytics capabilities such as interactive visualization and Natural language query.
Infusion Apps provide users with prebuilt examples for Google Chrome, Google Sheets, Google Slides, Microsoft Teams, Salesforce, and Slack, helping to tie analytics to actions.
Sisense Fusion is cloud-agnostic and multicloud-capable, with deep partnerships with AWS, Google Cloud, and Microsoft, as well as strong cross-cloud analytics orchestration.
Sisense can catalog other analytics vendors' assets via APIs, and it offers extensible connectivity to other reporting tools. Sisense's Extense Framework enables developers to create their own applications or workflows, or they can utilize one of the prebuilt Infusion Apps for embedding analytic capabilities.
Their analytics marketplace is designed as a one-stop shop to publish and build analytics artifacts, including connectors, applications, and workflows. However, third-party resources such as integrators and service providers and the overall quality of its peer user community are evaluated as below average. Customers also indicate a below-average evaluation of Sisense's service and technical support.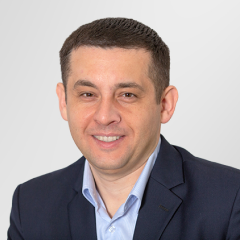 Written by
CTO / Department Head / Partner
Recommended posts
Belitsoft Blog for Entrepreneurs