"It's cool to hate," sang Offspring in their fourth studio album back in the 90s. This was a punk ballad about the rebellious behavior of a teenager at high school. We also have some hatred and we are ready to share it with you.
Our hatred is directed towards hyped articles about Virtual and Augmented Reality with catchy headlines.
'Virtual/Augmented reality (VR/AR) is most definitely here!'
'VR/AR will be a huge trend everywhere in 2018.'
You have surely heard all this stuff thousands of times by the middle of this year.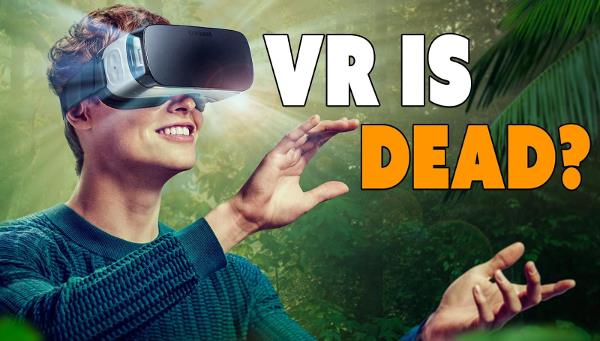 The thing is VR/AR was promising last year. So it was the year before that.
We will get to the headlines right in the next section of the article.
In this article, we also going to have a look at how VR/AR is applied in e-learning right now, how it is going to develop anytime soon and is all the never-ending hype about this technology is justified.
VR Revolution's Big Promises Over the Years (In Headlines)
First, let's address the headline of the Wired article by Peter Rubin. The title is pretty self-explanatory:

The hype was way too high back in 2014. Oculus team was acquired by Facebook for a tremendous amount of $2 billion. Two years later Marc Zuckerberg will have admitted that the price was too high despite praising Oculus team's efforts in the field.

Time magazine issued the article with loud "change the world" title in the second half of 2015 had a pretty bright tone. However, the impact of Virtual Reality hasn't been nearly that impressive since then.

TechRepublic's article that was about to predict trends in VR for 2016 said that number one trend was going to be an application in education. So did TechCrunch's article from the image above - writers fancied the ideas VR had a great potential in the educational field.
Besides, it was a year of big-time hardware releases as Oculus Rift, HTC Vive and PlayStation VR were released. Too bad most experts were shouting that they are quite pricey for purchasing, even for educational purposes.
"The Verge" article that sums up 2017 for VR says it was a year that many people got tired of VR news. In fact, it starts with "I wouldn't blame you for tuning out VR news in 2017".
In this article, we will discuss the current application of VR/AR in modern education. We will speculate on the biggest drawbacks and obstacles to Virtual (Augmented) Reality replacing traditional (and less traditional, yet not that innovative) forms of education.
We keep following VR (and Augmented Reality) applications in E-Learning very closely. However, we are not hasting to make any conclusions just yet. We keep a close look and try to persuade you a little to not buy every other prediction that the future is here with VR/AR.
Most Often Met Implications VR/AR in Modern Education
While we are not buying the thought that VR/AR is ready to be implemented in every school or college classroom (due to the high price of VR/AR devices for instance - but more on that and other reasons later), it may be used in some places now.
Here are the most common activities that VR/AR is almost irreplaceable for:
Virtual field trips (Google Expeditions)
Game-based experience
Simulation of potentially dangerous environment
Also, if we are into lists, these are advantages of using VR in the educational process:
Recreating danger in the safe environment of the class
Good for securing time (for traveling etc.)
Potentially money-saving perspective
VR/AR Field Trips:
Let us start by describing Google Expeditions. It was first introduced in eleven countries in May 2015, and since then it got tremendous feedback from the tutors and their K12 students.
At Google Youtube channel, we can see how excited kids are to have a look at Taj Mahal being somewhere in the Midwest.
Virtual Reality entered this school with the help of the affordable Google Cardboard. While its cost on Amazon is $15 at the moment (and $25 for a two-pair bundle), it could be even lower if bought for the K-12 establishment.
The overall experience is quite poor as you could expect. However, how much does it take to impress an 8-year-old? Plus, such a price has to come with some consequences, and school students are able to see augmented volcanos and virtual landmarks across the world.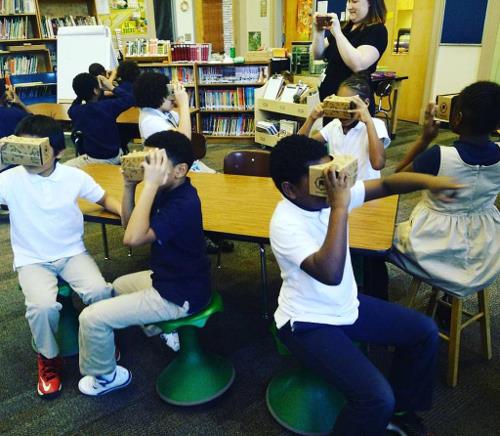 Source: flickr.com
Of course, this is not the only application of VR/AR to field trips. Michigan University has provided their football team with an opportunity to literally walk (and play) on the football field with all the spectators.
Football players used STRIVR Headset to enter so-called immersive reality and get to the middle of a crowded Michigan Stadium, which is the second largest stadium in the world. It felt so natural, one player asked for a bottle of water after he took of VR helmet as he became thirsty just like when he entered a real game.
However, keep in mind that Michigan Wolverines have quite a budget for their sports program as three assistant coaches make $1,000,000 annually (base salary) and head coach Jim Harbaugh has a $5,000,000 contract (with all the bonuses).
Had they wanted to make Virtual Reality part of the curriculum for their college football players, money wouldn't be an issue. Perhaps, the pressure from the virtual crowd is not what Wolverines (Michigan University athlete's nickname) need at the moment
Game-based Learning
Some scientists doubt even the possibility to utilize playing as an instructional mean for learning. Their argumentation starts with the inability to consciously evoke learning intentions in a player.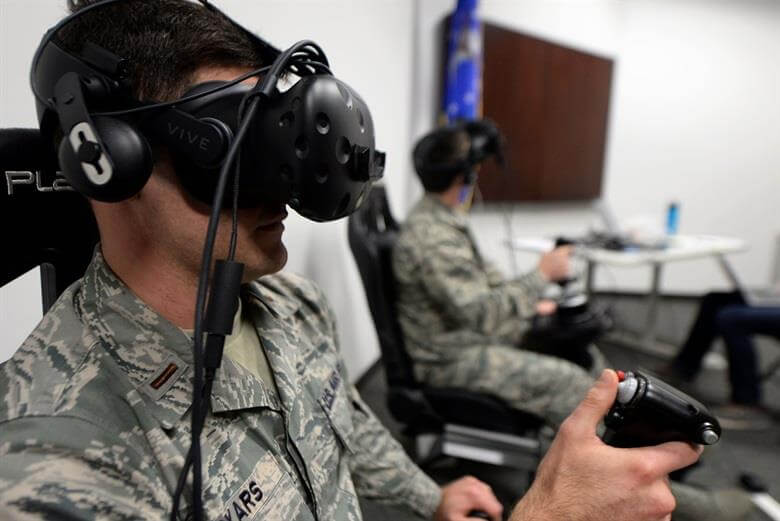 Source: aets.af.mil
Games usually aim at creating the player's own structures, not reproducing the ones that are there externally. However, there are some case studies that prove game-based learning to be effectively implied.
What is the most impressive, it was real to teach handicapped kids (suffering from fetal alcohol disease) fire safety skills with the help of VR games back in 2005. The study was first published in "Journal of Pediatric Psychology" back in January 2006.
Now with technology making such a great step forward, one would guess the results will be even more impressive.
One is able to learn everything about Egyptian History by playing "King Tut VR", or join space adventures to know more of them in "Apollo 11 VR". There are thousands of other VR games that will be very useful in.
Simulation of Dangerous Environment & Creating Emergency
It is hard to imagine a more dangerous environment than inside of the fire. Firefighters could use Virtual Reality in their training without any doubt.
The company called Flame Systems seems to be ready to help them with that. For now, they are mostly introducing their technology at different exhibitions.
The system consists of a set of VR goggles and a fire jacket that can be heated (for simulation purposes, obviously). Their current programs allow simulation of a kitchen, aircraft fire, and a propane tank leak.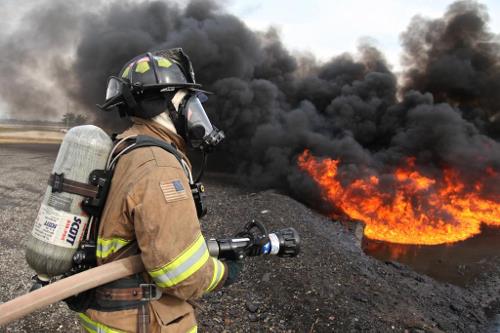 Source: flickr.com
While running the simulation, the system keeps track of various metrics, so it later provides with data on how to improve timings or optimize water usage. It also allows assessing firefighter efficiency in different situations.
This is basically irreplaceable for deciding which recruits to hire while testing them.
The cost of such a system for a department that is ready to purchase is $30,000. We'll let you decide where it is an OK price here, but for now, let's start discussing the biggest drawbacks of using VR in 2018.
Speaking of software development, Belitsoft does just that. E-learning is one of our specialties. We have our own JoomlaLMS developed and fully supported and are ready to provide our clients with new custom solutions. Contact us here. Or take a look at our e-learning software development portfolio first.
The Biggest Drawbacks of VR/AR Use Nowadays
High Price
Educational content is very pricey to produce. Last year, CBS Canada told a story about an entrepreneur Josh Maldonado who had to make his organization a nonprofit after failing to find a sustainable business model for learning content he was producing.
He claimed, there were two reasons for that: "Technology is just not there yet. There are two points. First is the price point - it is still very costly, and then there is form factor as it could be hard for the teacher - even at the university level - to just plug & play it.
Leaving the content making aside, the same story by CBS Canada tells us that equipment of the class with VR headsets cost about $10,000 and not every school is lucky to have this much money for fancy tech.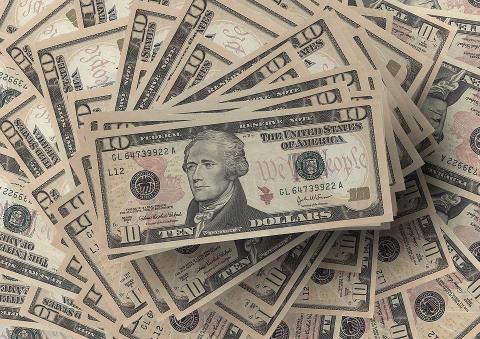 Source: pixabay.com
The more adopters will come, the lower will the price be. But not everyone is ready to buy just yet.
Health Issues
Virtual headsets are able to cause a whole lot of health issues.
Anxiety
Nausea
Sight-related issues
While you can argue that learning courses adapted for virtual and augmented reality won't cause as much anxiety as virtual reality footage of some armed conflict. This is true, but some scenes even within the educational content are able to cause fear, stress, and shock as the person who wears VR/AR headset feels like he/she is in the center of the scene.
As for nausea, some are prone to so-called "cybersickness" that was proven by UCLA Keck Center in their lab rat study. One need to take frequent breaks to avoid nausea from virtual reality.
There is no straight-up allergy to optic inside of headset, but a small percentage of people quickly feels uncomfortable wearing them. Without due care, eye soreness or more severe damage could be caused by VR/AR headsets.
Slow Adoption
We have briefly touched this subject earlier. Slow adoption is tightly connected with the low affordability of VR/AR educational content.
Venture Beat had data that only 6% of all households in the US had a VR/AR headset back in 2016. This figure didn't increase too much two years from then.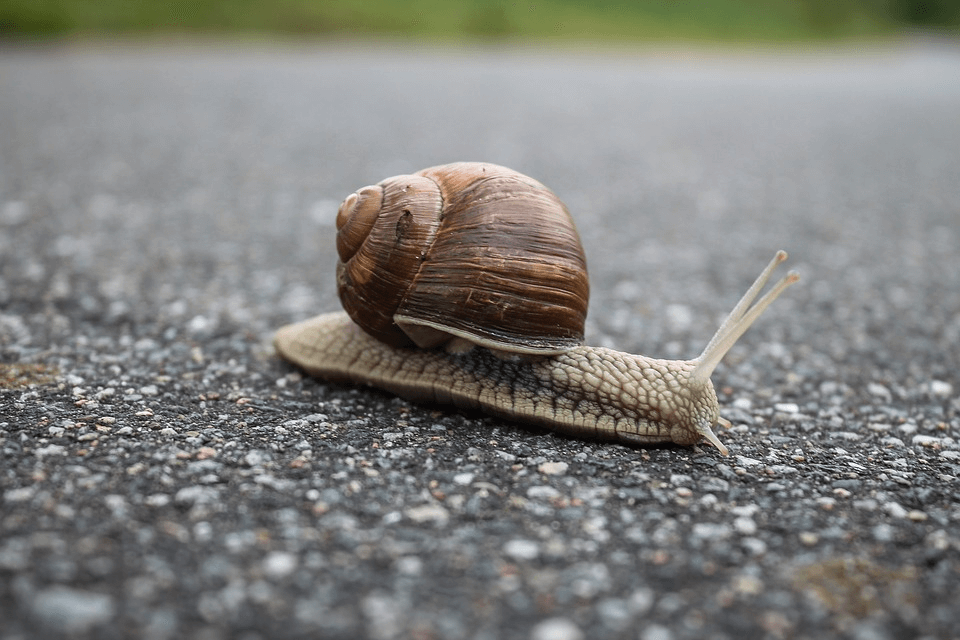 Source: pixabay.com
Let us hear what people who VR/AR software developers have to say. Immersive VR Education has created "social education and presentation platform" called Engage.
These are words of company's CEO David Whelan about the adaptiveness of a technology:
"I'm old enough to remember when computers came into schools first in the late 80s and early 90s. They sat there for years gathering dust because teachers didn't want to touch them"
Yet, look at how schools are using computers now. They are everywhere.
"VR will creep its way into education," says Whelan. There is little doubt about that. The only question is how soon. Let's get some predictions from those who have an expertise in these kinds of things.
Some Bold Predictions for VR/AR in the Future (We Hate to Predict, Just Facts)
Technavio's latest marketing research shows that the VR market in the educational sector is growing at the compound annual growth rate (CAGR) and is about to be 159% of what we have now in 2018.
The biggest takeaways from the report are available in the image below: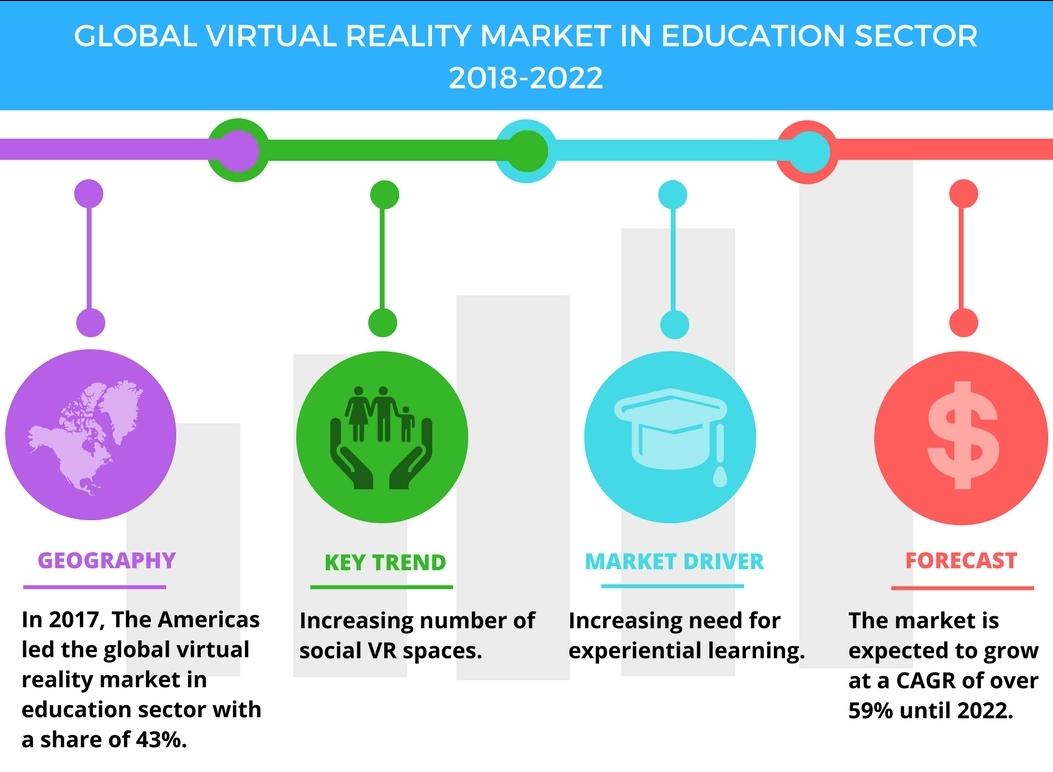 Source: technavio.com
The leading region for the global virtual reality market in the education sector is America (total market share is 43%). Josh Maldonado, the aforementioned Canadian entrepreneur moved to San Francisco as he believed VR/AR is thriving there.
Expert marketers from Technavio expect the share of America to drop by 4%, believing European and Asian countries will take over in the future.
While we are not interested in knowing where VR is going to light the things up geographically, it's nice to hear that the market is growing. This is not an impressive tempo, we have to agree upon - mere 59% at four years.
VR/AR educational companies are having a hard time persuading their products are what end customers need, especially when overall state funding is not growing annually. Support of parents, students, and teachers at K12 sector is what these developers might need at the time.
The investments in this sector seem promising. They don't give an immediate profit just yet. That is some big problem that is here to stay. So we should wait for "VR/AR education is the future" headlines for at least next couple of years, rather than "VR/AR education is the present".
Summary
We don't want to be perceived as haters of Virtual (Augmented) Reality in education. VR/AR can do a lot of good stuff in learning and seems to be useful even now, let alone the future.
However, there are plenty of taming factors for us to believe that the revolution in education will happen thanks to VR/AR anytime soon.
Technologies are still too young to be cheap. Prices are being reduced, but due to slow adaptiveness of technology, this is not dramatic fall.
For VR/AR developers to thrive, the industry needs to have a bunch of talented marketers. While VR/AR in education can be self-promoting (just look at how excited kids could be after scuba diving session in a VR/AR headset), this is not enough.
"Promising" starts with a promise. We hear a lot of them from VR/AR developers, marketers and experts every year (including the ones who work in educational sector). We just have to wait for some of them to be fulfilled to buy the idea.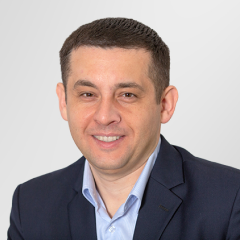 Written by
CTO / Department Head / Partner
Recommended posts
Belitsoft Blog for Entrepreneurs
Portfolio
Portfolio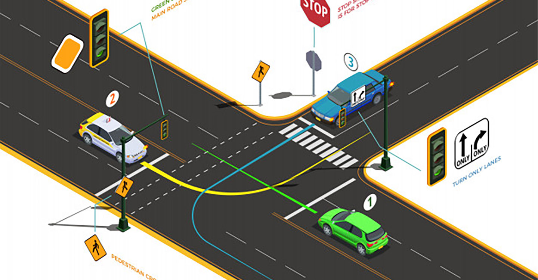 Our Client, the Dutch startup founder Martin Beijer, addressed us to develop a driving theory online course business with automated online payment. The course was aimed to reduce the almost 50% fail rate at driving exams by making learning interactive and engaging. The program has already helped over 22,000 users to pass driving exams.