The major challenge for enterprises today as ever before is an effective onboarding and new employee orientation. Employee Onboarding Training Automation is the current top-1 hot trend to solve this challenge.
Need a Custom Employee Onboarding Training Automation? We have a solution for you.
New employees who went through a structured on-boarding program were 58% more likely to be with the organization after three years. (The Wynhurst Group).
Stakeholders of the top-performing companies believe that successful onboarding of new employees is not just a function of product education but also a practice that ensures that they will be well trained on the company's brand, mission, messaging, policies and procedures.
Online learning experience portal with a guided centralized access and blended delivery model (custom e-learning courses, live virtual instructor-led training sessions and on-demand reference resources) is the "build once, use many times" solution for onboarding and new employee orientation needs.
Online learning experience portal is the solution for:
companies that pay for unused training content because their current onboarding system can not assign courses, so employees are not held accountable for their required online training and they just are not taking the training.
modern companies with a high percentage of the workforce that works from remote or virtual office locations.
startups or early-stage companies that need effective systems to support expanded resources once funding is secured or cash flow is achieved.
Key features of the Onboarding Module of the Corporate Talent Management system:
Integration with an existing HR system. When a new hire is added to your HR system, their account is automatically created in the LXP.
Course enrollment automation. When your new hires are added to your HR system, they are automatically added, for example, to a "Welcome to the Company" onboarding course in the LXP.
Controlled timeframes. Select a time period for the selected course by which it needed to be completed. For example, you can set up a course to be completed during the first week of the employee joining. With this option, you will know that new hires are meeting their onboarding goals and keeping up with their training schedule. With the ability to set deadlines you can track who has completed their training and who needs a reminder.
New employee onboarding roadmap or learning path. The learner path is the logical order of courses that must be completed one by one. For example: Orientation -> Policies and Procedures -> Health and Safety, and so on. It isn't possible to start a new course until the previous is not completed.
Onboarding course completion assessment. A learning assessment is the best practice to be sure that an employee has really studied required materials, for example, onboarding compliance training. So-called summative assessment method is generally acknowledged in the corporate community. It focuses on measuring learning outcomes at the end of the learning process.
Group-based automation. This feature enables training managers to easily assign the onboarding curriculum for each department to ensure they have easy access to specialized training. You can create "customer support group", "sales group", etc. and once a new hire logs into your LXP they have access to all the same courses as their fellow team members.
Customized reports with analytics. You can access details of new hires' performance and ensure they're keeping up to speed, gaining the knowledge they need. Additionally, you can measure their overall performance to see where to make corrections to a course content to improve the learner experience.
LinkedIn-like enterprise internal network. Use the internal social network feature to help new starters explore profiles of existing employees, establish connections and chat with more experienced colleagues to ask for advice.
Advice
It can be counterproductive to force workers into long lesson plans when they are already busy with their regular tasks. Instead, consider repurposing your training and onboarding materials into shorter, bite-sized pieces.
Belitsoft is committed to helping HR professionals and training leaders to make a difference in their organizations.
Need a Custom Employee Onboarding Training Automation? We have a solution for you.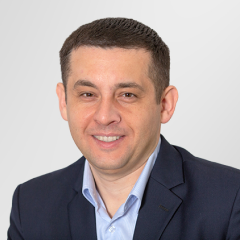 Written by
CTO / Department Head / Partner
I've been leading a department specializing in eLearning applications and Business Intelligence for 14 years.
Belitsoft Blog for Entrepreneurs
Let's Talk Business
Do you have a software development project to implement? We have people to work on it. We will be glad to answer all your questions as well as estimate any project of yours. Use the form below to describe the project and we will get in touch with you within 1 business day.